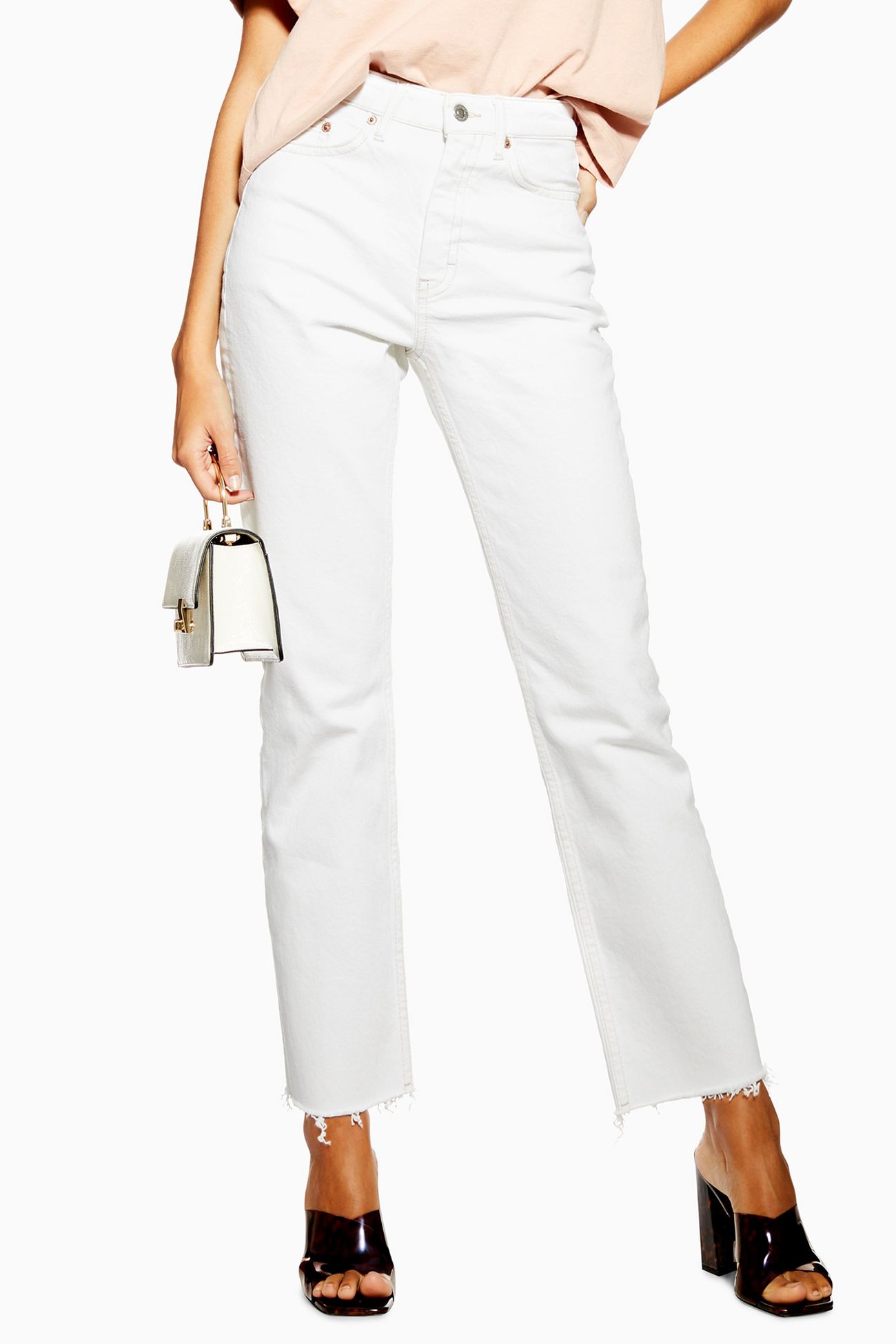 How to Style: Straight Leg White Jeans
Hi ladies
At last we are finally in Spring, and I am so excited to start wearing my Spring wardrobe. One key staple of a good Spring/ Summer wardrobe is white jeans. Over the years I have had a love/ hate relationship with white jeans; I see them on others and LOVE them but never just quite felt confident in them myself, they can be hard to wear. This season we are seeing the rise of the straight leg jean…. a huge look! And I discovered these Ecru (kind of like an off white) straight leg jeans from Topshop and I am loving them. They are straight leg so not skinny, so there is room to breathe on the legs and they are not like leggings on your legs (more flattering in my opinion). They are also NOT see through (another bug bear of mine with white jeans), and because they are 'ecru' and not sparkling white they are , I think, more forgiving.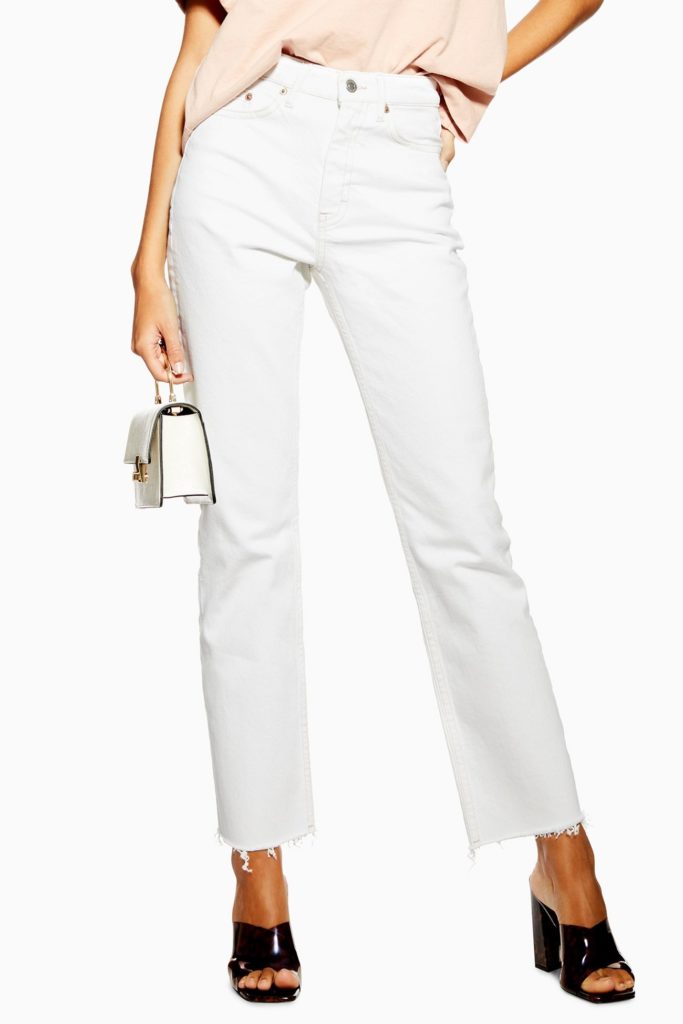 I am wearing size 28/ 32 ( I am a UK10) and they are a great fit, a little smaller fitting than usual jeans and there is no stretch, they are a stiff fabric, more old school type of jeans, so keep that in midn when choosing your size. They are high waisted, have lovely structure and give a great shape. They are €55 and come in Petite range too (yaaay). Shop them HERE
For reference on length I am 5 ft 7, you want this style of jeans to fall at the ankle so the size I mentioned above is ideal for me. (28/32). I originally ordered 28/ 30 and they were way way too short!
Styling Video: White Jeans x 8 Outfits
I have a new styling video on my Instagram page showing these white jeans styled in 8 different ways, using pieces lots of you may already have in your wardrobe. And it doesn't have to be these exact white jeans, the idea with these videos is to give as much inspiration & ideas on how to wear your own wardrobe.
You can watch the video HERE
White jeans ARE NOT just for summer, they are gorgeous styled with knitwear and ankle boots for this time of year. As per these gorgeously stylish ladies.
Street Style Inspiration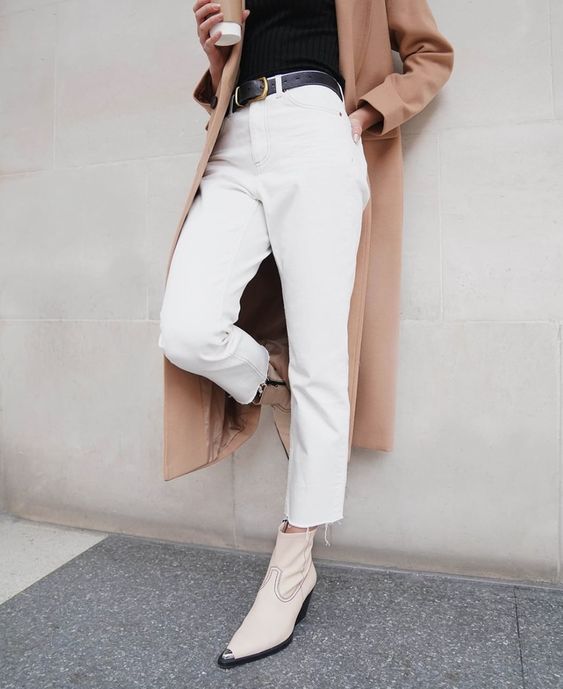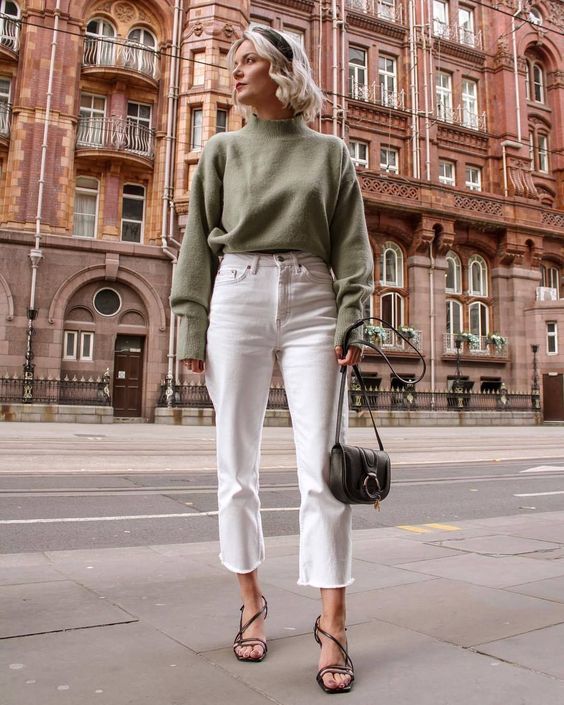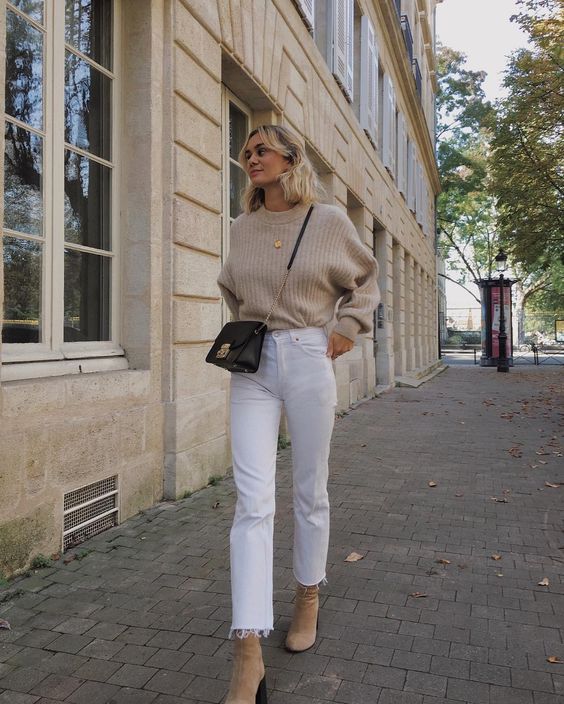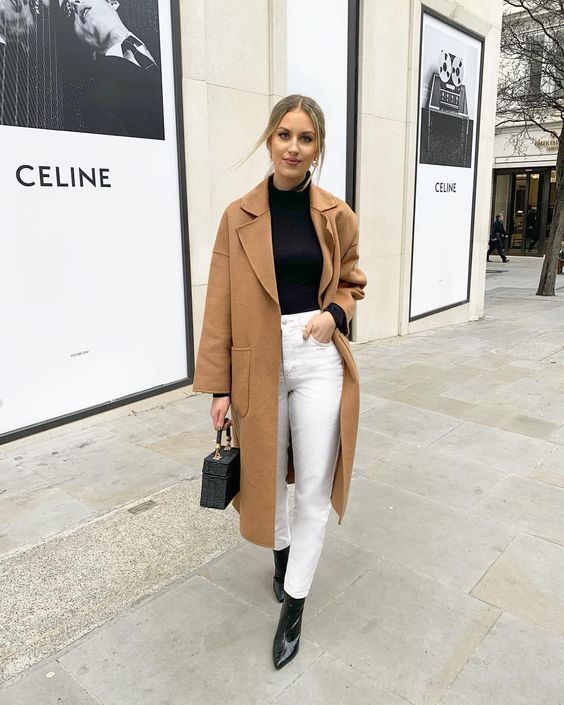 MY OUTFITS
Like all my styling videos, not everything I wear is brand new; some pieces are new, some are last season, some are ancient! I'll link everything that is new or in stock below and in some cases if a piece is old or out of stock I will link as similar as I can find 😉
LOOK 1 – Navy jumper look with trench coat
White shirt, Marks & Spencer, shop here
'Merci' jumper, Warehouse, shop here
Veja Trainers, shop here
Trench coat, Marks & Spencer, shop here
Bag, Louis Vuitton
LOOK 2 – Pink blazer with trainers look
Stripy t-shirt, Marks & Spencer, Shop here
Pink blazer (old Zara), similar here
Trainers, Axel Arigato, Shop here
LOOK 3 – nude blazer & snakeskin heels look
Puff sleeve top, Topshop, Shop here
Blazer, Topshop, shop here
Heels, River Island, Shop here
Bag, Gucci, shop here
LOOK 4 – Camel blazer & leopard heels look
Black bodysuit, Zara, similar here
Heels, Littlewoods Ireland, (old), similar here
Blazer, River Island, shop here
Clutch bag, vintage Mulbery
LOOK 5 – all white & denim jacket look
White t-shirt, Marks & Spencer, shop here
Denim jacket, River island, shop here
Veja trainers, shop here
LOOK 6 – Check blazer & black loafers look
Camel jumper, Marks & Spencer, shop here
Loafers, Other Stories, (old), Similar here
Blazer, H&M, Shop here
Bag, Marc Jacobs (old), similar here
LOOK 7 – Knit hoodie & leather jacket look
Knit Hoodie (old ASOS), Similar here
Ankle boots, Marks & Spencer, Shop here
Leather jacket (old River Island), similar here
Bag, old Marc Jacobs (have this style over 4 years), similar here
LOOK 8 – Long camel coat look
Cream jumper, Marks & Spencer, Shop here
Camel coat, Nasty Gal, shop here
Tan ankle boots, Marks & Spencer, shop here
then…
Gucci trainers, shop here
Bag, Louis Vuitton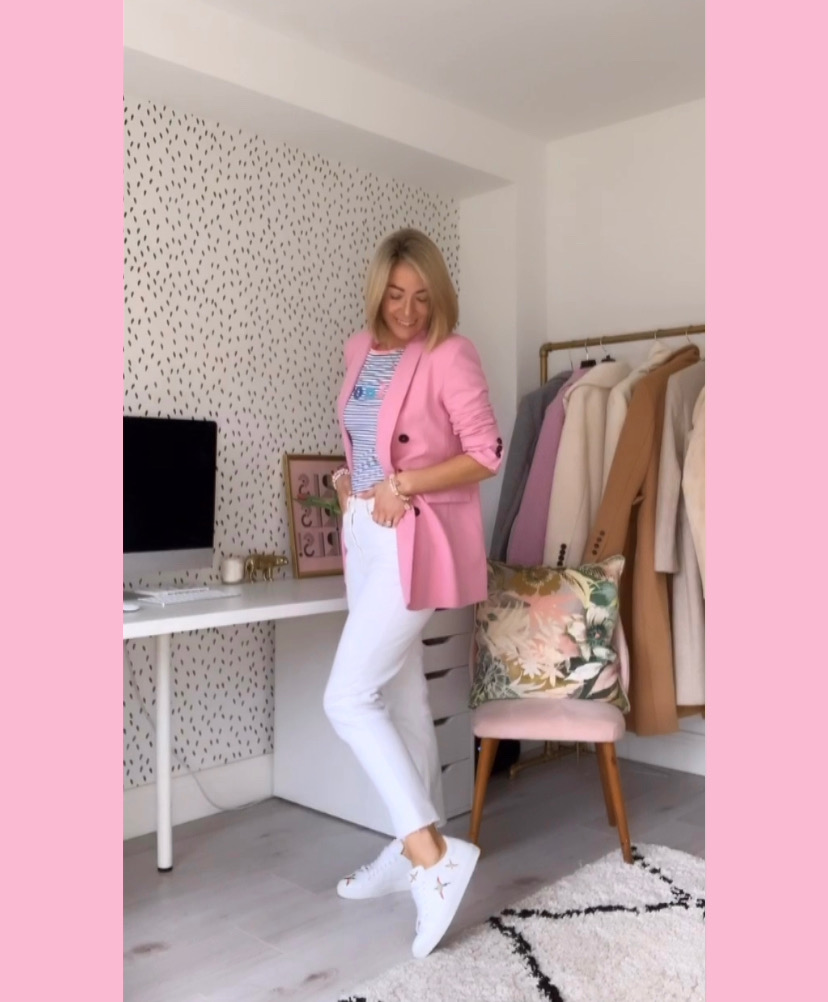 Really hope you enjoyed that. If there is something you want me to do in my next style video, please leave a comment below, I'm always looking for new ideas
'Til Next Time
Naomi xx
** Please note: Some of the above included links are affiliate links, meaning Naomi may earn a percentage commission based on sales via these links