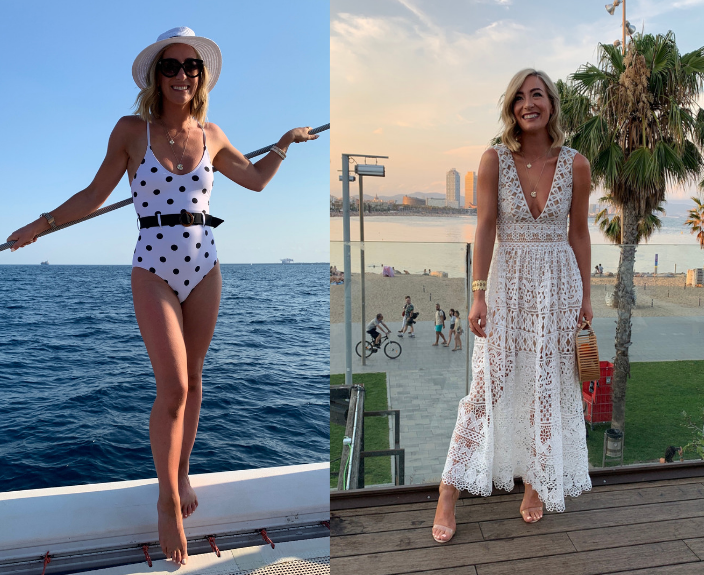 Summer nights in Barcelona
Hey ladies
Home after a whirlwind few days in Barcelona, it was a last minute trip for myself and hubby. A kid free escape after what has been a crazy few months for us! We both have been to Barcelona in the past, I spent a few summers in Spain in my teens and twenties (they were the days.. lol), but both of us knew we wanted sun, a short flight, and flight times that meant we could maximise our time on the ground there while not missing out too much on the girls here. It came down to Ibiza or Barcelona. This time around Barcelona made the most sense for us, we had both been dying to stay in the W Hotel and it did not disappoint.
The W Hotel is on the beach and yet minutes from the city so it had the best of both worlds for us. It's an incredible hotel, in my opinion, it's NOT one for the kids, well not my kids anyway, maybe older children, but it is very adult focused hotel. A place for a total chill out, fancy cocktails and tunes by the pool, most days they have a live DJ at the pool which we loved!
We had three nights in total, although we didn't arrive in until almost 1am the first night so really we just had two proper nights and two glorious full days, here's a round up of all my outfits from the trip.
Outfit Diaries
The Flight
On the flight out I wore a dress from Onjenu, this is a brand I love and have worn for years, they do the most comfortable dresses, I particularly love their maxi dresses and wrap style dresses. They are renowned for their use of vibrant colours and prints. And the quality of their pieces IS incredible, one Onjenu dress will be in your wardrobe for YEARS.
The sandals are River Island, on sale at the moment and unfortunately sold out online (but might still be in stores).
Day 1
The morning we spent exploring the city, soaking in the atmosphere (my favourite thing to do on a city break) drinking coffee and strolling around.
A light and comfortable sun dress was ideal for this!
Shop my dress HERE
Shop my sandals HERE
We spent the afternoon by the pool, chilling out, something we NEVER get the chance to do (Like most parents!) and I won't lie….. it was pure bliss!
Shop my hat HERE
Shop my swimsuit HERE
Shop my cover up HERE
Shop my sandals HERE
Night 1
Thursday night we headed to a traditional tapas restaurant, we had so many recommendations for here, be warned, you need to book in advance, it's casual, simple, no frills but the food is EPIC!! Can't recommend enough! It's called TAPEO (Visit their website here)
I absolutely loved this white crochet style dress I wore, it's currently sold out but I have been told it's coming back so as soon as it is back in stock I will let you know. This dress is such a good price and really fab quality!
Shop my dress HERE
Shop my sandals HERE
Shop my bag HERE
Day 2
We started the day easy, had a lie in, headed into the city for some breakfast,, even more coffee, before coming back to the hotel for a swim in the sea. Does wonders for the soul (and the hangover!!)
Shop my dress HERE
Sandals are from Joules
Bag is from Penneys
Shop my Swimsuit HERE
The next part of the day, and probably our highlights of the whole trip was a two hour trip around d the coast of Barcelona on a catamaran. It was unbelievable, what an experience. The trip was all done and organised through the hotel, it was two hours, a bar and a DJ on board, totally surreal and SO.MUCH.FUN.
Shop my beach shirt HERE
Shop my Swimsuit (mine is currently sold out but have linked similar options) HERE, HERE or HERE
Shop my hat HERE
Shop my sunglasses HERE
Night 2
On our second night we went to a restaurant called Llamber, another one you would need to book in advance, we had gotten lots of recommendations for this place too, but unfortunately it didn't live up to the hype for me. It is a gorgeous restaurant, cool vibe, fabulous interiors, an interesting and unique menu but overall the food was a bit disappointing for me, especially after the brilliance and simplicity of the previous night! Llamber gets incredible reviews though so maybe we just got it on a bad night!
We still had a fabulous evening, strolling the city streets, soaking up the atmosphere, no where to be and all night to do it, just perfect!
Shop my trousers HERE
Shop my top HERE
Shop my bag HERE
Overall it was an amazing trip, with life being so crazy it is often hard, if not impossible to make time for each other, so it was really special to just be together, be us and not be "mammy and daddy" just for a couple of days, even though mostly all we did was talk about our girls!!!!
Hope you enjoyed
'Til next time
Naomi xx
*Please note: Some of the above included links are affiliate links meaning Naomi may earn a percentage commission based on sales via these links.