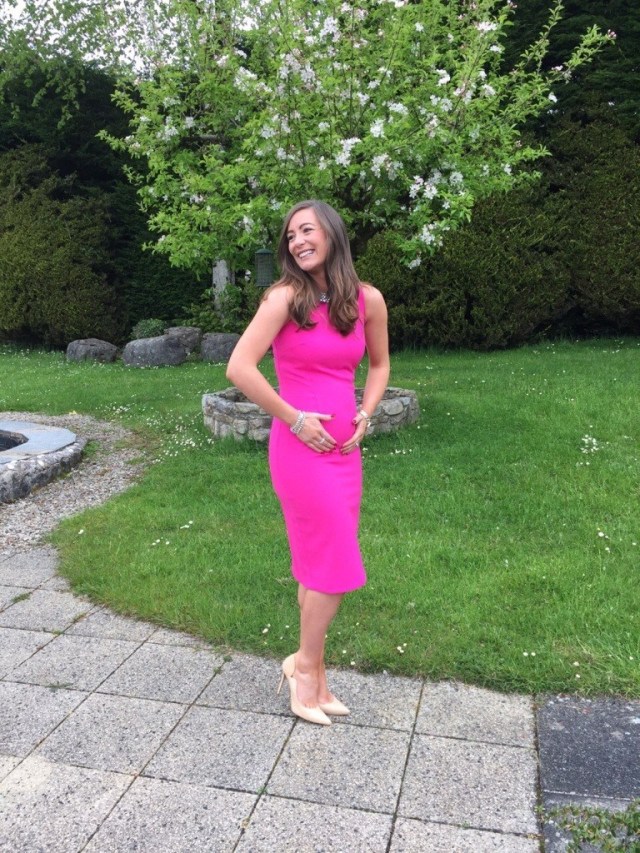 Pregnancy & Type One Diabetes
Really delighted to be featured in the current issue of Woman's Way, talking about pregnancy and Type One Diabetes.
Living with Type One Diabetes is not something I ever spoke about on the blog until I shared news of my pregnancy back a few months ago (You can read that post HERE). I never in a million years expected the reaction I got. That blog post reached in excess of 160 thousand people and the emails I received for weeks afterwards was truly amazing. It made me realise perhaps it is something I should be talking about more. I received countless emails and messages from other type one diabetics, from the mums of type one diabetic children, from others with lifelong medical conditions saying how it helped. I was literally in floods of tears reading all the emails, it was amazing that a simple blog post like that could reach so many people and touch so many people. So since then I have decided, my diabetes is something I should talk about more. It is a HUGE part of my life, not one that I allow define my life, but there is no escaping it is massive part of my life.
So, when the opportunity came up to talk to Woman's Way about what is like to have Type One Diabetes while pregnant, I jumped at it. Because the reality is, it is really hard. And I know I personally would love to read more about it in the media. I don't know any other diabetics, and that can be quite isolating, so I think it's important to share. I don't want to talk about it to look for sympathy or to be dramatic in any way, but purely because I guess it is something that is part of me, and we all have our own little battles to overcome, this one happens to be mine And if I can speak to or help one other women who has T1D and is perhaps worried about pregnancy then I am a happy girl!
Living with a pump
As I mentioned in the Woman's Way feature and as I spoke about in the blog post I wrote earlier in the year (read it here), exactly one year ago I got a pump. An insulin pump is a device I wear attached to my body 24 hours a day, 7 days a week, it connects to a wire which goes directly into my stomach via a cannula (like a small tube going into my stomach). It is without a doubt the UGLIEST accessory I own And wow, sometimes trying to dress and disguise it under my clothes is so so hard, especially given what I do for a living!!!!! BUT…… when all is said and done and I stop complaining about how cumbersome and ugly the pump may be, it has helped me be healthier and it for me personally, was one of the main reasons I was able to become pregnant!
Prior to using a pump, I injected insulin 4 or 5 times daily, which a lot of Type One diabetics still do!
Where do I hide it?
So, a question I got asked when I posted about this before, is where do I hide my pump… The pump is slightly smaller than the size of an iPhone but about 3 times as thick, so it is quite bulky (well my one is!). I wear it mainly in my bra; it was quite uncomfortable at first but I am used to it now. I also have a clip that I can wear it on the waist band of jeans or tourers (usually a top covers it). Or if I was wearing a big full skirt, I have a special garter type thing I strap to my leg! (Sexy…. Hahahaha). Basically once the wire is connected to your stomach, you can then wear the device itself anywhere on the body (well as far as the length of the wire lets you)
Now that I am 8 months pregnant and my belly is really protruding, the wire is very obvious under my clothes, as is the cannula (the part that actually releases the insulin into my stomach) and it is especially obvious when I wear something tight or light coloured. The wire can be so so obvious sometimes, I often joke with my hubby that people surely must see the wire and wonder what the hell is going on, I like to think they wonder if I am in the CIA, but I am pretty sure they don't!!!!
There are lots of times when I hate my pump, the worst for me is when I am on holidays and wearing a bikini. That is hard, and it is hard because, my god do people like to stare, it annoys me so much and it can be upsetting. I understand that it is weird/ unusual to see a woman with a wire coming out of her stomach and a black device clipped to her bikini bottoms, but wow some people are very insensitive!
Having Type One Diabetes is something I have always hidden (I was diagnosed with it at 16), it's funny in ways, I think I was embarrassed about it or shy about saying it to new people, now that I am older I am so much more open about it, I guess I was just immature then, but I know for teenage girls it can be a tricky condition to live with and talk about.
Anyway, I have started ranting and I am fairly sure you are bored by now so I will finish on that note.
'Til next time
Naomi xxx
P.S. Make sure to pick up a copy of Woman's Way Very proud that they gave me the opportunity to talk about this
N xx