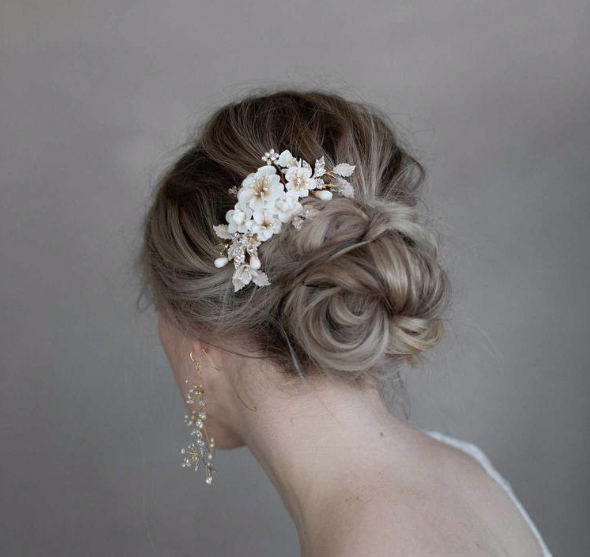 Wedding Wednesday: Classic Veil Alternatives
To veil or not to veil, that is the question…well at least for me it is. 🙂
Let's face it, when it comes to classic wedding accessories, veils will always be on-trend. I've always had a little obsession with veils. They are a timeless and iconic piece of wedding attire and each one has their own story to tell.
I'm getting married in 10 months and even though I always pictured myself wearing a veil, I know for sure a classic cathedral veil isn't right for my dress so now I'm researching alternative options.
If you do want to replace a veil with a gorgeous alternative, keep scrolling for some really stunning ideas I've come across.
Hair Comb & Statement Earrings
I came across a brand called Twigs and Honey on Instagram and I immediately fell in love with their products. Their bridal range is pricey but keep in mind that all of their products are hand made AND Black Friday is just around the corner. 😉
Crown or Tiara
Your wedding day is the perfect occasion to justify wearing a dramatic crown. 🙂 It's truly a stunning alternative to a veil and a modern take on the timeless vintage crown.
Vine
What I love about Bridal Vines is their versatility and how one product can be worn in so many different ways. Vines can be worn as a headband or entwined in any hairstyle from buns to ponytails to plaits, allowing each bride to style them in their own personal way. Check out the below images for one vine styled four different ways.
Cape
If you want Superhero status on your wedding day, ditch the veil in favour of a cape. Capes may not be groundbreaking but according to Harpers Bazaar, they're set to be a huge trend for 2020.
Scrunchy
Scrunchies don't sound like the most traditional or glamourous option but I LOVE the simplicity of this look especially when it's themed with an elegant bun.
Here are some of my favourite pieces at the moment:
Right now, I think I will go for a mixture of both but that changes every time I pop on Pinterest so who knows. 🙂
Happy planning to all my fellow brides-to-be!
Laura x
*Please note, Laura may receive a commission on sales via the links used in this post