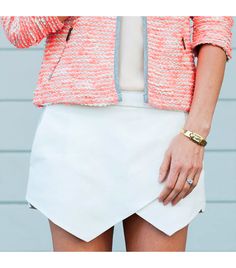 Trend Report: The Skort
Since it hit stores, the skort has ignited mixed emotions among you ladies. It's a marmite type situation, you either like them or hate them. We are big fans at The Style Fairy HQ.
A skort is basically shorts and a skirt combined. They look like shorts from the back usually and have a skirt effect to the front.
The look hit the high street last season following in the footsteps of designers such as Valentino, Miu Miu and Vanessa Bruno.
Love them or loathe them, it seems the skort isn't going anywhere for Spring Summer 2014.
Have a look at some of our favourites in store right now:
1) The print on this skort from Topshop is divine! Team it with black to let the skort do the talking.

 2)
We adore this
ASOS
crepe skort in neon lime, but for the faint hearted it also comes in black!
3)
This jacquard skort from
River Island
is just perfect for this time of year as it is a heavier fabric. This is a really classic, elegant looking skort. Pair it with some black tights, black ankle boots and a chunky knit on top for a really smart, stylish winter look.
4)
Get your heels on for this stunner from
Missguided
. This is the perfect going out skort. Pair it with some killer black sandals, a really simple black vest top and a cropped fitted blazer and this is a great look!
5)
This colour may not be suitable until this weather starts to brighten up. But this printed skort from
Boohoo.com
definitely deserves a mention. The pattern is just fab on this and is the perfect summer or holiday skort! With a pretty unreal price tag too! Thanks Boohoo!
6)
This skort from
River Island
comes in cream and black also, but this green one caught our eye. We love the embossed detail.
7)
Last but not least, another Penney's buy, this leather look skort is available in stores from mid January. Perfect for winter, this would look great worn with black tights, boots and a really chunky knit jumper.
NEED SOME HELP?
Would you love to try out trends like he skort but don't know where to start? With our Virtual Personal Shopping service we style complete outfits for you, head to toe. For just €50, we send you a minimum of three fully styled outfits, customised just for you; your body, your style and your budget.
Your style, delivered straight to your inbox! Email us on info@thestylefairy.ie, call us on 087 0606592 or visit our website here to find out more or to book us.
'Til next time
The Style Fairy xxx
www.thestylefairy.ie