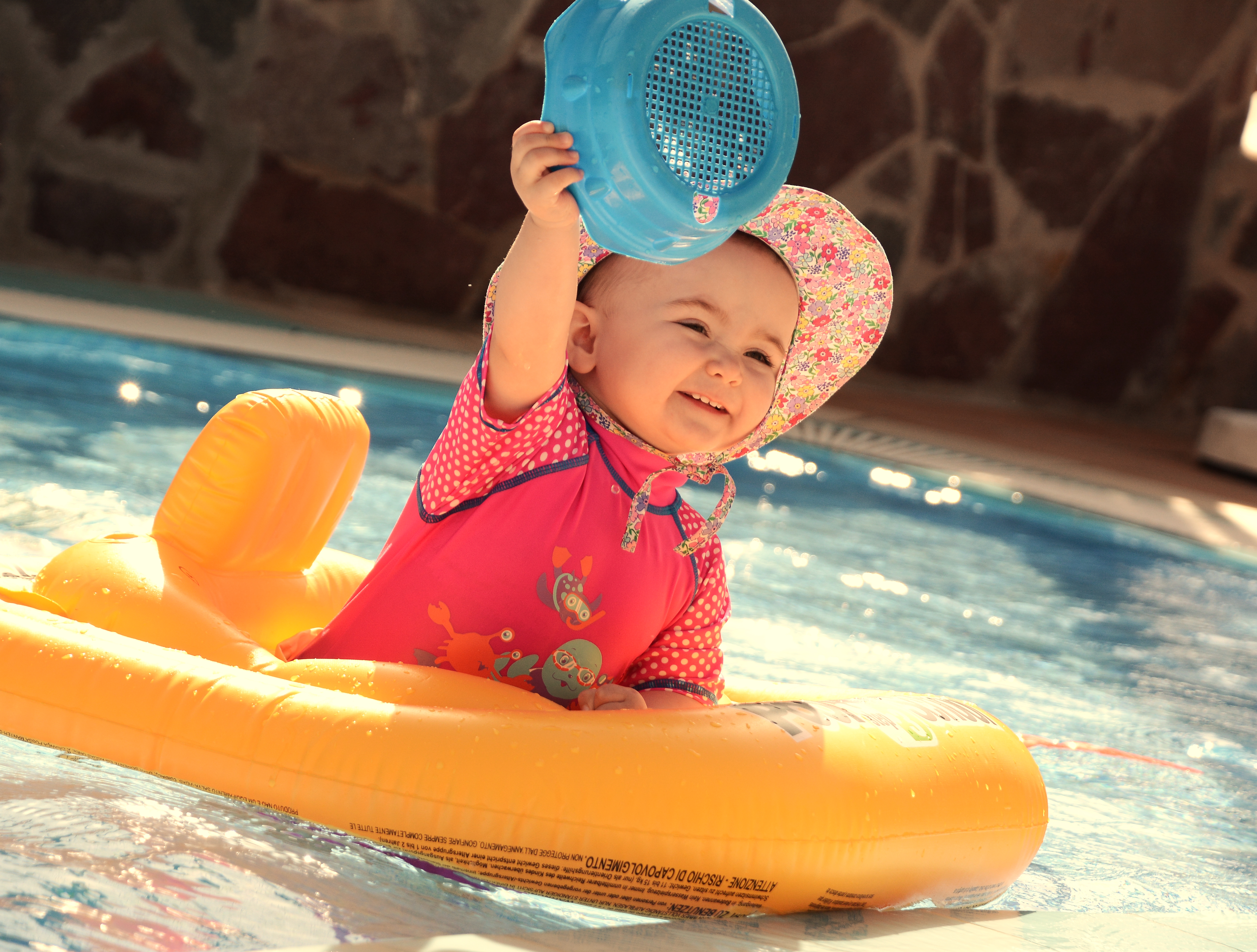 Travelling abroad with a toddler
Hey ladies
So, we went on out first family holiday abroad with Anabelle Ivy at the end of December, I have had so many requests for a blog post on how we got on, any tips or tricks I learnt along the way so here you go 🙂 If you want to have a read about where we stayed etc, you can check out my other holiday blog post here.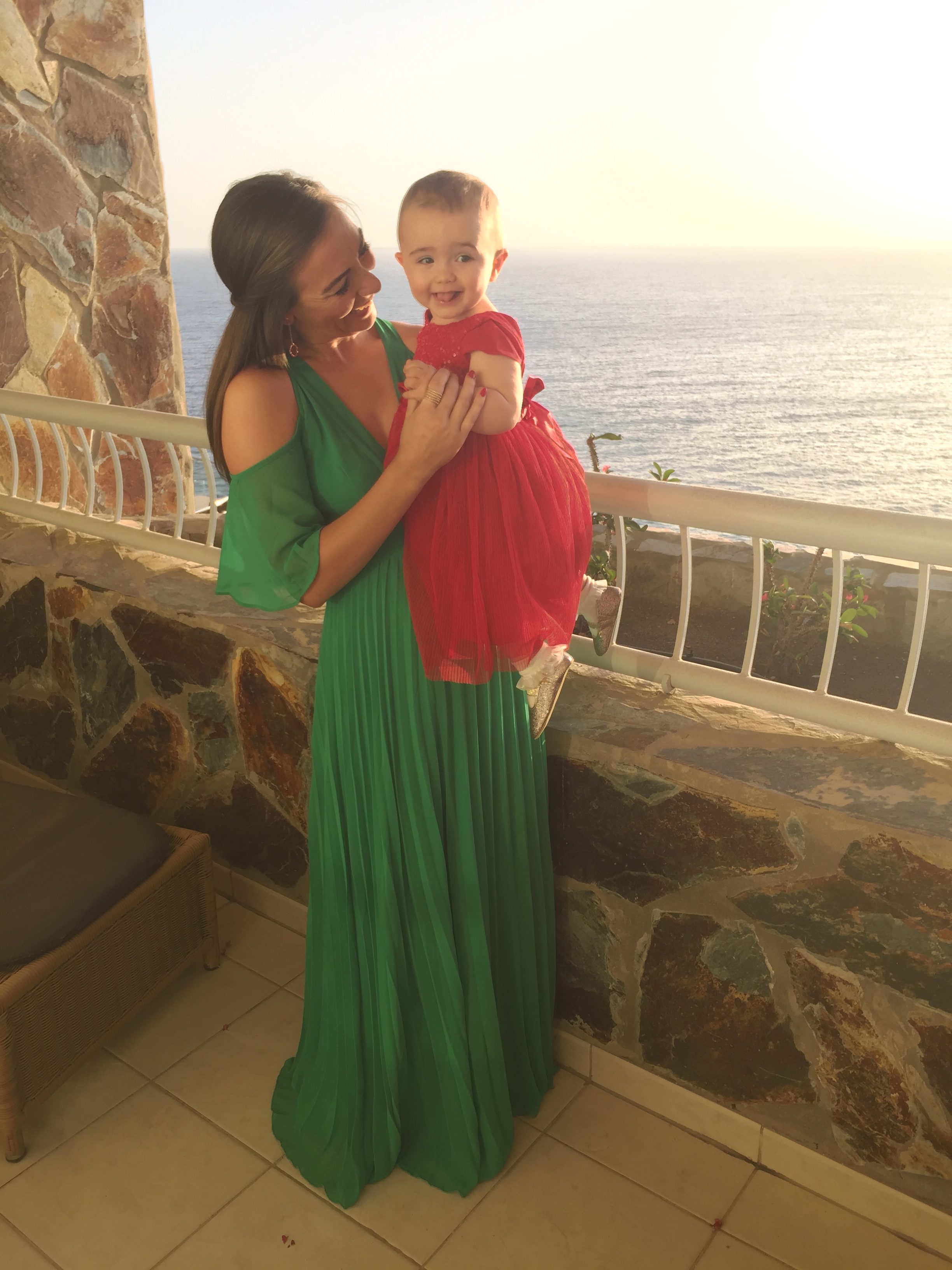 I'll start by saying, I was SO nervous about travelling with her, I had no idea what to expect. Anabelle is now 15 months and at the time she hadn't started walking (although she took her first steps on our last night of holidays). But she is a VERY active, busy little girl, she doesn't stop for a second. I guess like any normal 15 month old, but she doesn't tend to sit on my lap for longer than a few seconds, so I was particularly scared about how the flight would go (it's about a 4 and a half hour flight). Secondly, I guess my other main concern was trying to keep her in somewhat of a 'routine' but whilst also allowing to us to stay out longer in the evenings, go for meals etc.
The Flight
I got lots of tips from my Snapchat followers before I left, all of which were brilliant help. Thank you ladies 🙂
So, first up, one of my big fears (and I know silly) was being seated next to a person who wouldn't be tolerant of Anabelle and would be 'tutting' at us, I know, I know, I shouldnt have been worrying about that but I was. That's just me. Anyway, the gentleman beside us, as soon as we were seated asked the air hostess if there was any free seats on the plane and if he could be moved to one, and he was. He was happy, as were we!! We had the whole 3 seats to ourselves – it was perfect. So I really advise just asking the air hostess when you are boarding, and I'm sure the person next to you would be more than happy with that arrangement too.
Snacks, snacks and more snacks! Genuinely, bring so many snacks, honestly this is the best tip we got and it worked. It preoccupied her and kept her happy – we brought lots of carrot sticks from Ella's Kitchen (they are like crisps but healthy and she loves munching on them). In fact we brought mostly snacks from Ella's Kitchen, as they are so handy. The other little snacks she loves are like mini flapjacks and they take a while to chew so they kept her going oh and raisins! Raisins are brilliant, she loves picking them out of the little box plus they take a while to chew. It's the novelty of them I think!
Both mammy and daddy bring a bag on board – I had the changing bag, with plenty of nappies, wipes, a change of clothes, plus a mini hand sanitiser, your mini changing mat and mini anti bacterial wipes (got in Boots), nappy bags – You know yourself, general changing bag stuff.
Cormac (aka Daddy) had a bag with snacks, food, formula and bottles and toys. So what we did was, I bought her a few small, cheap toys that she didn't see until the plane, we only gave her one a a time and there is always great novelty with something new, so we had a little book, a small bear that played music and a few small trinket toys. I mainly got them in Smyths Toystore and I also picked up some interesting stacking toys in Early Learning Centre. We also brought a sticker book and wow she loved that – we got great value from it, and must have killed at least a half hour – Even if Daddy's face was covered in stickers by the end!
She slept for over an hour on the way out and back so that was great, she doesn't normally take a bottle anymore during the day but giving her the bottle helped calm and comfort her and nod off to sleep.
I was really worried about her little ears popping. Tales of burst ear drums and screaming babies had me terrified!! So I made sure she was sucking her dody on the way up and down, she has a special little bunny (with a soother attached) that we only give her at nap time and bed time so when we brought that out as the fight was taking off she was only delighted! I also had Calgel (which I find BRILLIANT for teething) so I put a tiny amount on the soother to ensure she sucked on it, as I know she loves the taste so much. It worked a treat.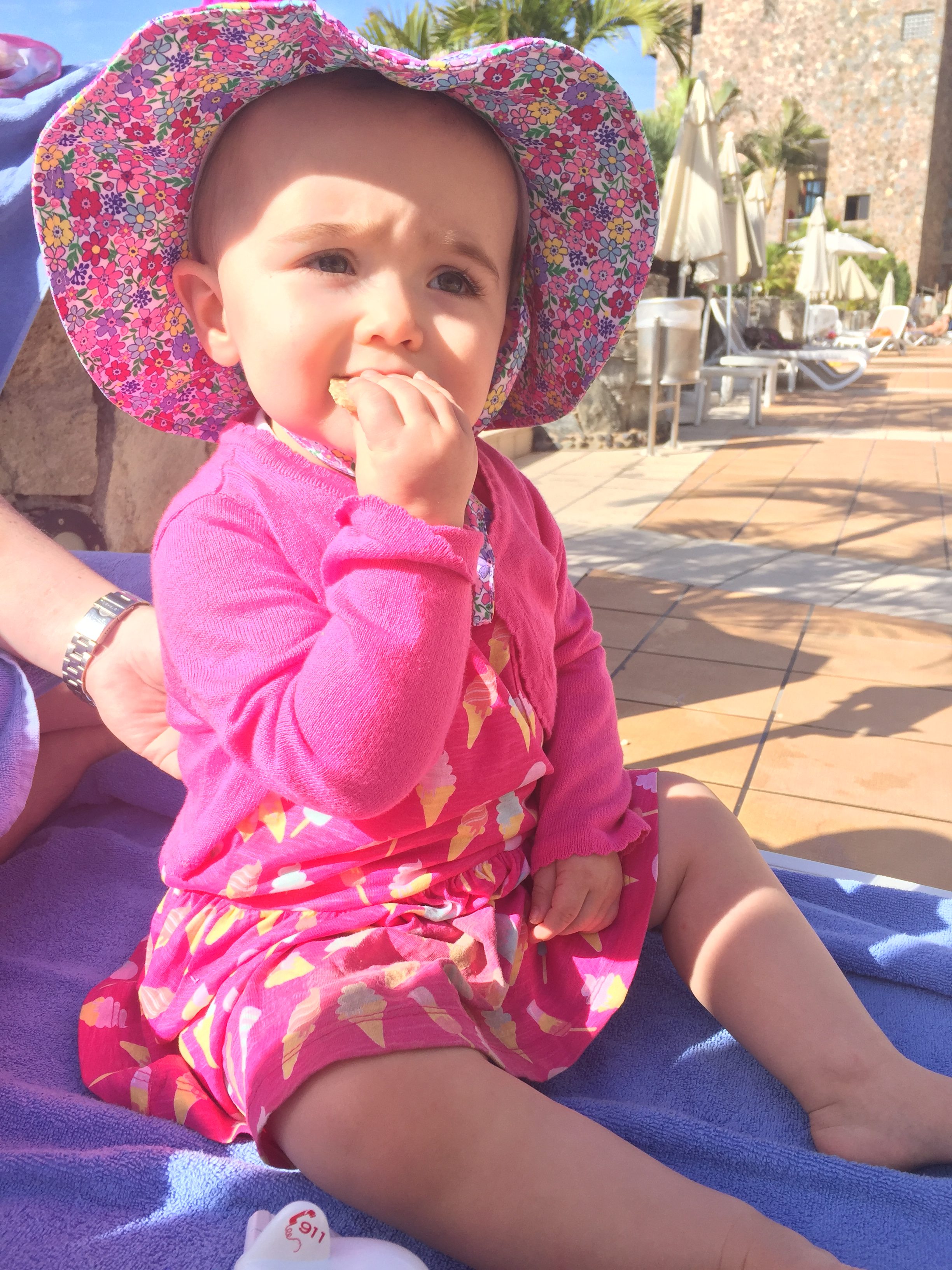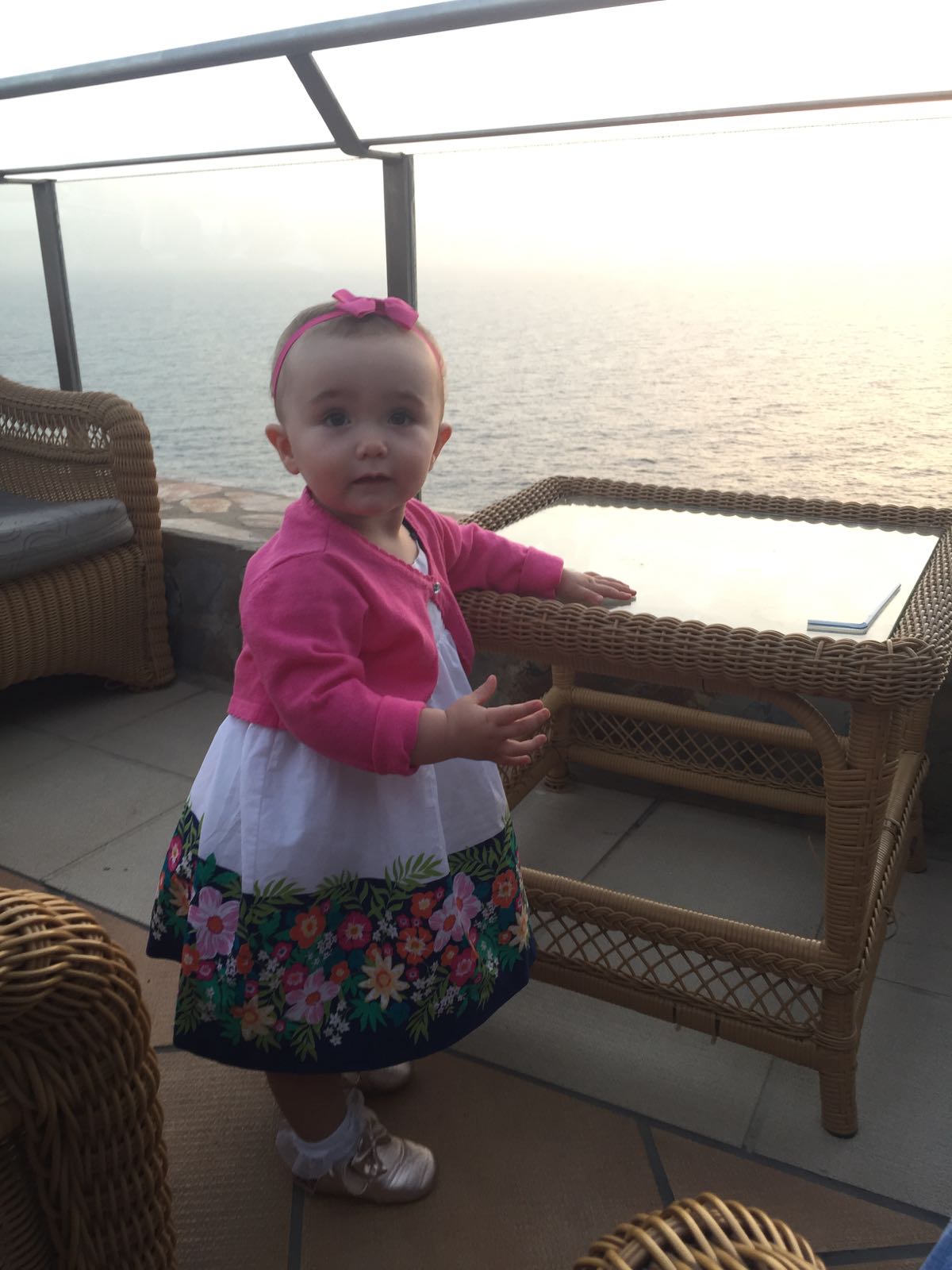 Clothes for Holidays 
I mainly got her summer clothes from Next, Heatons, Sports Direct, Gymboree, Jojo Maman Bebe and Dunnes. I got sunhats and little pool shoes (which were a life saver) in Jojo Maman Bebe (online). The little all in one swimsuits I bought (which were brilliant) I got from Zoggs.ie – It's a brand you can get in lots of places but their sun protection suits are great.  I bought some things which she didn't wear – for example, I wasn't comfortable with her in criss cross or low back stuff as I was so terrified of her getting too much sun, it was a rookie mistake on my behalf, but I'll know for next time that I am happier with sun clothes with a small cap sleeve…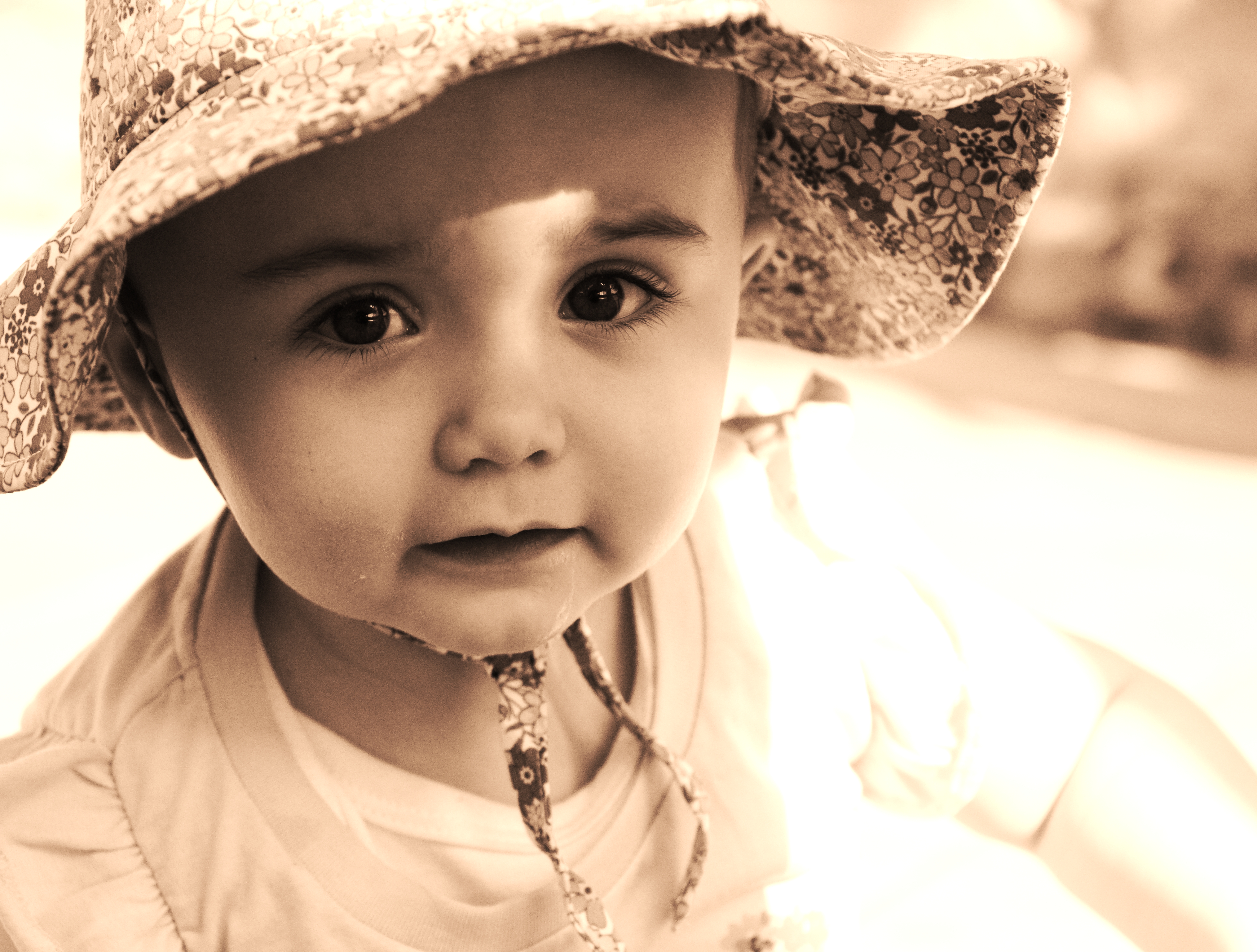 I brought 3 little cardigans with me for her and they were great as they went with everything and kept her warm in the evenings – one from Hetaons and the others from H&M.
Sun cream we got a kids Ambre Solaire one which was I think Factor 50 and it was a spray so that worked well, even if she hated when we were applying it!
The float we got for the pool was one we bought over there and it was brilliant, she could stand right into it and walk around the baby pool – She was thrilled with herself!!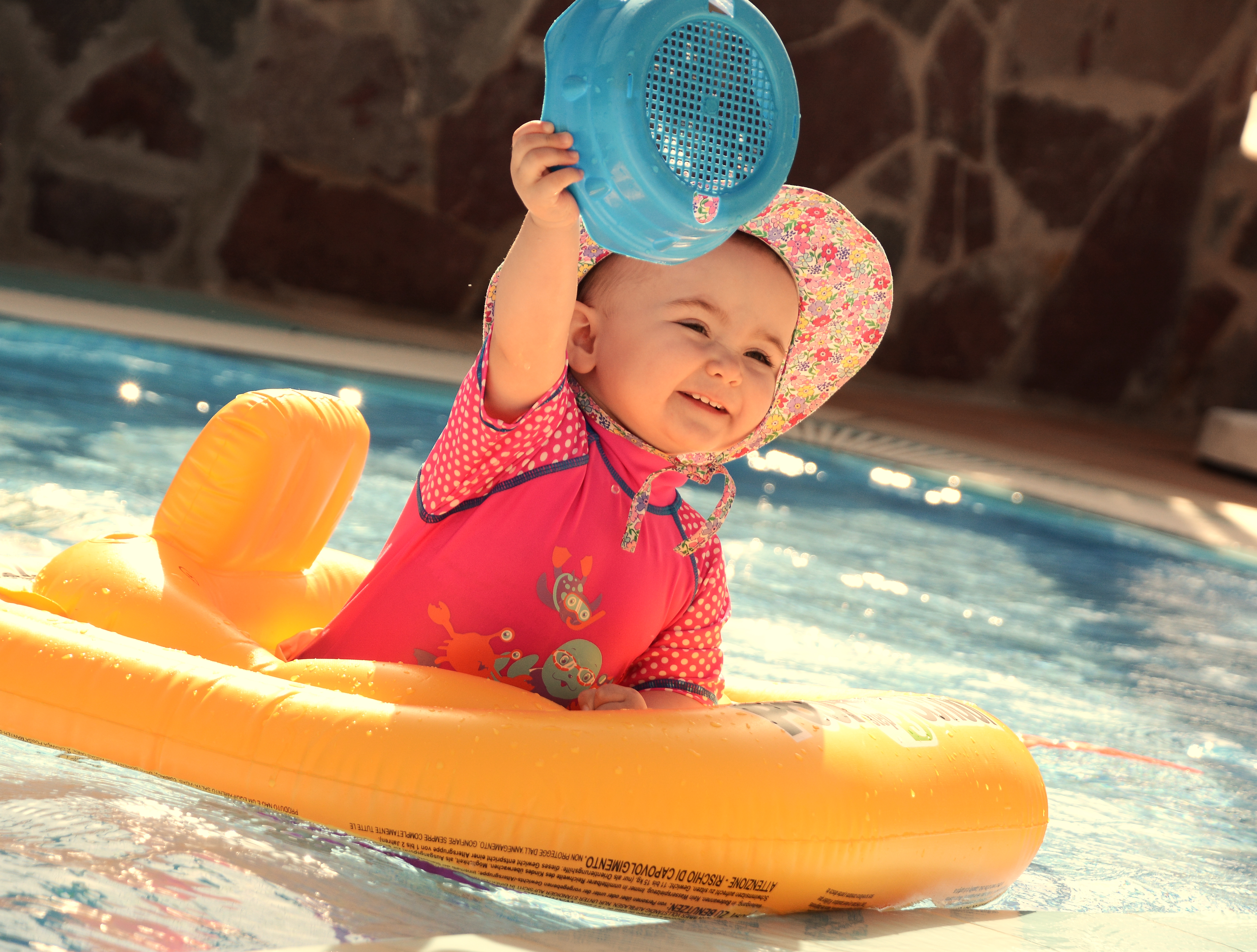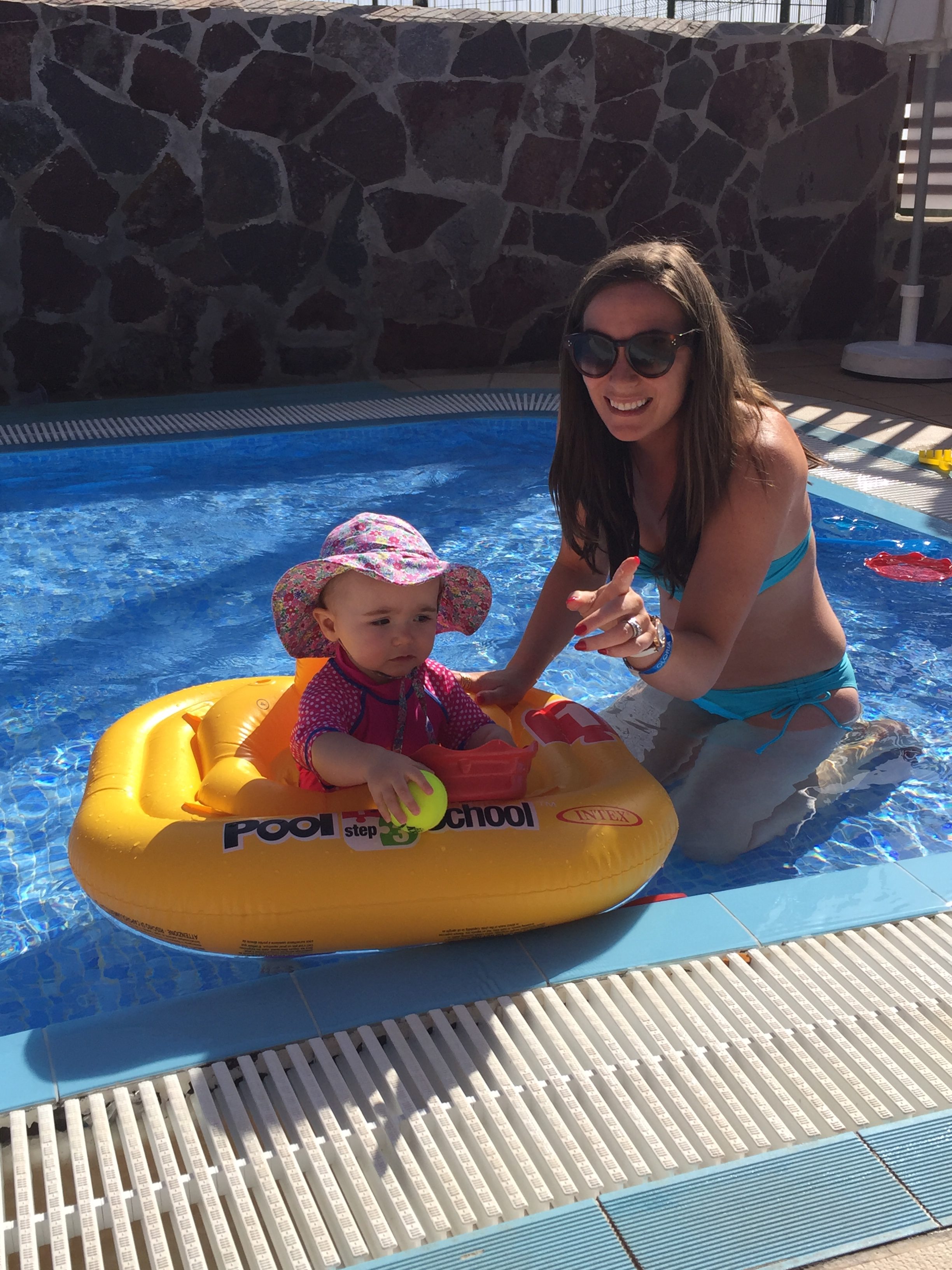 Supplies for Holidays
I did bring a supply of nappies, but just enough to get us through the first few days, so don't over pack as they take up so much room. I also brought some swimming nappies, but again don't over do it as you can buy all out there. I also packed formula, just a few bottles and I picked up these sterilising bags on Boots (got them online) and they were really handy. I know, most wouldn't normally be sterilising bottles at her age, but I still like to, that's just me! Moral of the story, do bring enough to last you at least maybe 3 days and everything else you can get out there. I have to say I did bring a few Ella's Kitchen dinners (perfect when we went out and there was nothing suitable on the menu). And I also brought LOADS of snacks and I am so glad I as we could find nothing similar in the shops over there.
Stroller
The stroller I have is the Babyzen YOYO, I got it from Bella Baby (you can see it here). I absolutely love it, it's incredibly lightweight and folds up so neat, and even has a strap for carrying across your shoulder.
Trying to keep your routine
Anabelle Ivy is a fairly structured routine now (at long last!!) and sleeps very well. God I never actually thought the day would come when I would be writing that, but there you go. She takes a two hour nap during the day. I wanted to maintain some level of routine but also for us to stay out later in the evenings. Saying that we were still in bed/ up in the room every night by 9.30pm. My little lady DOES NOT sleep in the buggy, no way, she just won't do it. If your little one does, the great, you can let them sleep in the evenings in the buggy but it just isn't a runner for us. So I knew before I left I wasn't going to stress myself out by trying to get her to do so over there. We had interconnecting rooms, which was ideal, so her room had the cot and it meant we could go into our room and watch TV and not be afraid of waking her. Plus we had the balcony off our room so we were able to sit out on balcony, have a few drinkies and chill out.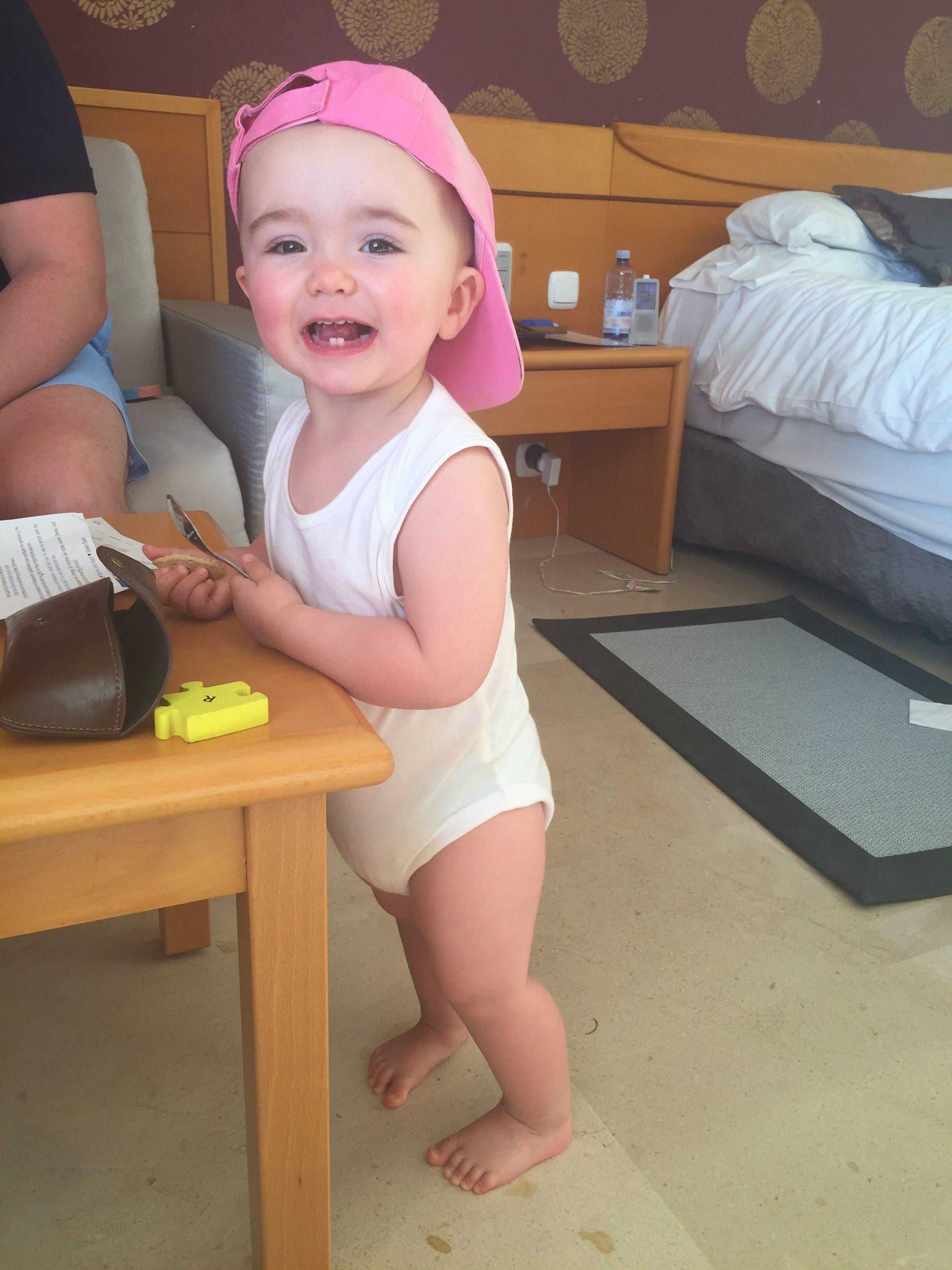 So, what we did was just each day we tried to extend her nap as late as we could. At home she goes for her nap from 1pm – 3pm, where as over there and because there was so much happening we were able to keep her up til 2pm or 2.30pm and that then gave us the chance to keep her up later in the evening. She also slept on later in the mornings over there which was great, so we let her at it, and mostly she woke around 9.30am/ 10am! Bliss!!!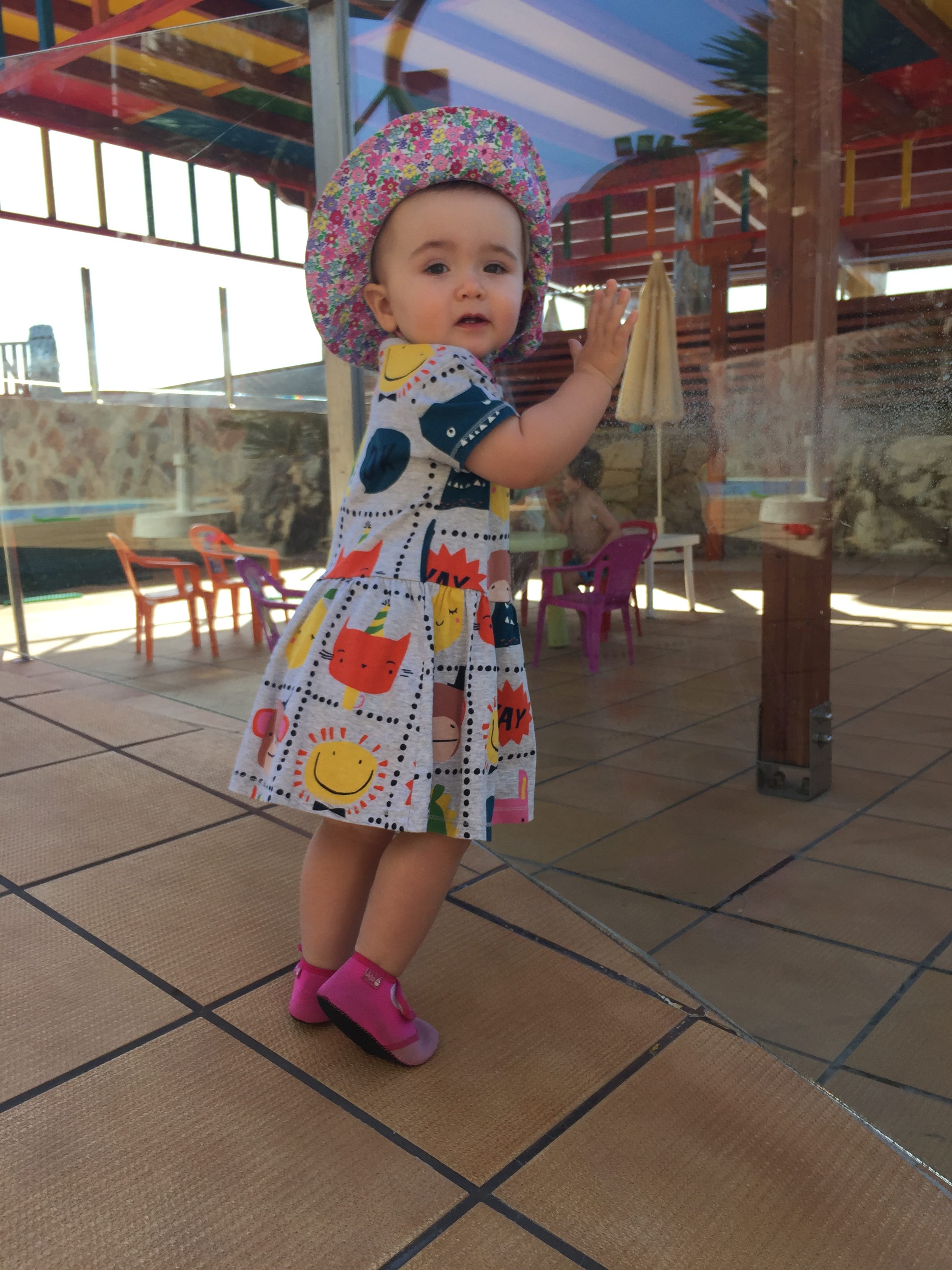 So many people say they do grow up so much on holidays and I really agree. Every day she amazed me, she became more vocal, smiling and waving at strangers. It was a different holiday in so many ways, but I have to say it was far and above the best holiday we have had. She just made every day so much more fun! The flight home was a little tricky, she was overtired to begin with and by time we got on the flight she was so cranky, but we survived and I lived to tell the tale, so I won't be as scared on our next flight!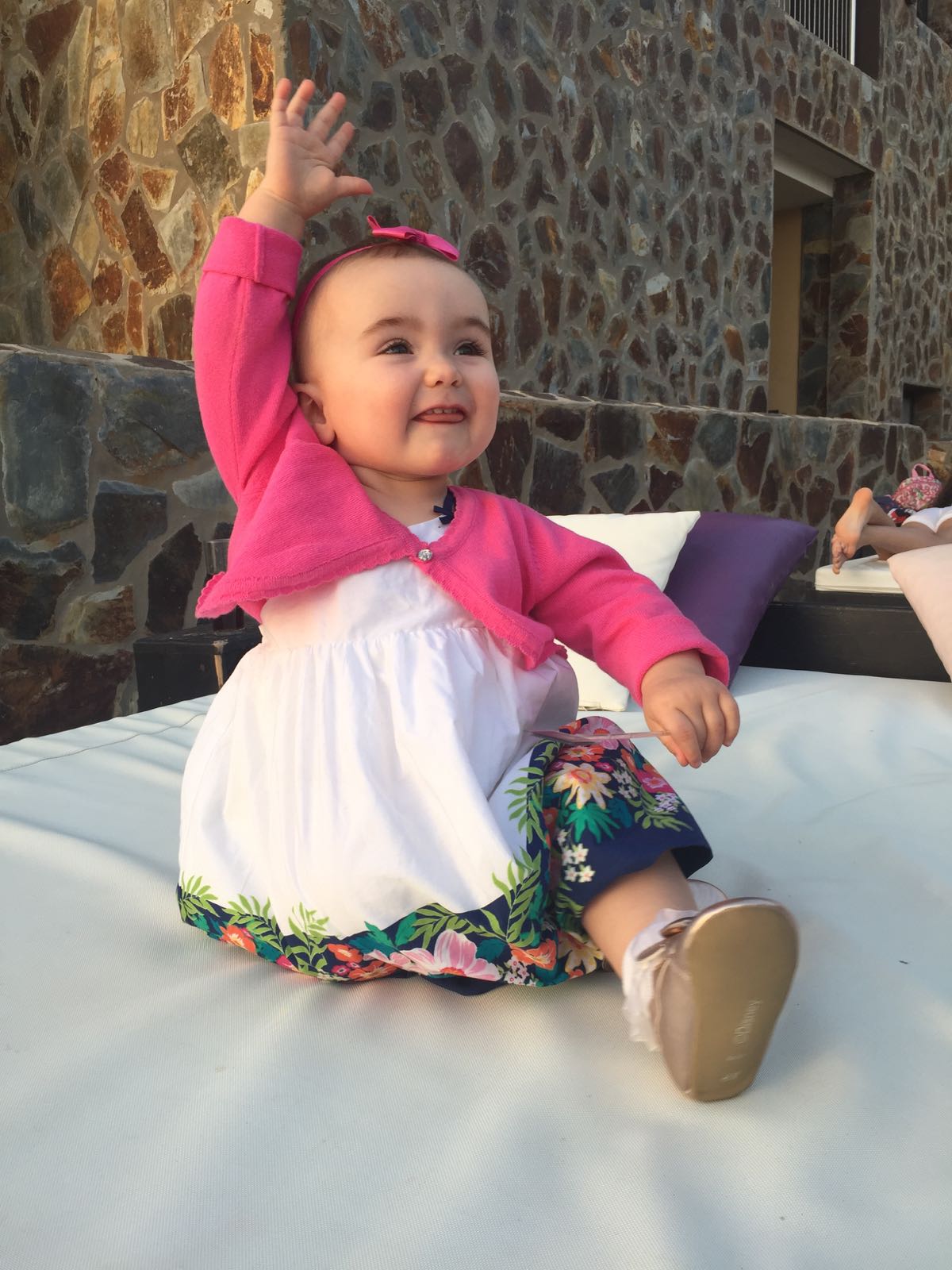 Hope you enjoyed the post
'Til next time
Naomi xxx