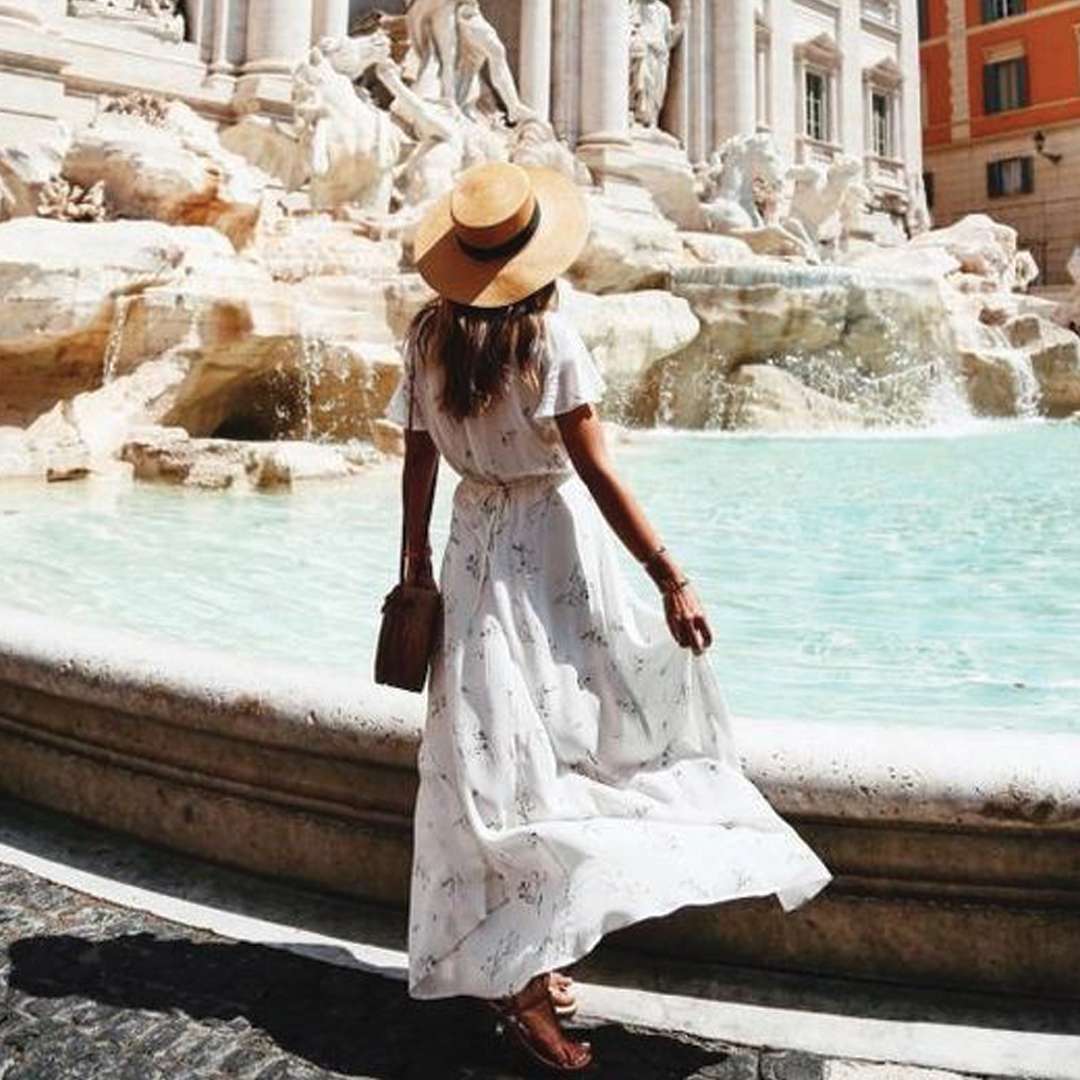 Travel Tuesday: A Roman Holiday
Rome has been on my bucket list for a very long time now. I've always dreamed about visiting the Colosseum and exploring every nook and cranny that the ancient city has to offer.

This summer, I'm going to stop dreaming and make this trip happen. After all, life is too short for regrets. I'm enjoying the research so I thought you might too. Keep scrolling to explore Rome in all its glory. 🙂
Top 10 Places To Explore
"A heady mix of haunting ruins, awe-inspiring art and vibrant street life, Italy's hot-blooded capital is one of the world's most romantic and charismatic cities."

Lonely Planet
1. The Colosseum
No trip to Rome could ever be complete without a visit to the gladiatorial arena.
2. Pantheon
A striking 2000-year-old temple, now a church, the Pantheon is the best preserved of Rome's ancient monuments and one of the most influential buildings in the Western world.
3. Trevi Fountain
Trevi Fountain is the most beautiful and largest fountain in the city. If you do visit the fountain, don't forget to toss your coin or coins in…depending on what wish you would like to come true 🙂 :
If you throw one coin: you will return to Rome.
If you throw two coins: you will fall in love with an attractive Italian.
If you throw three coins: you will marry the person that you met.
On average about €3000 is thrown in every day.
4. Vatican Museums
The Vatican Museums boast one of the world's greatest art collections. Exhibits are displayed along about 7km of halls and corridors and include Egyptian mummies. The Sistine Chapel, with its ceiling decorated by Michelangelo and the Stanze di Raffaello decorated by Raphael, are on the visitor route through the Vatican Museums.
5. St Peter's Basilica
In a city of outstanding churches, none are quite as spectacular as St Peter's Basilica – Italy's largest, richest and most spectacular basilica. It took Roman's 120 years to build and it's lavish interior contains many spectacular works of art, including three of Italy's most celebrated masterpieces: Michelangelo's Pietà, his soaring dome, and Bernini's 29m-high baldachin over the papal altar.
According to Lonely Planet, you should expect queues and note that strict dress codes are enforced.
6. Roman Forum
This incredibly impressive sprawl of ruins was ancient Rome's showpiece centre, a district of temples, basilicas and vibrant public spaces. The site, originally a marshy burial ground, was first developed in the 7th century BC, growing over time to become the social, political and commercial hub of the Roman empire.
7. Piazza Navona
Piazza Navona is one of the largest and most beautiful piazza squares in Rome with three impressive fountains: Fontana dei Quattro Fiumi, Fontana del Moro and Fontana del Nettuno. The square is surrounded by restaurants and terraces so it's the perfect place to spend the day just watching the world go by!
8. Ruins of Pompeii & Mt Vesuvius Day Trip from Rome

The tour of Pompeii and Mt. Vesuvius starts with a pick-up in central Rome. When you arrive at Mt. Vesuvius, your guide will take you on a hike to the top of the old volcano, where you can catch sight of the Bay of Naples, and sights inside the crater. You can find out more about this day trip here.
9. Piazza di Spagna & The Spanish Steps
The Piazza di Spagna is one of Rome's most famous squares and is located in one of the most popular neighborhoods of Rome. The Spanish Steps staircase is a favourite spot among tourists to sit, relax and enjoy the views of Piazza di Spagna.
10. Villa Borghese & Janiculum Hill
The Villa Borghese is a quiet place where you can enjoy a bit of time away from the otherwise busy streets of Rome. You can rent bikes, sail on the small lakes, admire the many fountains or even just chill with a book for the day. While you're there, make your way to Janiculum Hill, called Gianicolo in Italian, to enjoy breathtaking panoramic views of the city and enjoy the landmarks from a different angle.
Top 10 Places To Stay
TripAdvisor is a great reference point when booking accommodation. Here's a list of their top 10 recommended places to stay. Outside of this list, there are so many places to choose from but make sure to do your research before booking:
Personally, Airbnb is my go-to site for booking accommodation but I know there's a bit more research involved in going down this route.
Here's a handy bucket list…
Ryanair flies direct from Dublin to Rome Ciampino Airport CIA. The flight time is 3h 5m. 
My final words of wisdom and one we all know so well, "When in Rome, do as the Romans do."
Laura x