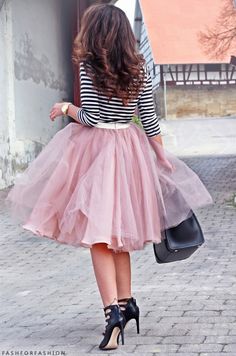 The Tulle Skirt
Ever since Carrie Bradshaw rocked our world in her full, girly, tulle prom skirt they have found a special place in our hearts.
There is something just so feminine and pretty about a full, prom style skirt! See one and it instantly makes you want to twirl!!!
With dresses taking a back seat this season, the skirt is the look of the year, from high waisted pencil skirts to full midis – there is no escaping the skirt trend this summer season!
The full, tulle skirt is a great look for a wedding, or even for a glam night out with the girls. It's especially stylish worn with a really simple top, and a slightly edgier structured jacket, it avoids the look becoming overly girly! They also look fab worn with a simple crop top!
We've searched online and in stores and bring you a few of our favourite full skirts available now.
OUR TOP BUYS
Want us to put an outfit together for you?
Are you stuck in a style rut? Sick of wearing the same old things all the time? Want a new look but don't know where to even start? Then check out our unique Virtual Personal Shopping Service – with prices starting at just €50! For this you get 3 fully styled outfit options! It's getting the services of a qualified and experienced stylist and personal shopper to dress & style you… All without having to leave the house!!! Read more about the service here.
We also offer an accompanied Personal Shopping Service with rates starting at just €60 an hour! Or if you book three hours, it is discounted to €165!!!
Mail us at info@thestylefairy.ie for more information on any of our personal shopping services!
'Til next time
The Style Fairy xxx