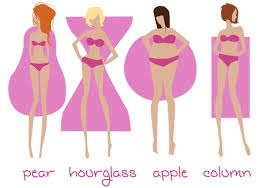 The Style Fairy Services: Style Consultations
Have you ever looked in the mirror and wondered what exactly your body shape is? What shapes and styles you SHOULD be wearing and equally what you SHOULD'T be wearing?


Or have you ever thought, "I wonder what colours suit me best"? or "What brings out my features best"?  or "I wish someone could just tell me what I should be wearing to suit me"?


Then you need to hear more about our Style Consultations. We offer two types of Style Consultation: Virtual Style Consultations and Face-To-Face Style Consultations.
Our Style Consultations are designed to provide you with the tools and knowledge on how to shop better for you and your body.
HOW IT WORKS
Face-to-Face Style Consultations
The Style Fairy will meet you in central Dublin location, and over a complimentary coffee, will do a full style consultation with you, including a full body shape analysis – telling you whether you are an hourglass, a pear, an apple etc and more importantly, telling you how you should dress to suit your bodyshape and maximise your assets;  including what shapes to wear and what to avoid.
The Style Fairy will also do a full colour analysis, telling you, based on your skin tone, eyes and hair colouring what colours you should look out for and how you can incorporate them into your wardrobe. We will also talk through what colours should ideally try to avoid.
We will explain what both the colour and body shape analysis means in real life i.e. when it comes to actually shopping to suit YOU! We will provide you with the tools and knowledge to improve your shopping skills based on your body and lifestyle. After this session, we can guarantee you will have a new outlook and understanding on how to shop to suit you.
We will follow up with your personalised style consultation overview, which will outline all the key points discussed, complete with shopping tips, body shape analysis and colour analysis.
 Virtual Style Consultation
The Virtual Style Consultation offers all the same benefits and information that the face-to-face session will, all without actually having to meet us!


This type of consultation is perfect for people who simply do not have the time to meet us! It works the same except, in advance, we will get you to complete a very quick and easy style questionnaire and ask you to send us a few pictures of yourself, all of which will be 100% confidential. Based on this we will have enough information to give you a full Style Consultation, including body shape and colour analysis.
Price
Virtual Style Consultation: €90
Face-to-Face Style Consultation: €130
For further information, email us on info@thestylefairy.ie, call us on 087 0606592 or visit our website here.
'Til next time
The Style Fairy xxx
www.thestylefairy.ie