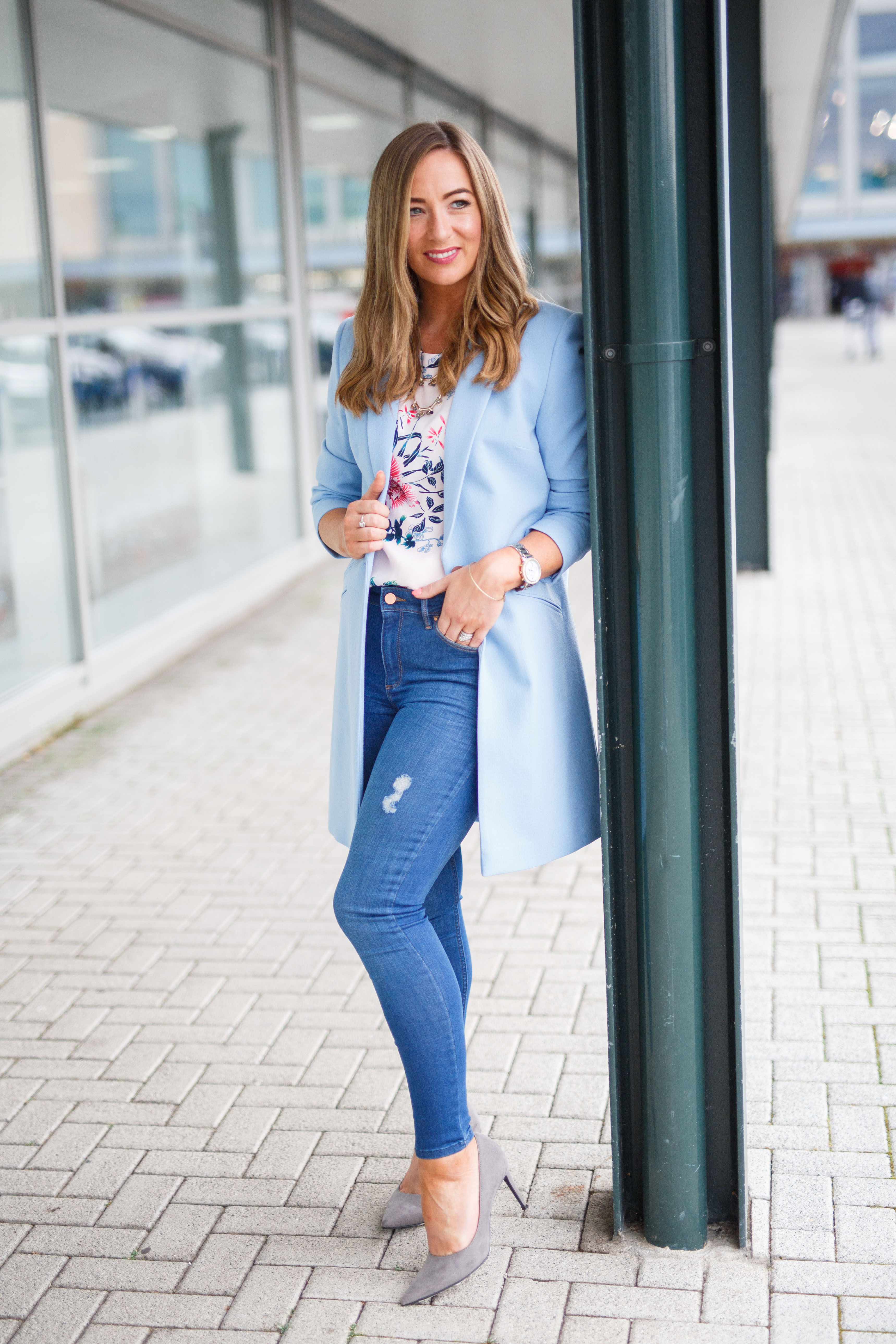 F&F at Tesco Denim Collection
Hi ladies
You may have seen on my social media that I recently teamed up with F&F at Tesco to showcase their stunning sustainable denim collection.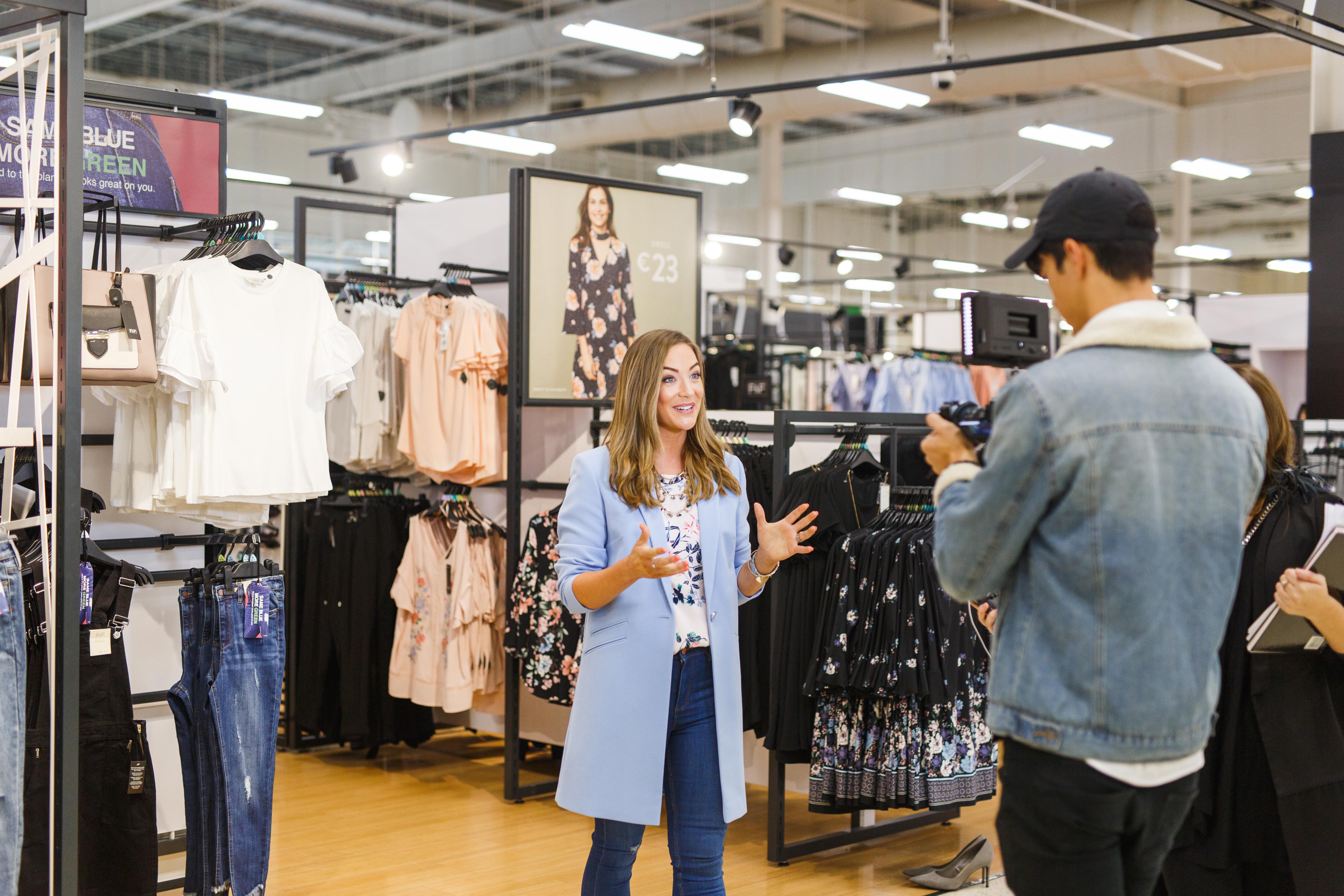 I spent the day in their Maynooth store, checking out the full denim range and pulling my favourite looks. We also filmed a really cool short video showcasing all my favourite styles while I was there. Check out the video HERE
Styles Available 
There is a massive variety of jeans available from the F&F Denim collection from boot cut jeans to slim leg jeans to classic skinny jeans to my personal favourite; the contour jeans. I absolutely love these, they are SO flattering on; an amazing fit and really hug the body (in a super flattering way). They are high waisted too, which I personally love. High waisted jeans are a 'must have' investment, especially if you are a little conscious of your tummy area as they really suck you in. The contour jeans are made with a high performance stretch technology meaning they give a really smooth silhouette and won't stretch on you as they day goes on.

Sizing & Fit 
Down to the details… So I've been getting so many questions about the sizing. Probably one of the things I loved so much about the jeans from F&F is that the sizing is accurate and consistent across all the styles, I tried on every single style in the shop and my size was my standard size 10 in all. It's great to know you can trust the sizing, as I know myself how frustrating it can be when jeans are not true to size. I am 5 foot 7 and I opted for the regular leg and loved the length, they were perfect for me. The jeans are available in short leg, regular leg and also long leg.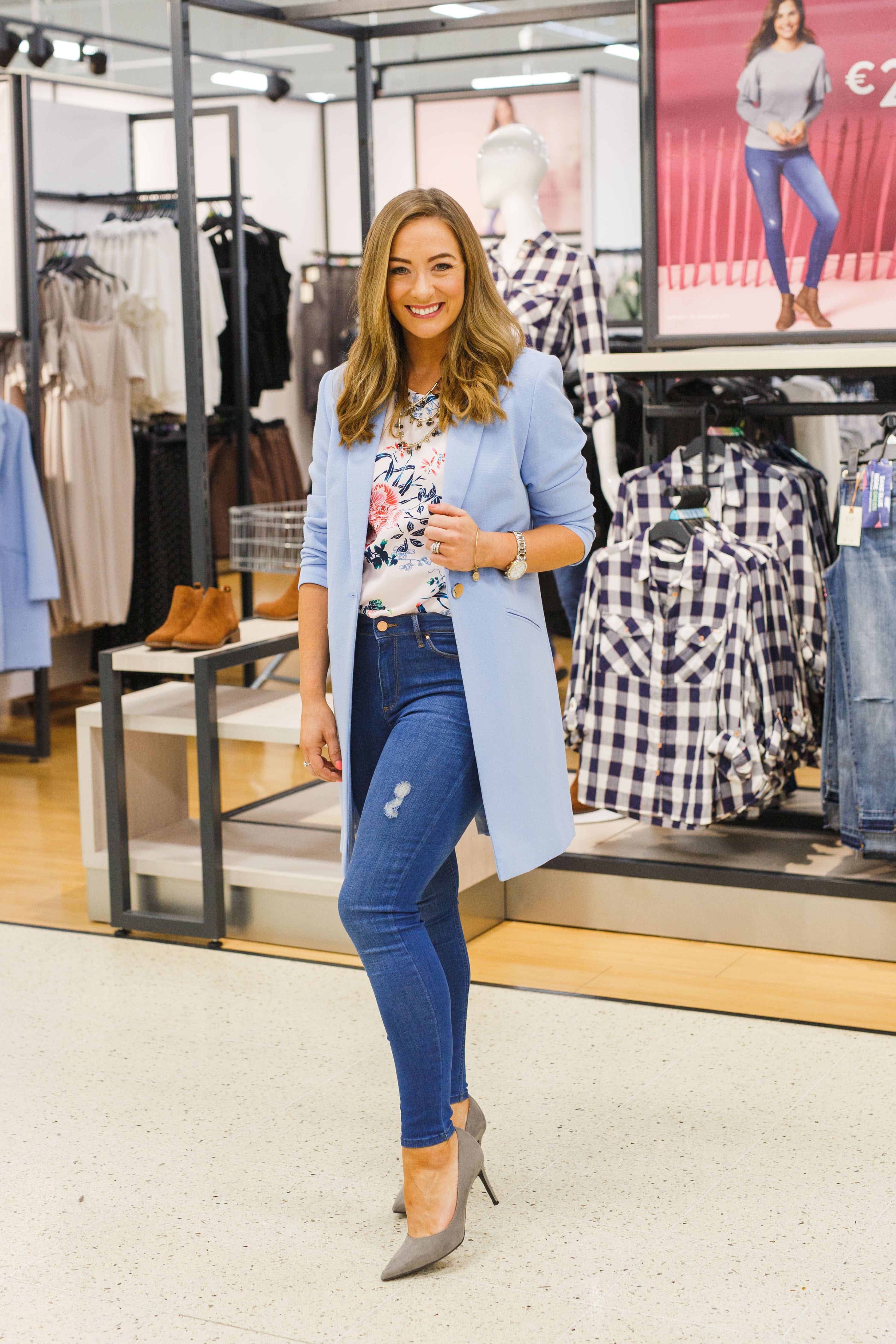 The F&F denim collection goes from a size 6 to a size 22 
Pricing 
Well the great news is ALL the styles from the F&F denim range are below €30!! Yes you read that right… €30.
Skinny jeans, €23
Contour jeans, €28
Slim leg jeans, €20
Jeggings, €16
Relaxed skinny jeans, €25
Bootcut jeans, €23
Sustainability 
F&F at Tesco have put incredible work in creating 'the perfect pair of jeans'; the fit is spot on, the sizing is accurate, the shapes and styles are comfortable, stylish and practical and the price point makes us all happy, but on top of that F&F are forging the way in sustainable denim.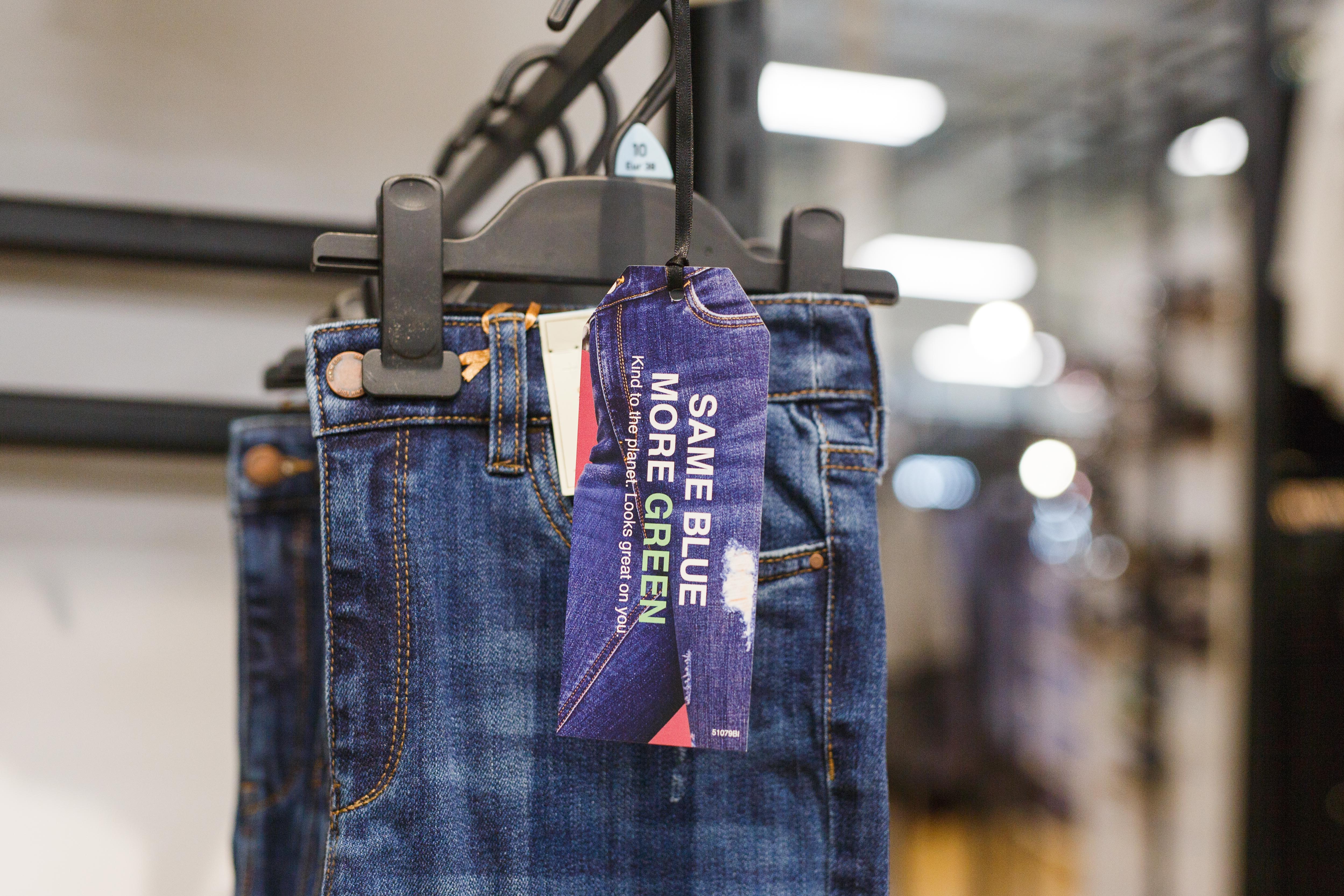 Did you know it takes approx. 45 litres of water to manufacture ONE pair of jeans, well since 2015, F&F at Tesco have been developing 'low impact' denim to use less water, less energy consumption and less chemicals.
Styles and Wearability
So, I've mentioned there are a wide variety of styles available; these is definitely something suit everyone no matter your shape, taste, size or lifestyle. But here's the breakdown on styles and how I'd wear them:
Bootcut: A huge trend for the coming Autumn/ Winter season, definitely a dressier take on jeans and look good styled with a simple top and a blazer, finished with a statement necklace and heels. These are mid rise.
Relaxed Skinny: They are calling this style 'skinny's more relaxed best friend'. I have a pair of these and find them really comfy. I love the distressed look and think they look way more expensive than their budget friendly price tag. Wear with trainers, t-shirt and a biker jacket for a relaxed, stylish and comfortable look.  These are a mid rise style.
Skinny: A wardrobe classic and not going anywhere soon. We all need a good pair of skinnies in our wardrobe. These are also a mid rise silhouette.
Contour: My favs!!! These are high rise silhouette (so flattering on) and made from a performance stretch fabric meaning they just really hug the body, but in a really good way. I honestly have barely taken my contours off over the last few weeks! Perfect with trainers or ankle boots for daytime but equally fab worn with heels for a night on the town. (High waisted style)
Jeggings: Easy, wearable and comfortable; perfect for styling with a chunky knit and trainers or ankle boots for the autumn season.  (mid rise style)
Slim leg: A classic wardrobe staple, ideal for those you don't want to go for the skinny jean look, yet like a slim leg style, these are also mid rise. These are the type of jeans that can be worn dressed down or up depending on what you're up to!
In terms of wearability and durability I have the relaxed skinny jeans and also the contour jeans, both of which I have been wearing so much over the past number of weeks and I have to admit I am really impressed so far, they wash really well and still maintain their shape.
My Favourite Looks 
Here's a round up on my favourite looks, and off course head-to-toe from F&F at Tesco.
Look 1
Contour jeans in blue, €28
Blue coat, €45
Top, €16.50
Grey heels, €20
Necklace, €18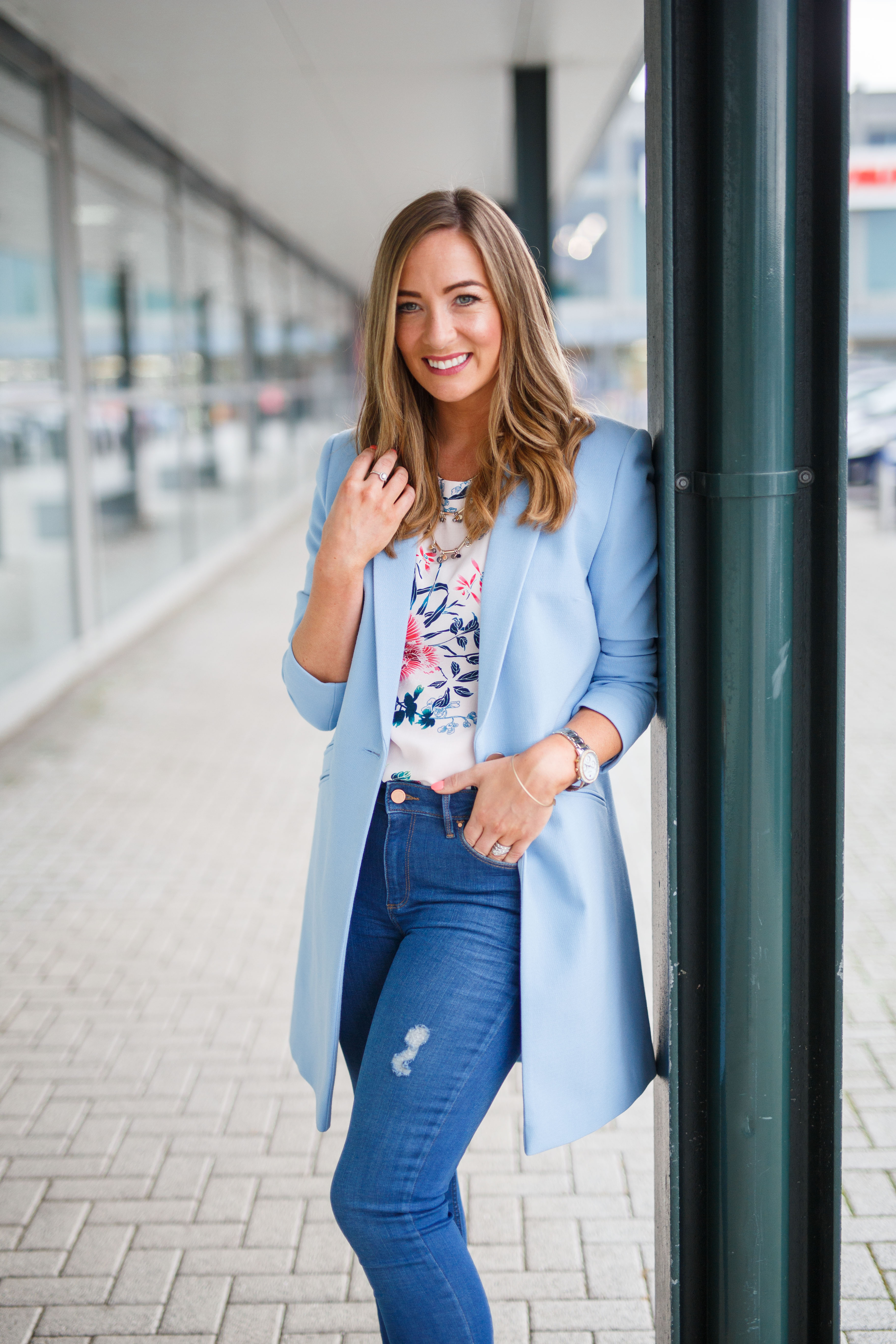 Look 2
Relaxed skinny jeans (in blue), €25
Pink faux suede biker jacket, €45
T-shirt, €12.50
Rose gold trainers, €20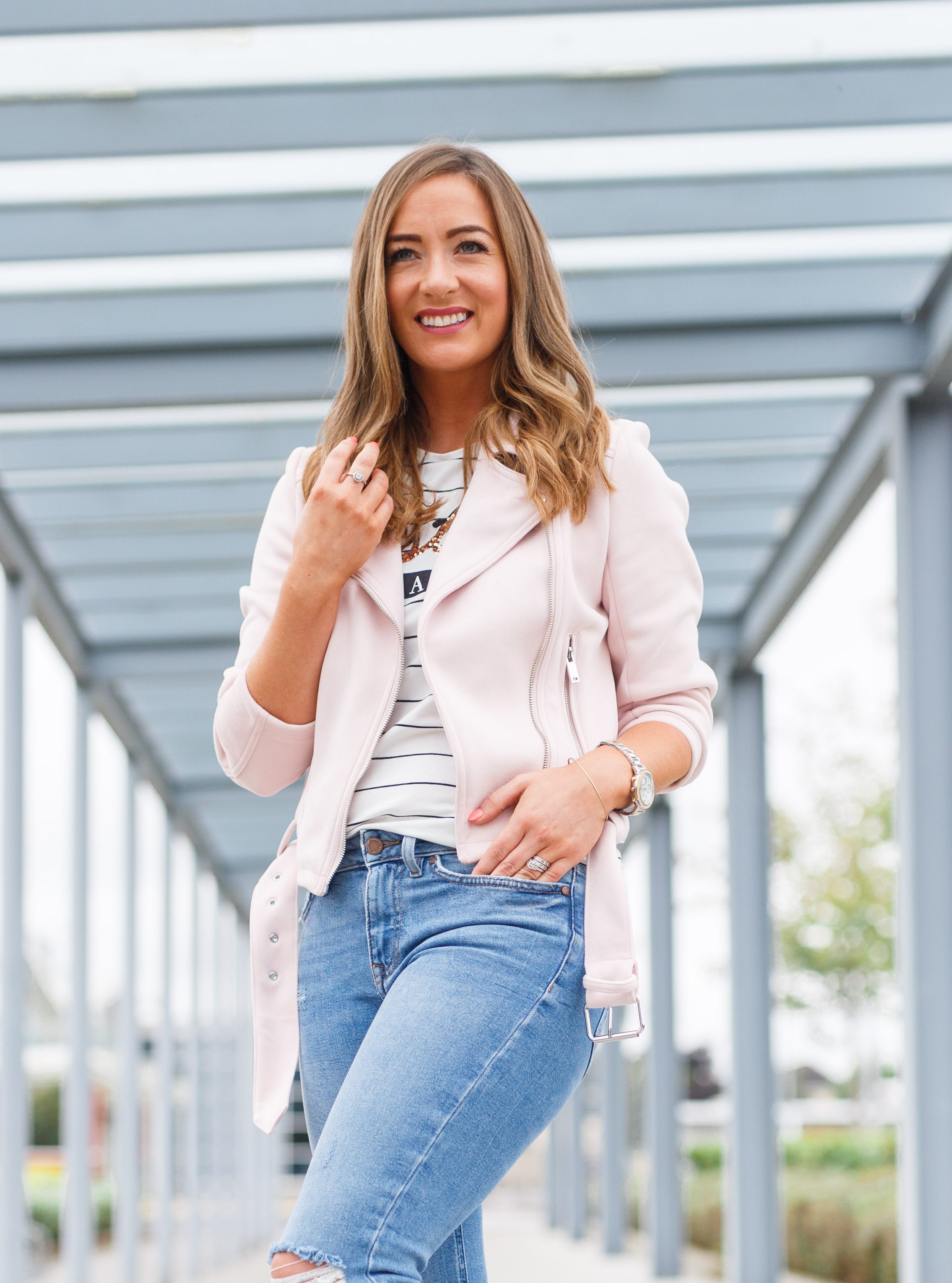 Look 3
Black "Push Up' jeans, €20
Gingham top, €18
Black heels, €20
Necklace, €10.50
Look 4
Contour jeans in grey, €28
Grey faux suede jacket, €45
Pink floral blouse, €19.50
Grey heels, €20
LOOK 5
Stripey top, €10
Skinny jeans, €23
Navy jacket, €39
Navy trainers, €18
COMPETITION 
F&F at Tesco have launched a really exciting competition for you to be your own blogger. You see all your favourite bloggers get sent all these fabulous products on a daily basis, well F&F think you deserve some special treatment yourself. They are giving 3 lucky ladies the chance to be a blogger for a day and get spoilt with some fabulous goodies from F&F.  As well as getting some gorgeous products from F&F, the lucky winners will get the chance to showcase three creativity and writing style and their content will be shared across the F&F social media pages!!!!! This is a 'MUST ENTER' competition for any budding bloggers and fashionistas out there; it is an amazing opportunity to get yourself exposed to a massive audience. To enter and be in with a chance to win simply
Head over to the F&F Facebook page (see here) and fill out the quick survey
Good luck everyone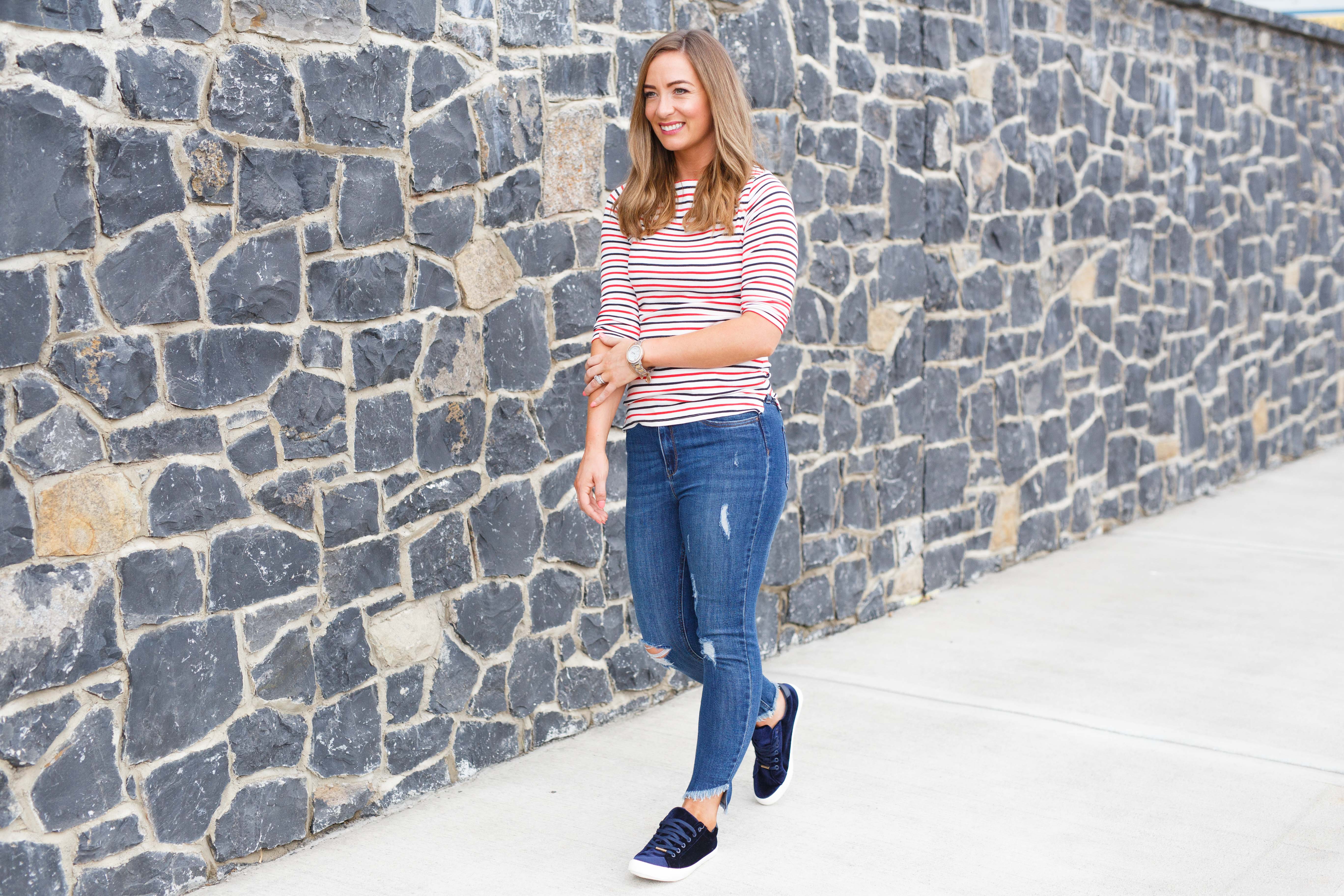 Hope you enjoyed the post and be sure to let me know which is your favourite look?
'Til next time
Naomi xx
Photo credit: All photos taken on by Bríd O' Donovan
*Please note: This is a sponsored blog post in association with F&F at Tesco**