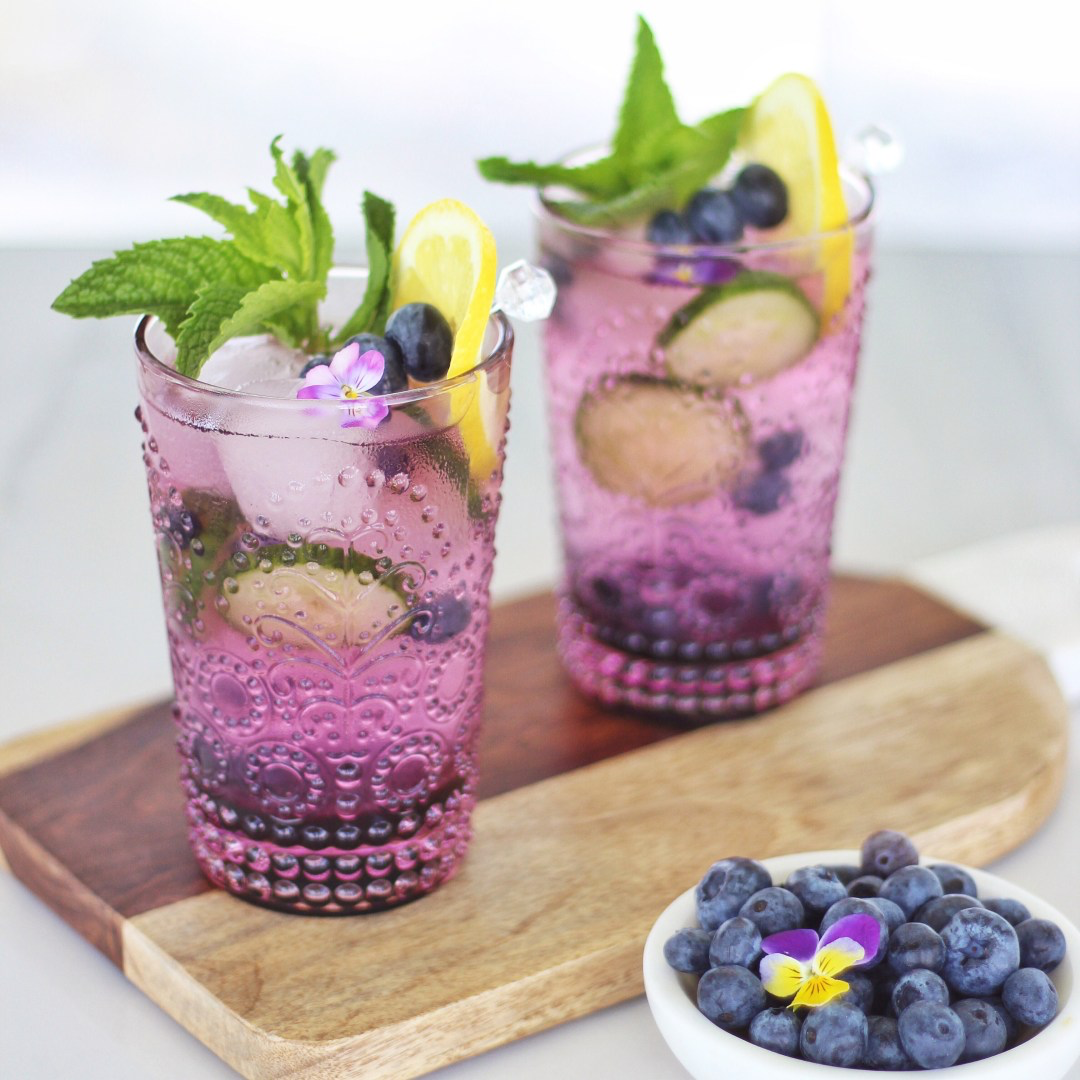 Recipe: Blueberry Lemon and Cucumber Gin Mojitos
Hey everyone. 🙂
Today was such a beautiful day. The clear blue skies and sunshine got me thinking about refreshing cocktail recipes for summer soirées with friends and family.
I came across this one on Justine Celina's blog and absolutely fell in love with these late summer sippers. The Blueberry Lemon and Cucumber Gin Mojitos combine sweet blueberries with refreshing lemon, cucumber and mint. A splash of soda water adds just the right amount of sparkle. Best of all, the mojitos are free of refined sugars and made with all natural ingredients – so the next time you're craving a cooling summer cocktail, indulge yourself with a fresh twist on the classic mojito!
Ingredients
For the Blueberry Honey Simple Syrup4 cups fresh blueberries
1/2 cup water
1/2 cup honey
Juice from half a lemon
For the Blueberry, Lemon and Cucumber Gin Mojito1.5oz Blueberry Honey Simple Syrup
2 oz of gin
Juice from half a lemon
5 leaves fresh mint
5 slices of cucumber
Soda water
Ice
Optional GarnishEdible flowers (I used pansies)
Cocktail skewers
slice A of lemon
Fresh blueberries
A sprig of mint
Instructions
If you're making floral ice cubes, begin by sourcing your flowers, washing them and dropping them into the ice cube trays to freeze. You really can't mess this up — so experiment with different flower place- ments within each cube and have fun with it!
Start on your Blueberry Honey Simple Syrup. Add blueberries and water to a medium sauce pan over low heat. The blueberries will begin to break down quickly — help them along by pressing them with a potato masher to aid in extracting the juices. Simmer for 15 minutes.
Strain the blueberry juice into a heatproof bowl, using the potato masher press the juice through the strainer. Reserve the juice for the Blueberry Honey Simple Syrup and discard the skins.
Add the blueberry juice and honey back to the saucepan and bring to a boil. Reduce to a simmer and allow to thicken for 10 minutes.
Turn off the burner. Add the juice from half a lemon to your saucepan, stirring until incorporated. Allow your Blueberry Honey Simple Syrup to cool before using it in the Blueberry Lemon and Cucumber Gin Mojitos.
Begin assembling your cocktail by adding lemon juice, mint and cucumber to a cocktail shaker and muddling them together with a pestle. Add Blueberry Honey Simple Syrup and a few ice cubes. Shake vigorously until the cocktail shaker becomes cold.
Add the contents of the cocktail shaker to your glass along with your gin. Pour soda water overtop to fill your glass to the desired level.
Garnish your Blueberry Lemon and Cucumber Gin Mojito with a slice of lemon and a few blueberries on a cocktail skewer.
Add a sprig of mint, or a few more edible flowers and enjoy!
I hope you enjoyed the post!
Laura x
Please drink responsibily. For the facts, visit drinkaware.ie.