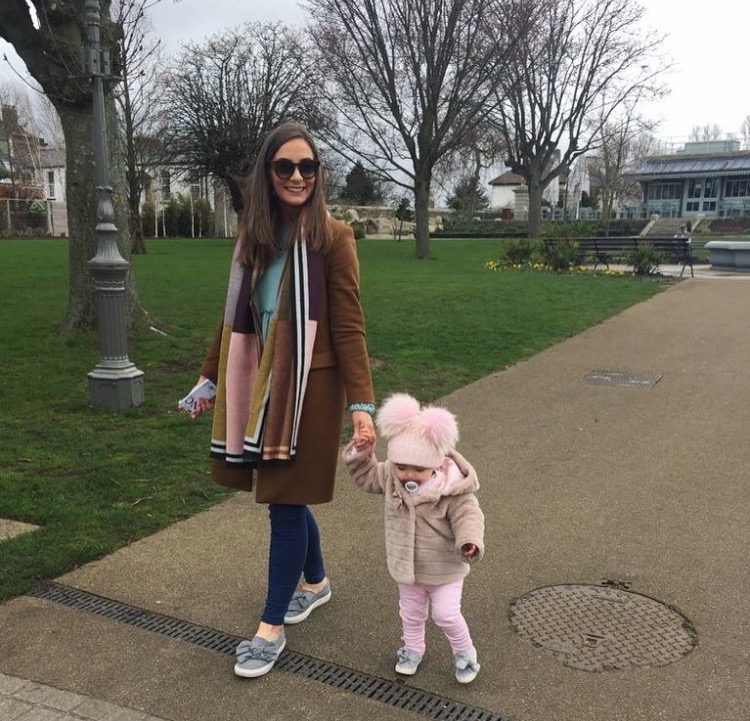 Mammy Diaries: Johnson's Top to Toe Baby Bath
The Style Fairy tests JOHNSON'S® TOP-TO-TOE® Baby Bath #ad
Hey ladies
So recently I was asked by Johnson & Johnson to take part in a really fun and interesting campaign they are running with their Johnson's Top to Toe Baby Bath. You can check out the full video I did here:
I was asked to run a small experiment comparing Johnson's Top to Toe Baby Bath with regular baby soap and the results were really interesting. I placed a fresh rose in each of the jars; one jar containing the Johnson's Baby Bath (mixed with demineralised water) and one containing the baby soap (also with demineralised water) .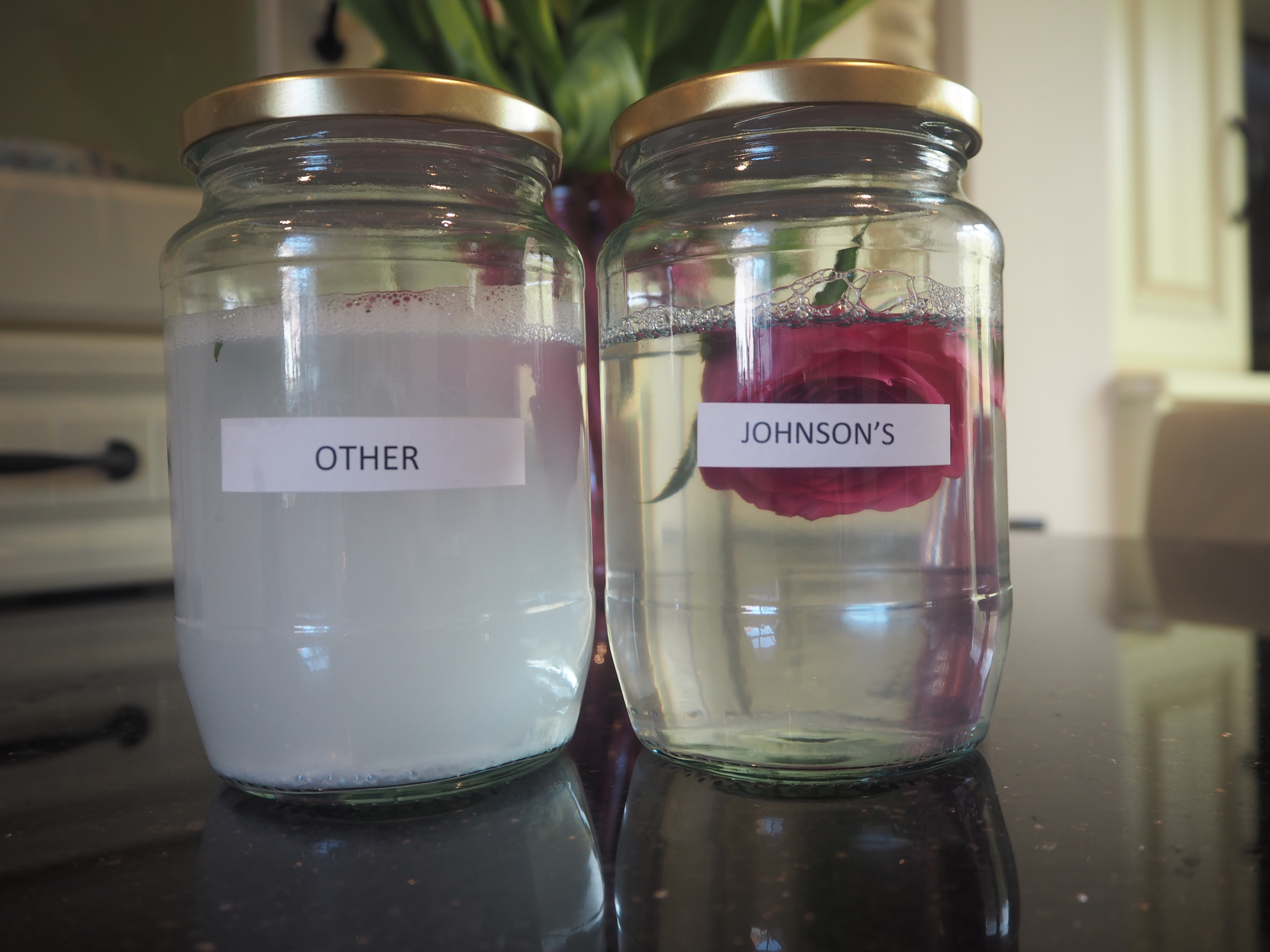 After 24 hours I took the roses out from the jars and the difference in how the two roses faired out was crazy. The rose that was in the Johnson's Top To Toe Baby Bath was still perfectly intact, still bright, petals looked and felt fine and in general just looked normal. Where as the rose that has been soaking in the baby soap was not nearly in as good condition; it had wilted significantly, it was faded and white in patches and it looked like it was rotting in the centre; check out my video to see exactly what I mean.
It certainly really made me think of the importance of what I use on Anabelle Ivy's skin. I have always, from day one, been very careful about what I use on her skin, both in the bath and any creams or lotions used post bath. Baby's skin is so delicate and soft and I'm so conscious of what I use on her skin. In fact, baby's skin is up to 30% thinner than adult skin which is why it leaves it so much more vulnerable.
Bath time is a huge part of our routine, although now she is getting so much bigger it is getting a lot more messy… and fun!! I'm almost always soaked after all her splashing an jumping around. She loves it though and I always find she sleeps so much better after a bath. Toys are a must have in our house, otherwise she gets bored after 10 seconds and starts trying to leap out!
After the bath we keep the routine the same, into her jammies, then its story time with her favourite bed time book (Goodnight Moon) and her last bottle of the day in her nursery. I always keep the lights dimmed low and talk nicely and calmly to her, she is so hyper during the day that I think this routine helps cal her after a hectic day. Last but certainly not least her Sleepytot Comforter, she just gets this at nap time and bed time and associates this magic bunny with sleep – definitely one of my best buys.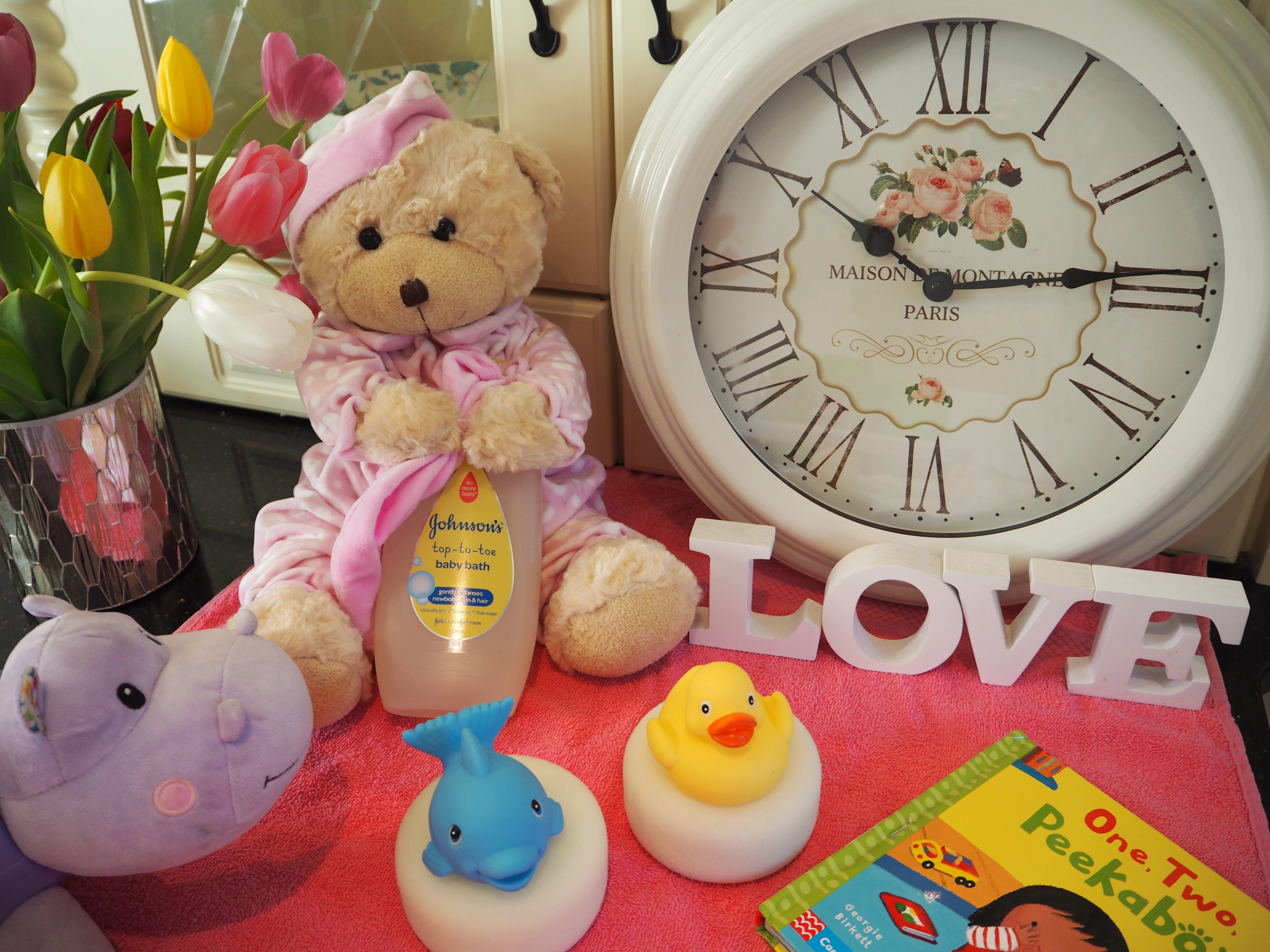 Hope you enjoyed the post
'Til next time
Naomi xx
COMPETITION TERMS AND CONDITIONS – SEE MY FACEBOOK PAGE FOR DETAILS OF THE COMPETITION
1    The Prize Draw is open to residents of the Republic of Ireland only who have a Facebook account and are aged 18 years or over, except employees (and their families of Johnson & Johnson (Ireland) Limited) and its affiliated companies, their agencies and anyone professionally connected with this Prize Draw.
2  No purchase necessary for entry into the Prize Draw. Entries received after the Closing Date of 30th April 2017 will not be accepted.
3   Entrants will need to like and share post, and comment on the Facebook post tagging a 'friend'. 3 lucky winners will each win a JOHNSON'S® hamper containing a selection of JOHNSON'S® products to the value of €23.44 RRP. The separate information provided by the Promoter as to how to enter the Prize Draw is an integral part to these terms and conditions.
4   The winners will be drawn within 7 days of the Closing Date, from all valid entries received.
5  All winners will be drawn using randomised software or under independent supervision from valid entries and notified by Direct Message on Facebook within 7 days of the relevant draw. If a winner cannot be contacted within 21 days of the draw, the Promoter reserves the right at its absolute discretion to withdraw prize entitlement and award the prize to a substitute winner drawn at the same time as the original.
6  The Promoter's decision is final on all matters regarding this Competition. No correspondence will be entered into.
7   The Promoter retains sole discretion to withhold prizes without liability if in its view a winner is ineligible, the entry is invalid or a winner does not meet the necessary requirements as set out in these terms and conditions. The Promoter reserves the right to withdraw or amend the Prize Draw in the event of unforeseen circumstances or circumstances outside of its control.
8 To the extent permitted by law, the Promoter excludes all liability whatsoever in connection with Prize Draw and the Prizes and in particular does not accept responsibility for entries invalidated by technical problems beyond the control of the Promoter or problems with accessing the website.
9  All internet connection charges and any other expenses which may be incurred due to entering or wining the Prize Draw are sole responsibility of the participant.
10  Details of participants and winners shall be retained by the Promoter for the purpose of administering the Prize Draw. Participants may withdraw their consent to the retention of such data at any time by providing notice of such withdrawal to the Promoter. However, the Participants who withdraw their consent in this manner will be excluded from the Prize Draw. The Promoter will be sharing the details of the winners with the Johnson's team purely for the purpose of fulfilling the prizes.
11  Facebook is trademark of its respective owner. The Promoter does not claim any rights in such trademarks and the Prize Draw is not associated with or enforced or supported by any of such trademark owners.
12   By participating in the Prize Draw, participants are deemed to have accepted these terms and conditions.
13   The Promoter is The Style Fairy.
** This is sponsored blog post in association with Johnson's Top to Toe Baby Bath **