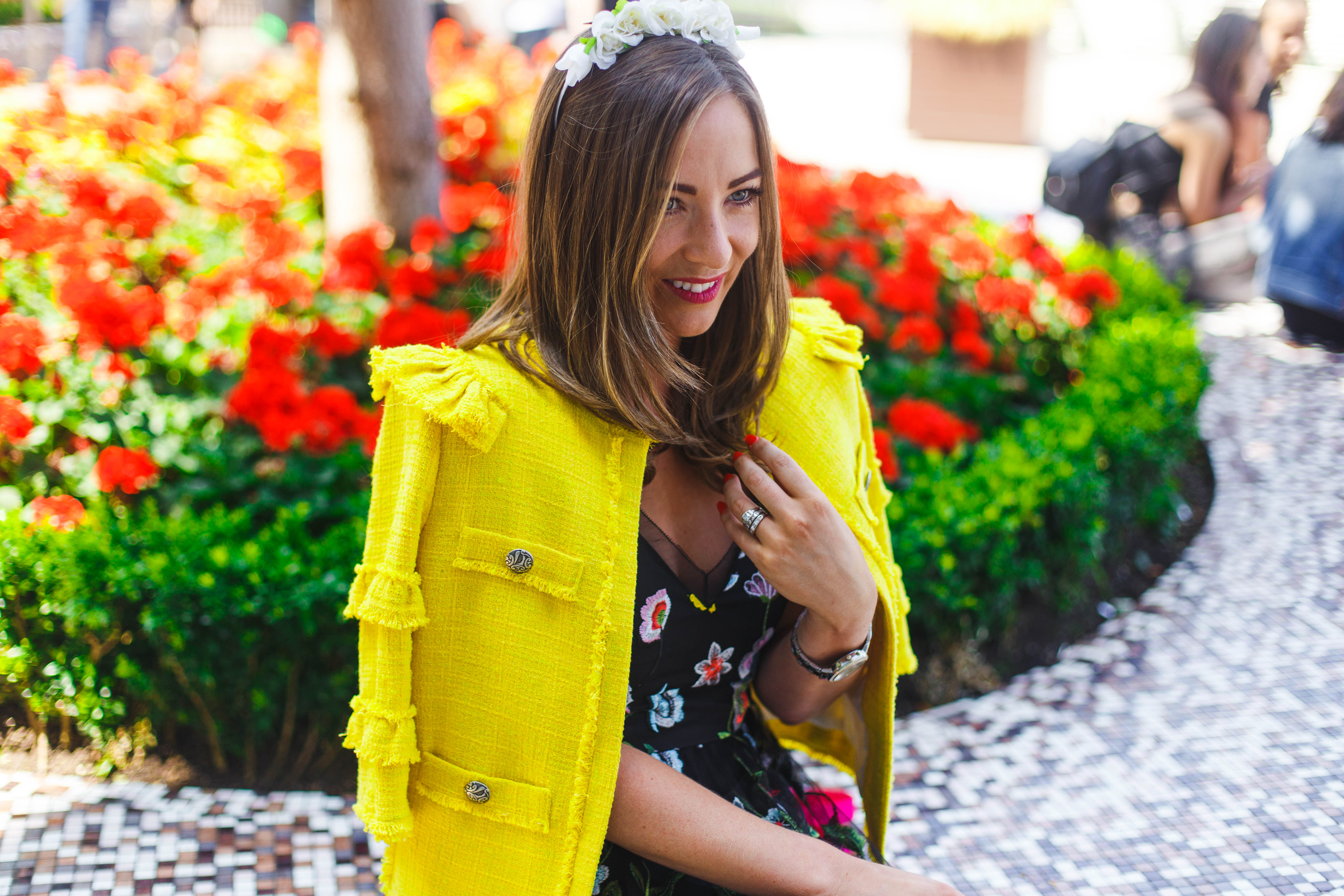 Dundrum Town Centre Ladies Day
Hi ladies
Last week I had the amazing opportunity to team up with Dundrum Town Centre, what a dream come true for me and if you follow me on Snapchat or Instagram you may have seen some snippets of the day? It was a really brilliant day!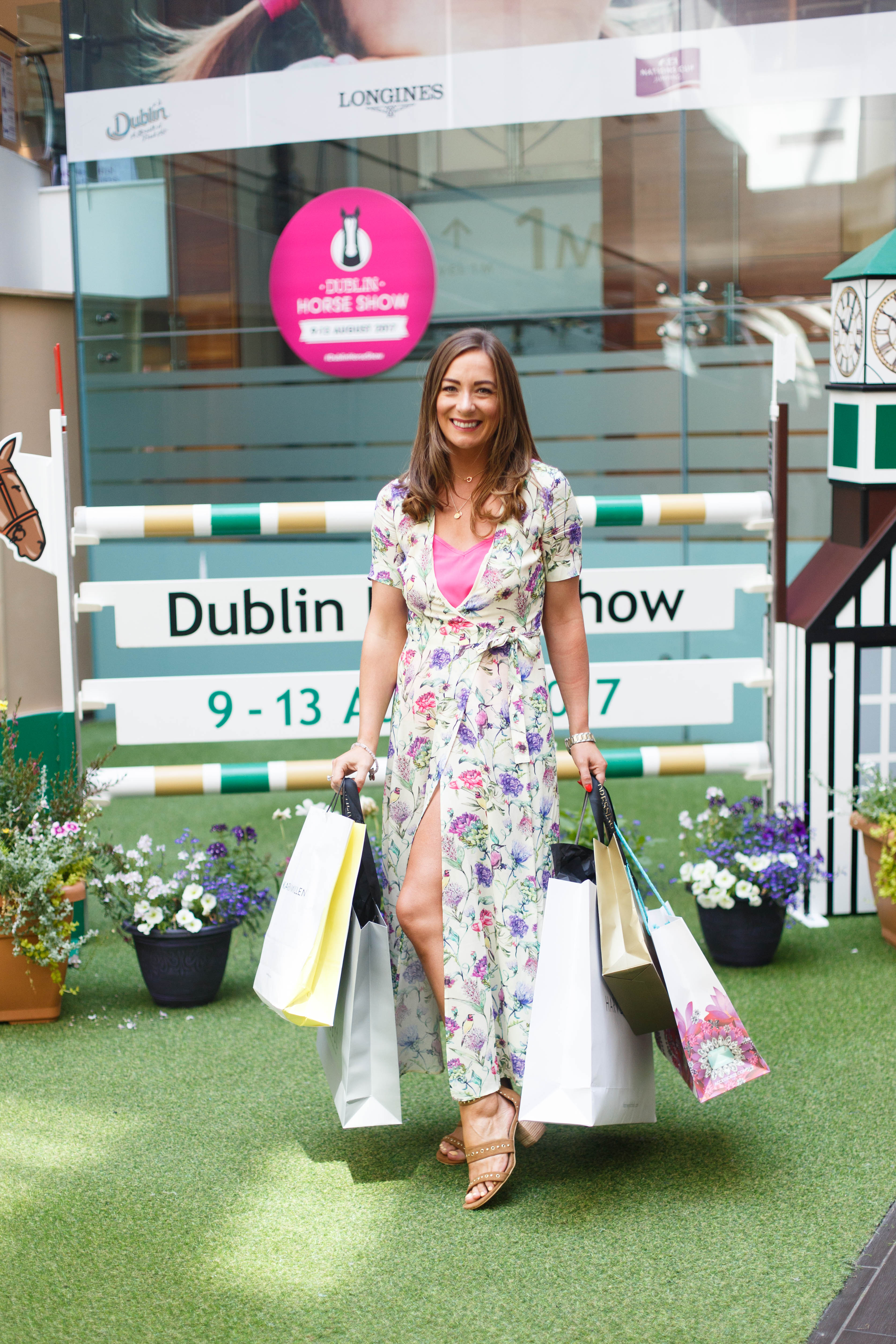 This year, Dundrum Town Centre are the very proud sponsors of Ladies Day at the RDS Dublin Horse Show. Ladies' Day at the Dublin Horse Show is the longest running and most prestigious Ladies Day outing in Ireland and is the highlight of the social calendar for many.
The winner of this years day will win a whopping €10,000 Gift Card to spend at Dundrum Town Centre! WOW! Imagine the fun you would have spending that?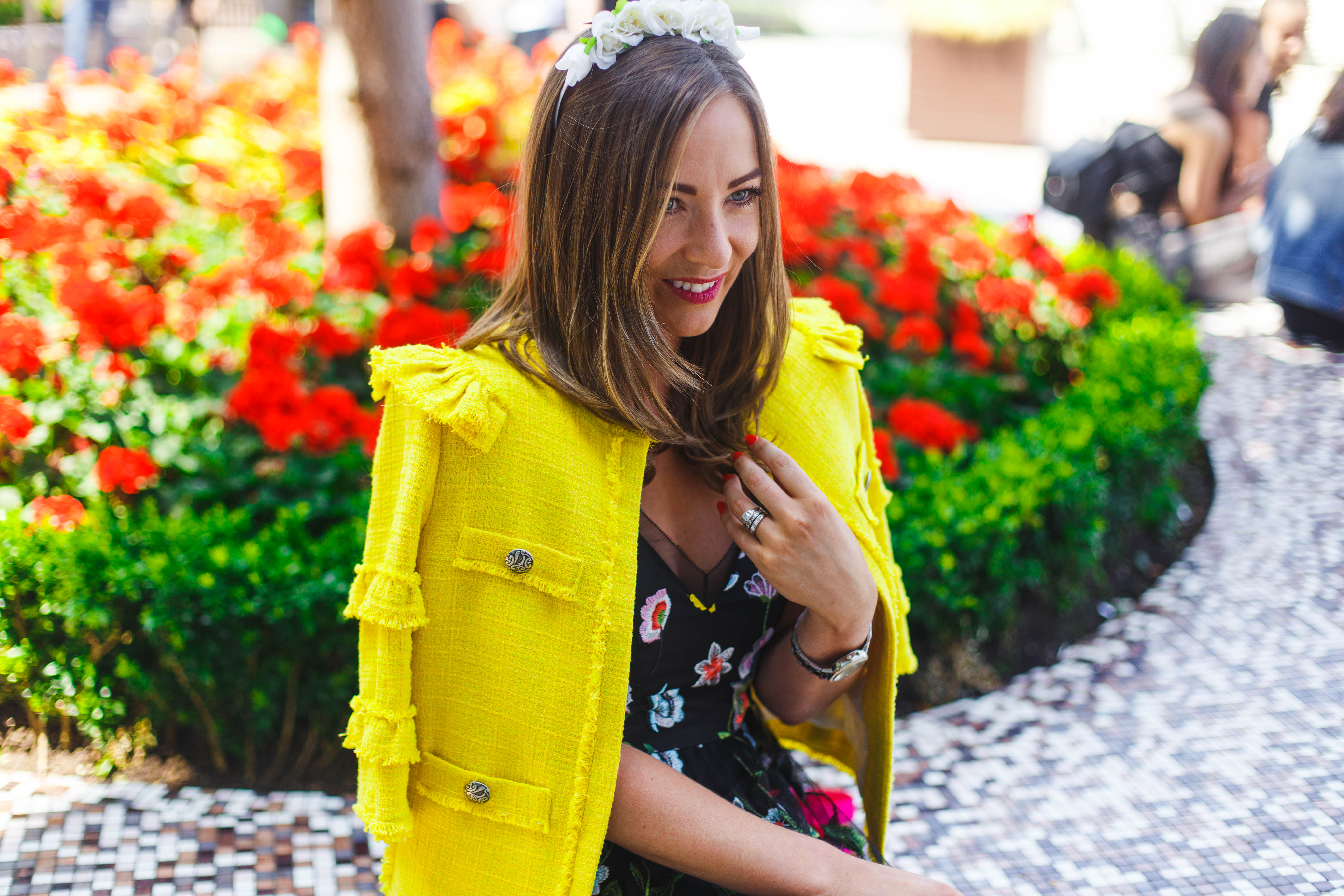 The Dundrum Town Centre Ladies Day takes place on Thursday 10th August. You can purchase tickets for the RDS Horse Show HERE.  For more information on Ladies Day;  how to enter, where to go, who the judges are etc, you can check out the Dundrum Town Centre website HERE. Judges on then day include; stylist Courtney Smith, fashion editor Bairbre Power and Dundrum Town Centre personal stylist Lorna Claire Wightman. MC on the day will be the gorgeous Cassie Stokes, presenter of Xposé.
Dundrum Town Centre have so many incredible retailers; it is the perfect place to search for your winning Ladies Day look. From the likes of Harvey Nichols and House of Fraser, both of which are exclusive stores to Dundrum Town Centre, to Hobbs, Coast, Mint Velvet, Karen Millen, LK Bennett, Cath Kidson, River Island, Zara, Oasis and so many more. It has the perfect combination of highstreet to more exclusive labels making it the ideal; 'go to' destination to mix & match and pull together some incredible outfits.
My task for the day was to style outfits for Ladies Day that I think had that winning edge and will hopefully give you some ideas on what to wear to the Dundrum Town Centre Dublin Horse Show Ladies Day.
How to Dress for Ladies Day
When it comes to Ladies Day so many women can feel totally overwhelmed and unsure what they should wear,  how to put their outfit together, what shops to go to etc. My goal when I visited Dundrum Town Centre was to style some gorgeous Ladies Day looks from the vast array of shops at Dundrum Town Centre; to give all you ladies some ideas & inspiration on what to wear for the day. There is no "Right" look; there are no set ingredients to winning Ladies Day; my best advise would be embrace your own personal style, do not dress to please the judges and their personal style, please yourself and  be confident, comfortable and happy in what you wear; that really shines through. Don't be afraid to add a bit of individual style and flair. You don't have to dress up in what you think is traditionally "ladies day' attire, instead, think outside the box, go for what you love, what flatters you and embrace that. Having judged various Ladies Days in the past, it shines through when someone is comfortable, happy and confident in their look. Don't forget accessories too; they are the key to completing your look.
LOOK 1
Coat , €300 & Dress €80, was €300 : Hobbs
Headpiece: Coast, €35
Heels (€180): Hobbs
Clutch: Coast, €30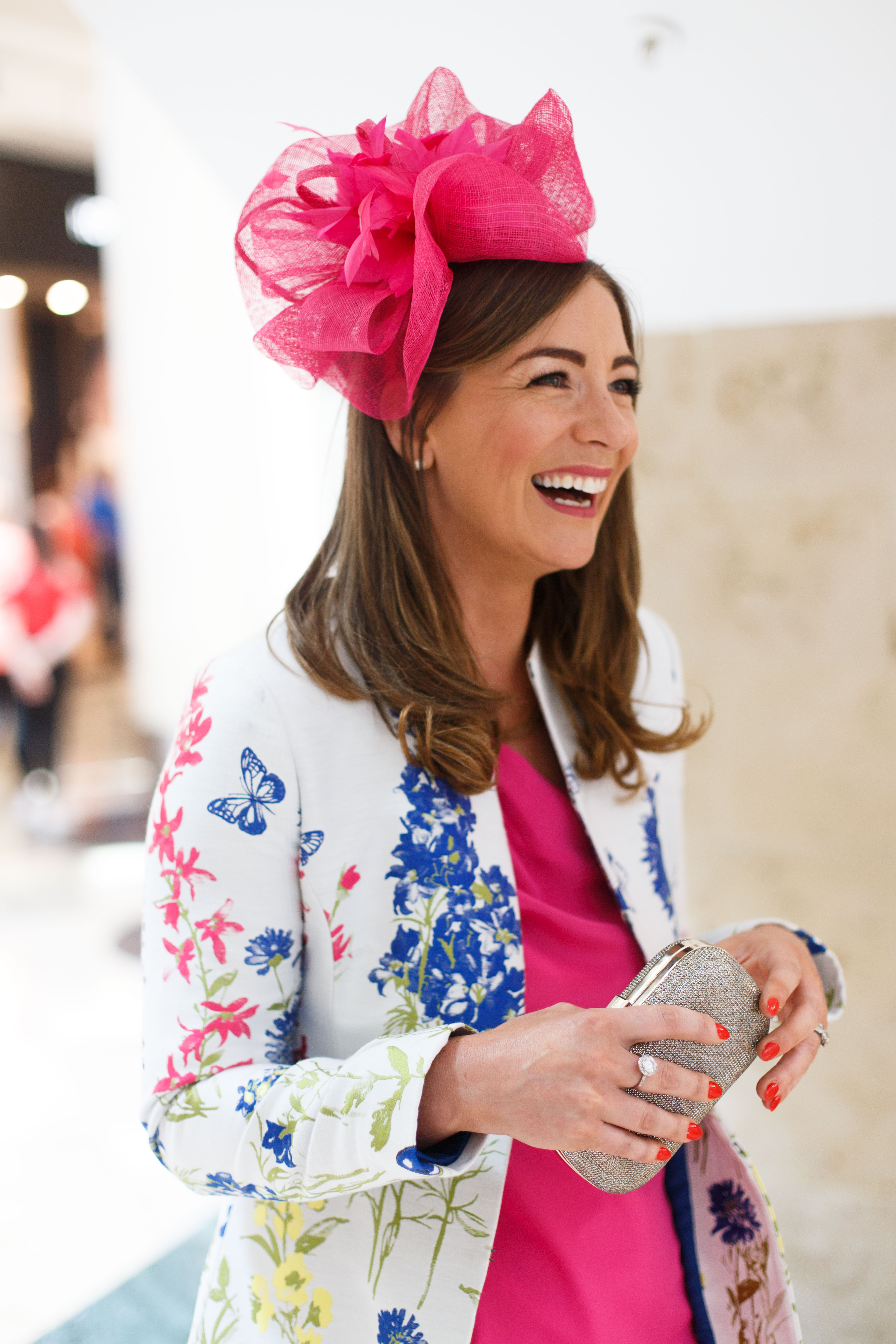 I always think, where possible, it is great to embrace colour for Ladies Day, wearing the right colour for you can really enhance your features and it is a sure fire way to get noticed by the judges. This coat from Hobbs jumped out to me from miles away – the detail is spectacular, I choose to focus in on the pink and style the coat based on that (you could go for the cobalt blur or the yellow or the green either) A really stylish, well cut, good fitting dress coat is always a classic and elegant look for Ladies day. Keep your accessories paired back and let the coat do the talking 😉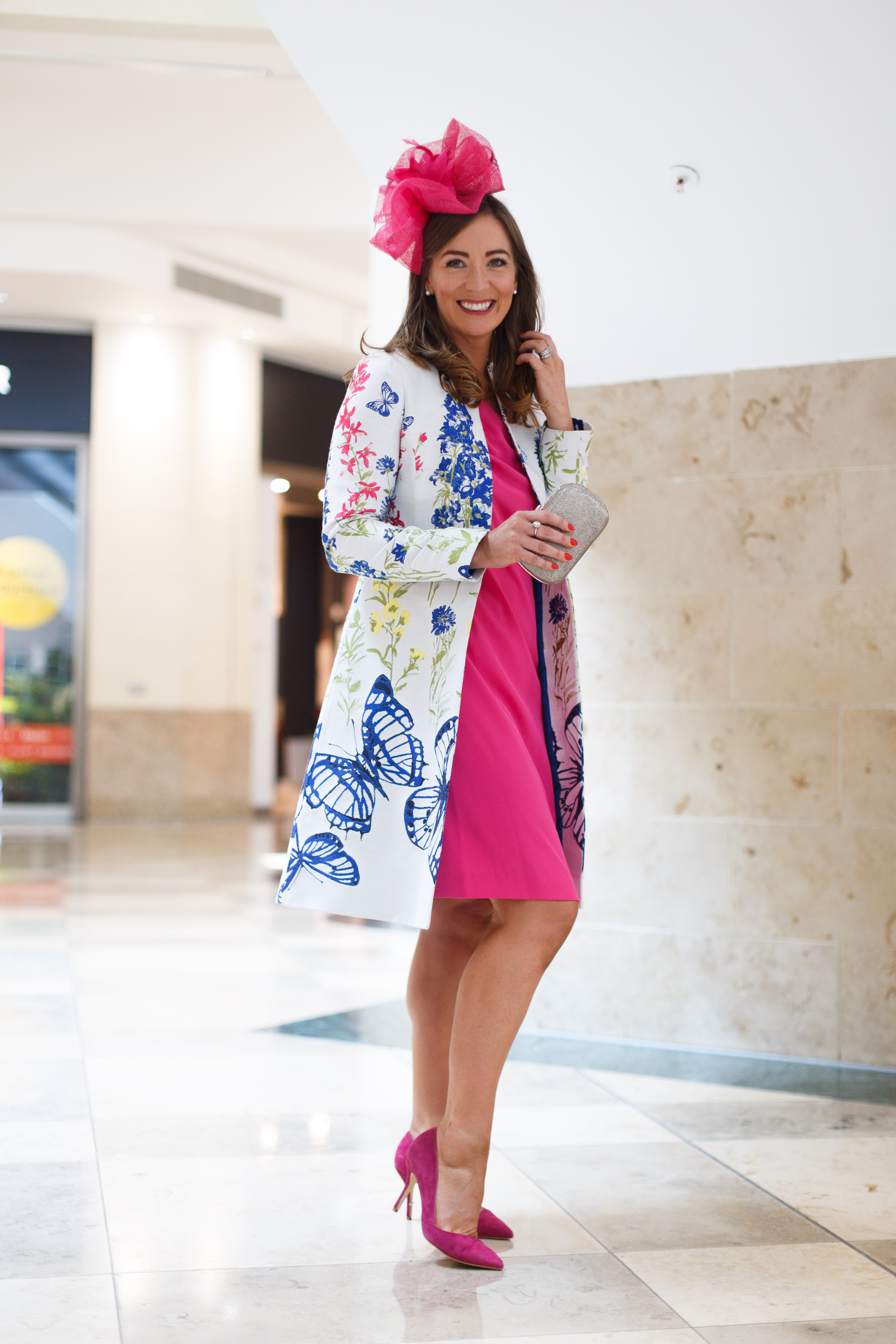 LOOK 2 
Jumpsuit, €64 Jacket, €87  and Bag, €29: River Island
Headpiece: Coast, €45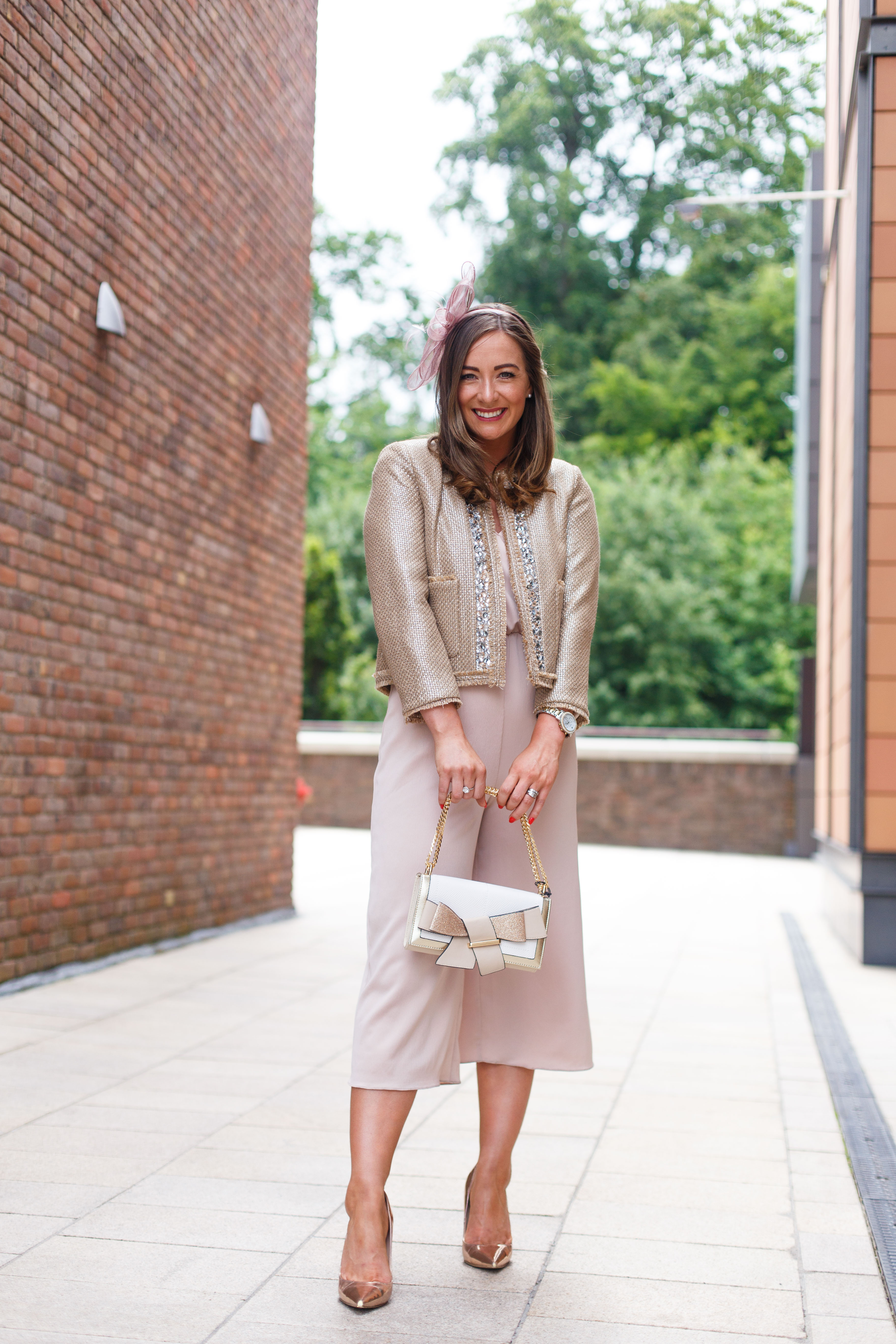 Dressing for Ladies Day does not mean you need to wear expensive, designer looks, this look is all from River Island and I absolutely love it. It is  not as 'traditional' let's say as my previous look, but is striking, stylish and that little bit different.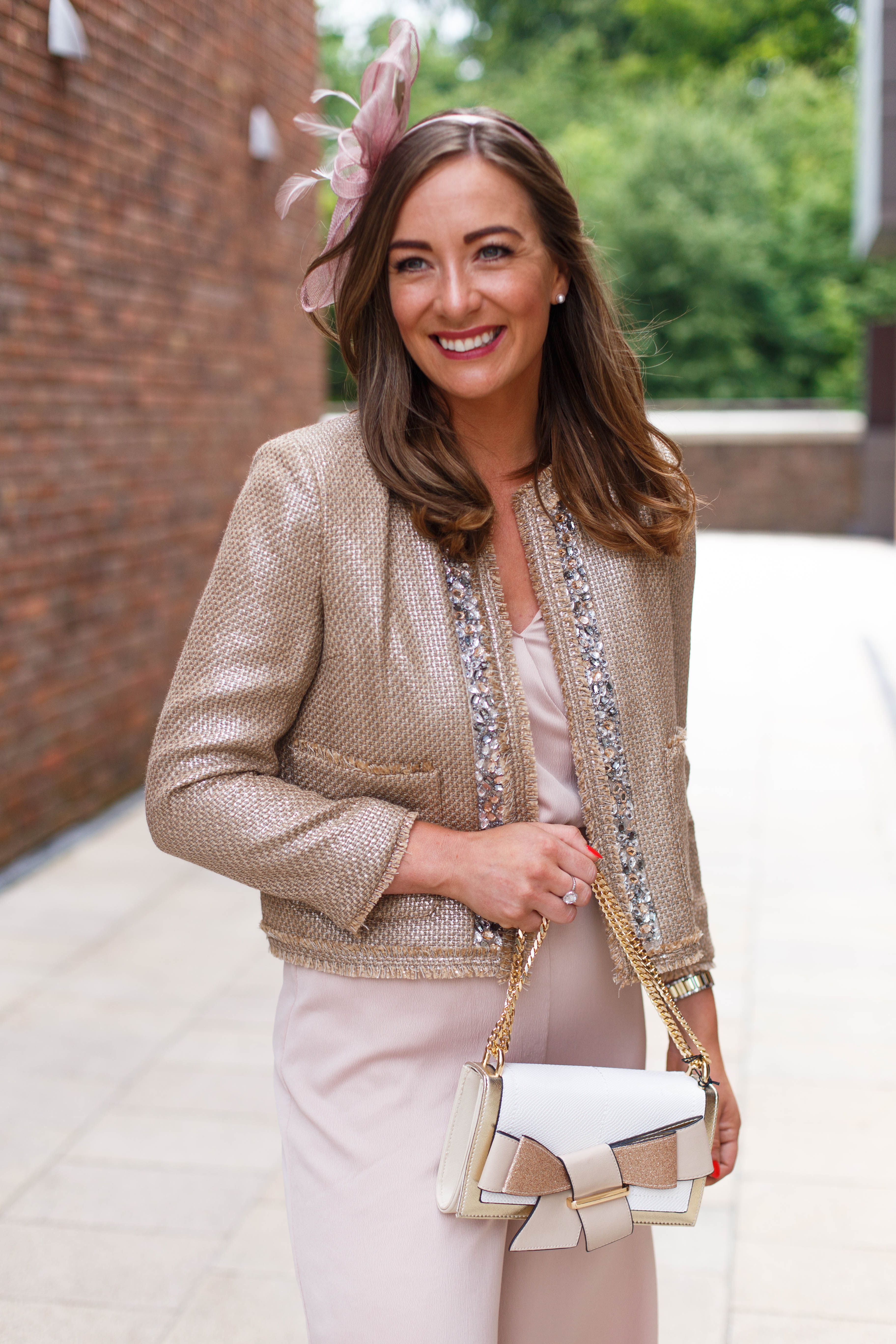 This jacket is stunning, I love the colour and the detail; it looks so much more expensive! A jumpsuit is a great alternative to a dress or a skirt for Ladies Day too.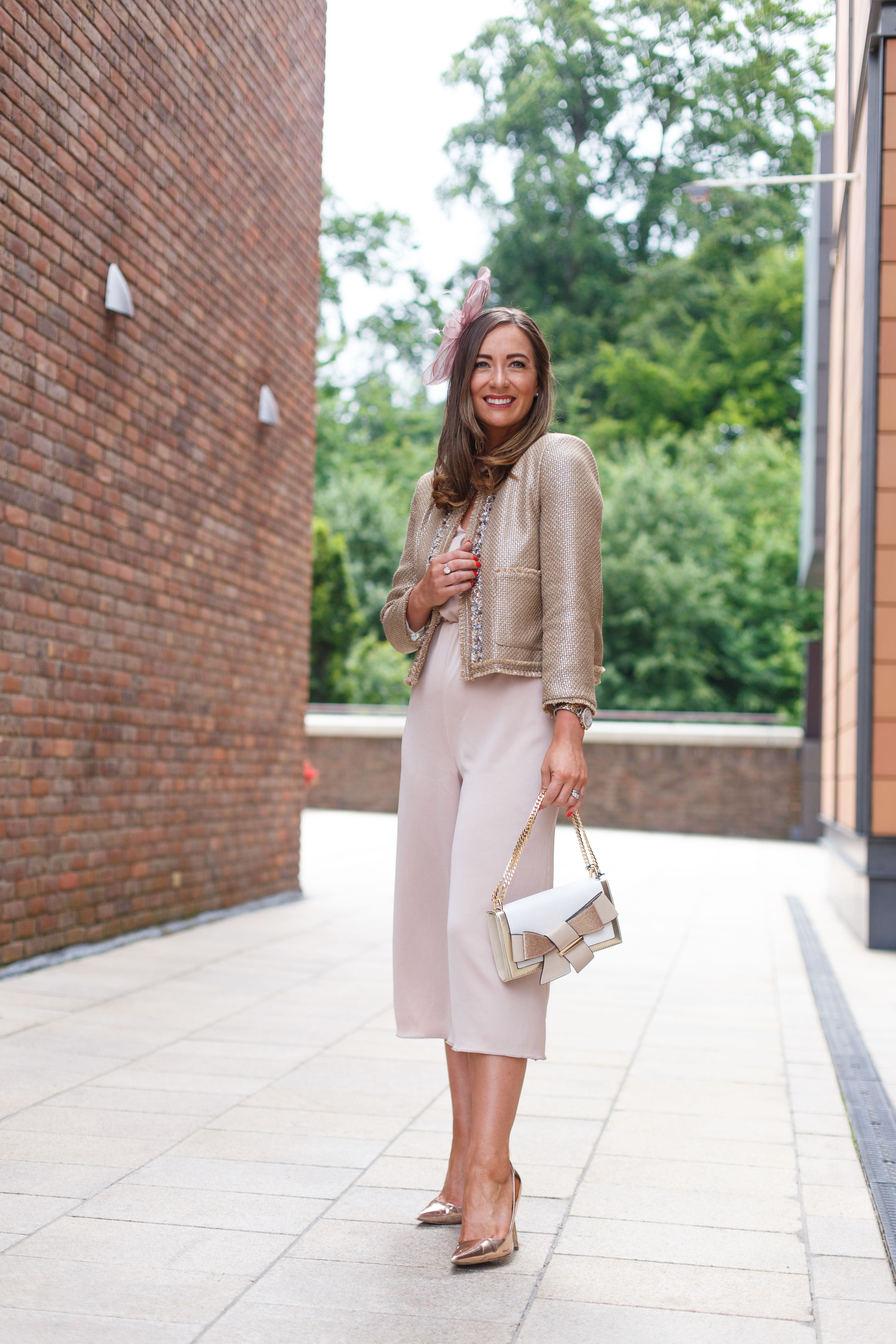 LOOK 3
Top: River Island, €35
Skirt, €75 & Bag, €60: Coast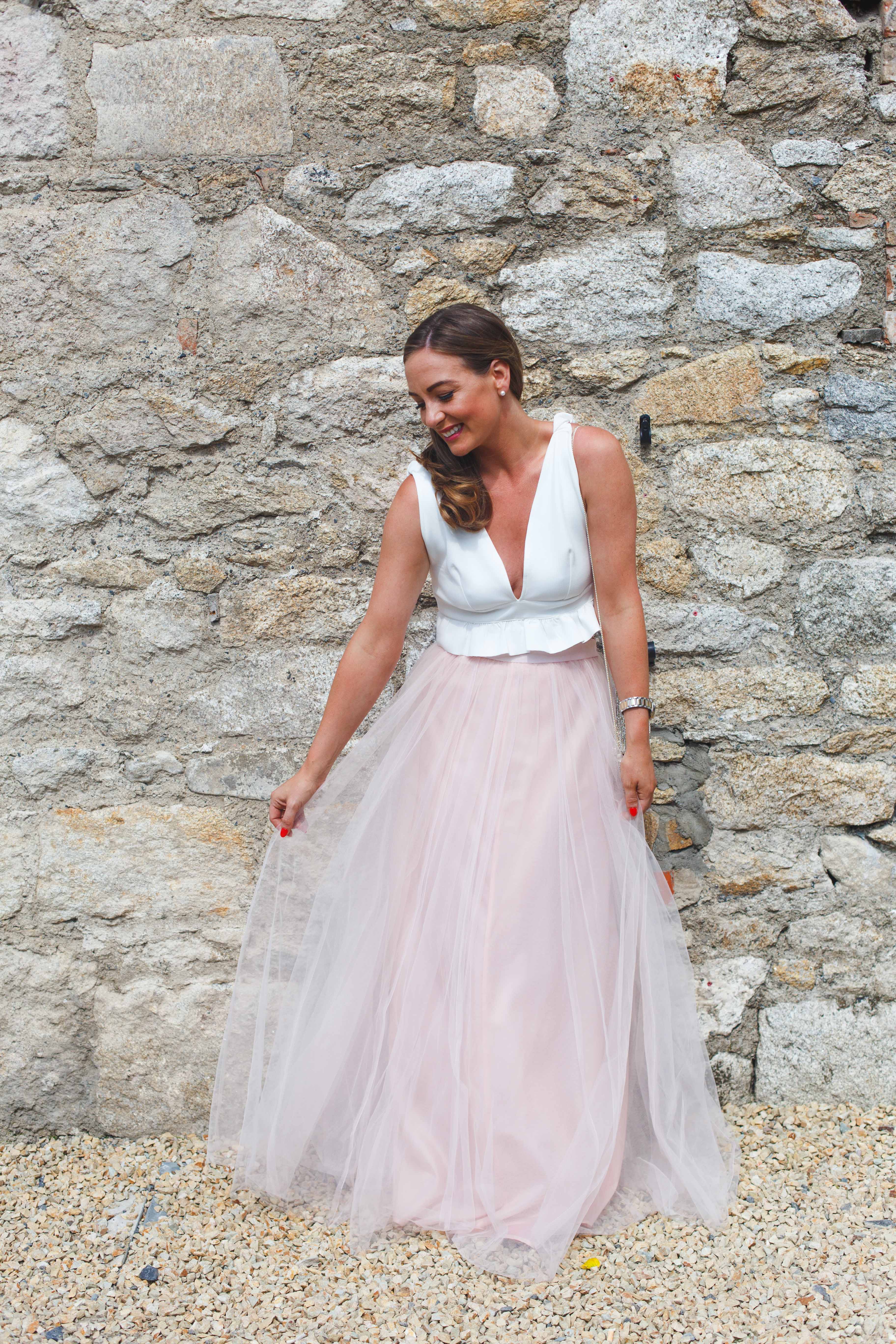 Something totally different for my third look, I love how whimsical this look is. This skirt is just so feminine and beautiful. Very Carrie Bradshaw inspired!! I wanted to show you something really alternative, but still so wearable for Ladies Day. I really felt like a princess in this outfit and the amount of women who stopped me during our photoshoot to ask where this skirt was from was insane!!! Everyone loved it!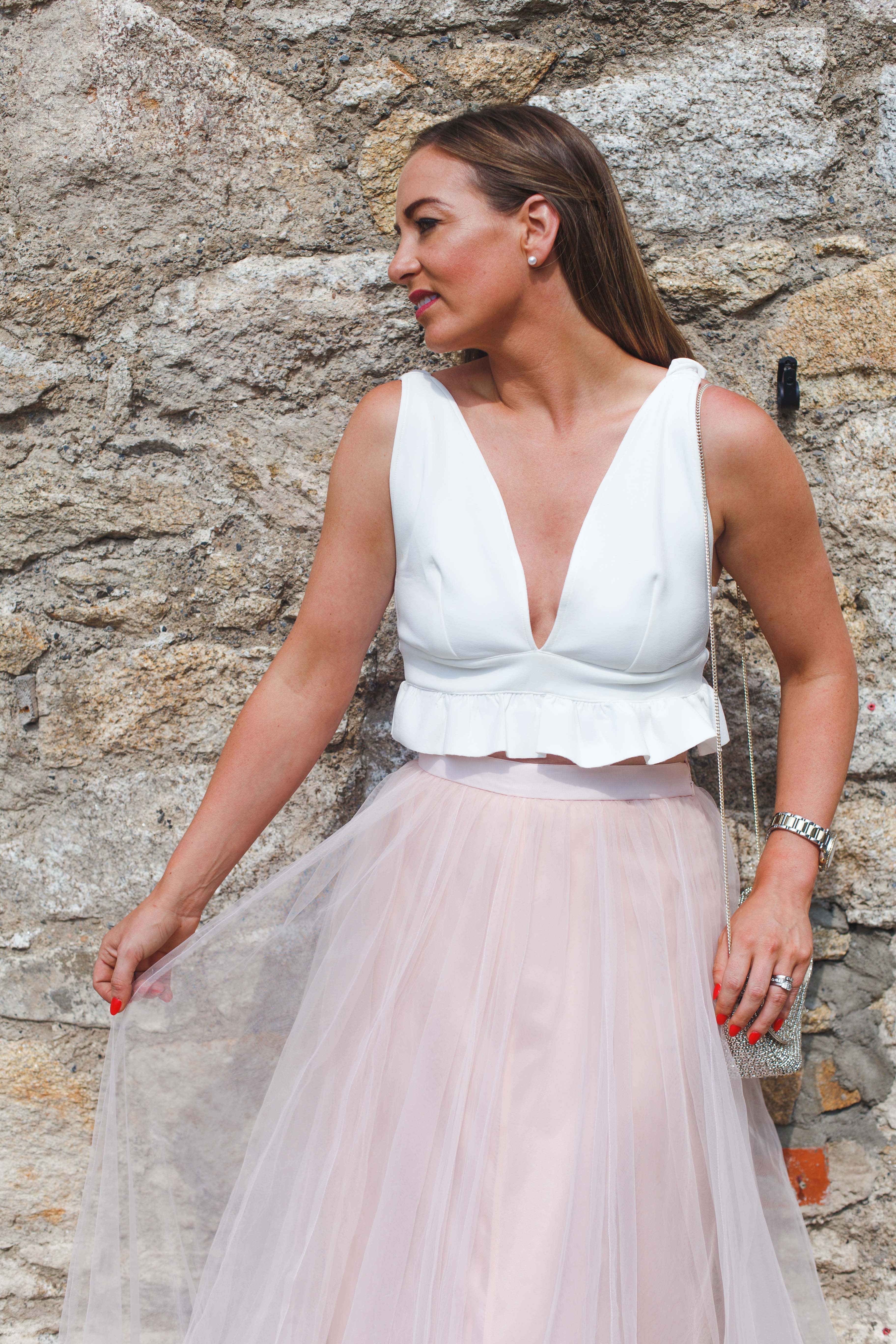 I decided to keep accessories to a minimum for this look, sometimes less is more. I think that is key with Ladies Day too, a lot of us fall into the trap of 'over doing it'. I see this time & time again with Ladies Day, not ever single item in your look needs to be statement. Quite often, less really is more, in so many ways.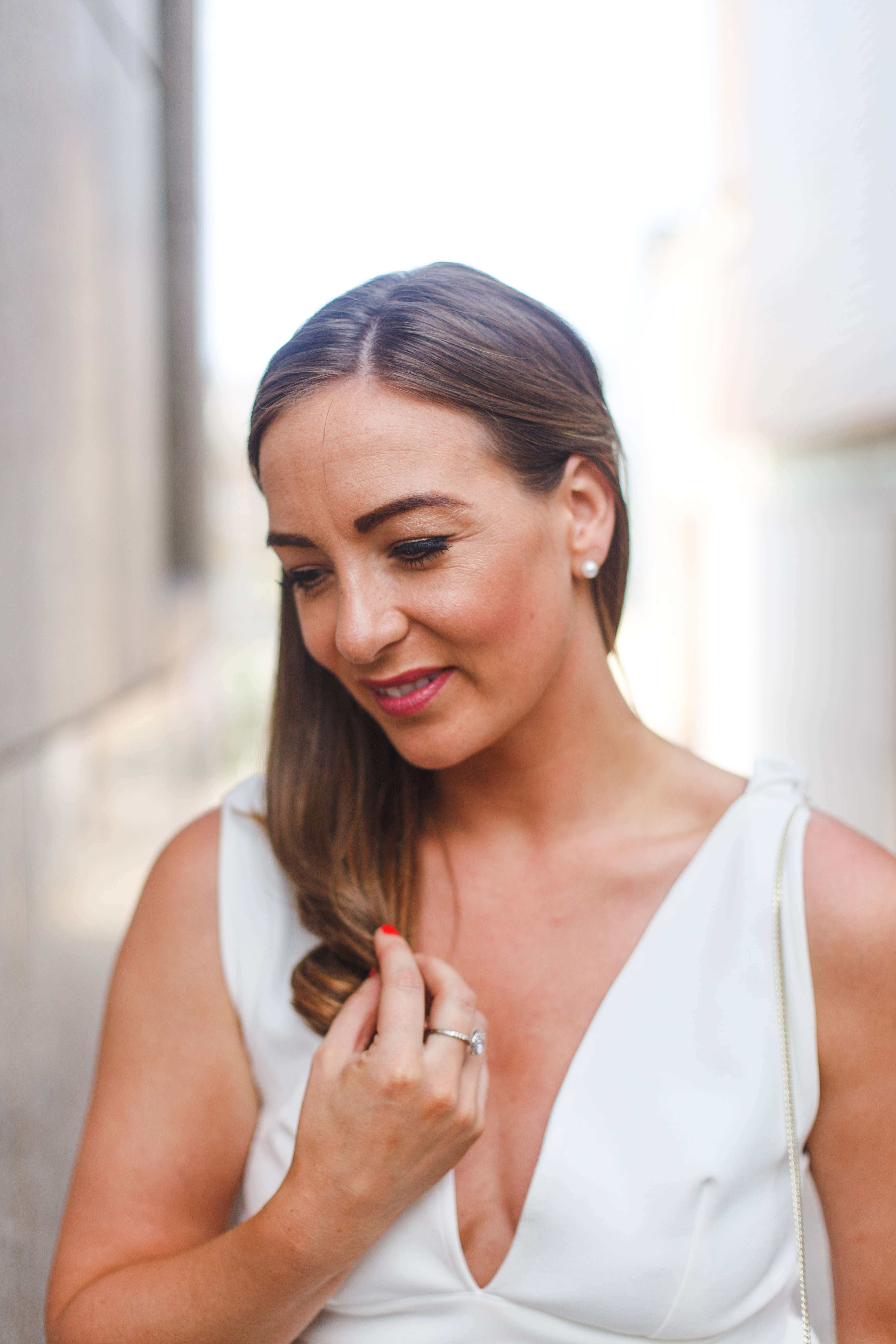 LOOK 4
Dress: Harvey Nichols (label is called 'Keepsake the Label), €170
Jacket: Harvey Nichols (Label is Moschino), €370 (was €740)
Clutch: Accessorize, €30
Headpiece: Accessorize, €20


Before I even knew I would be working with Dundrum Town Centre on this collaboration, I had my eye on this dress!! I love the shape, the colour, the cut – Everything! While browsing in Harvey Nichols (who have such stunning labels by the way).
I came across this Moschino duster coat in Harvey Nichols too, it matched perfectly, I thought the duster coat/ jacket really finished the look and gave it a more elegant edge. I kept the blush tones and went for this embellished bag from Accessorise, and last but not least, a nude coloured headpiece also from Accessorize.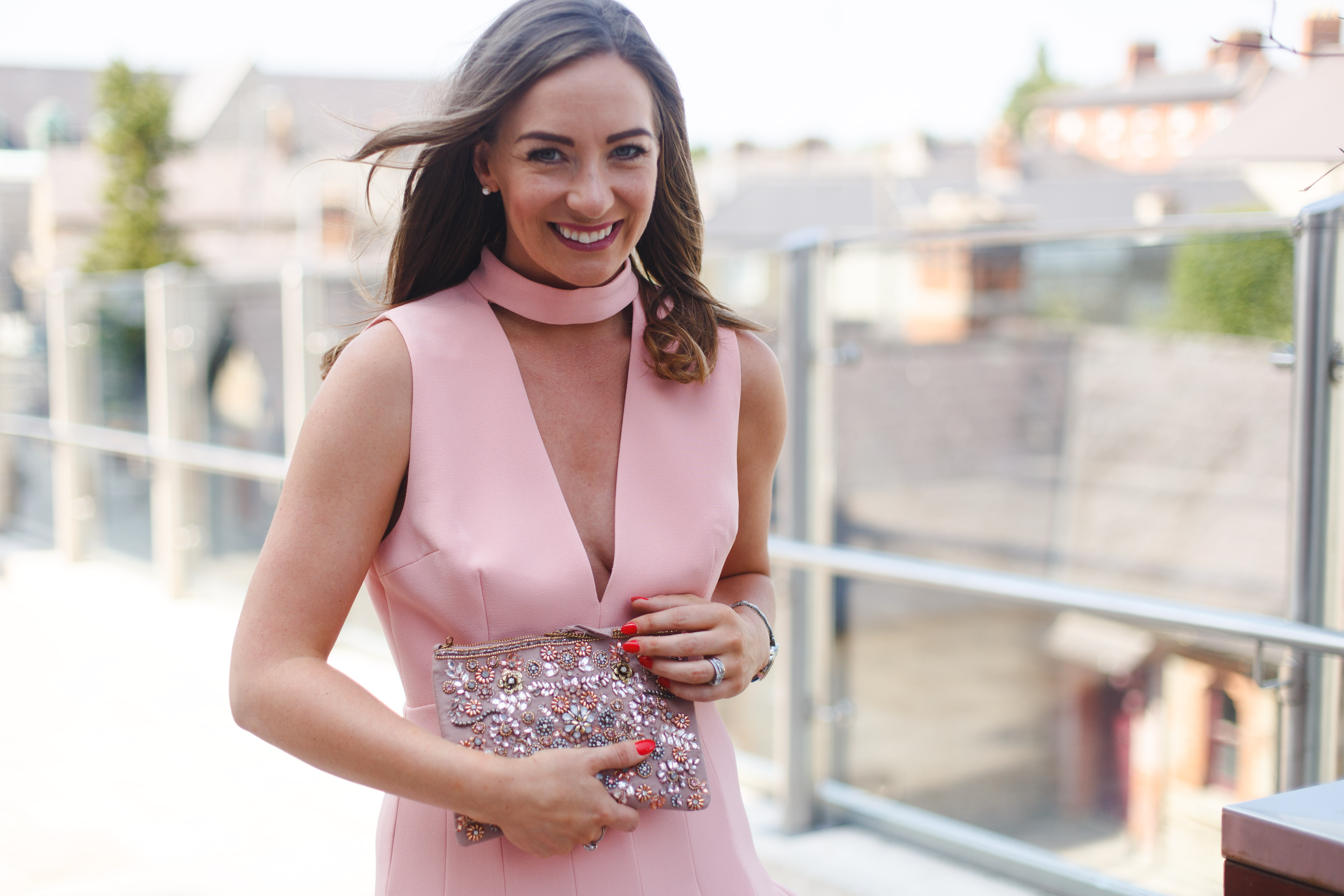 LOOK 5
Dress: Harvey Nichols (Label is 'Aidan Mattox'), €375
Jacket: Harvey Nichols (Label is 'Pinko'), €168 (was €238)
Clutch: Karen Millen, €125
Headband: Acccessorize, €20
This, without a shadow of a doubt is my favourite look I have worn in a long time. This jacket, expensive? yes! Incredible? Oh yes! On sale? Whoo yes!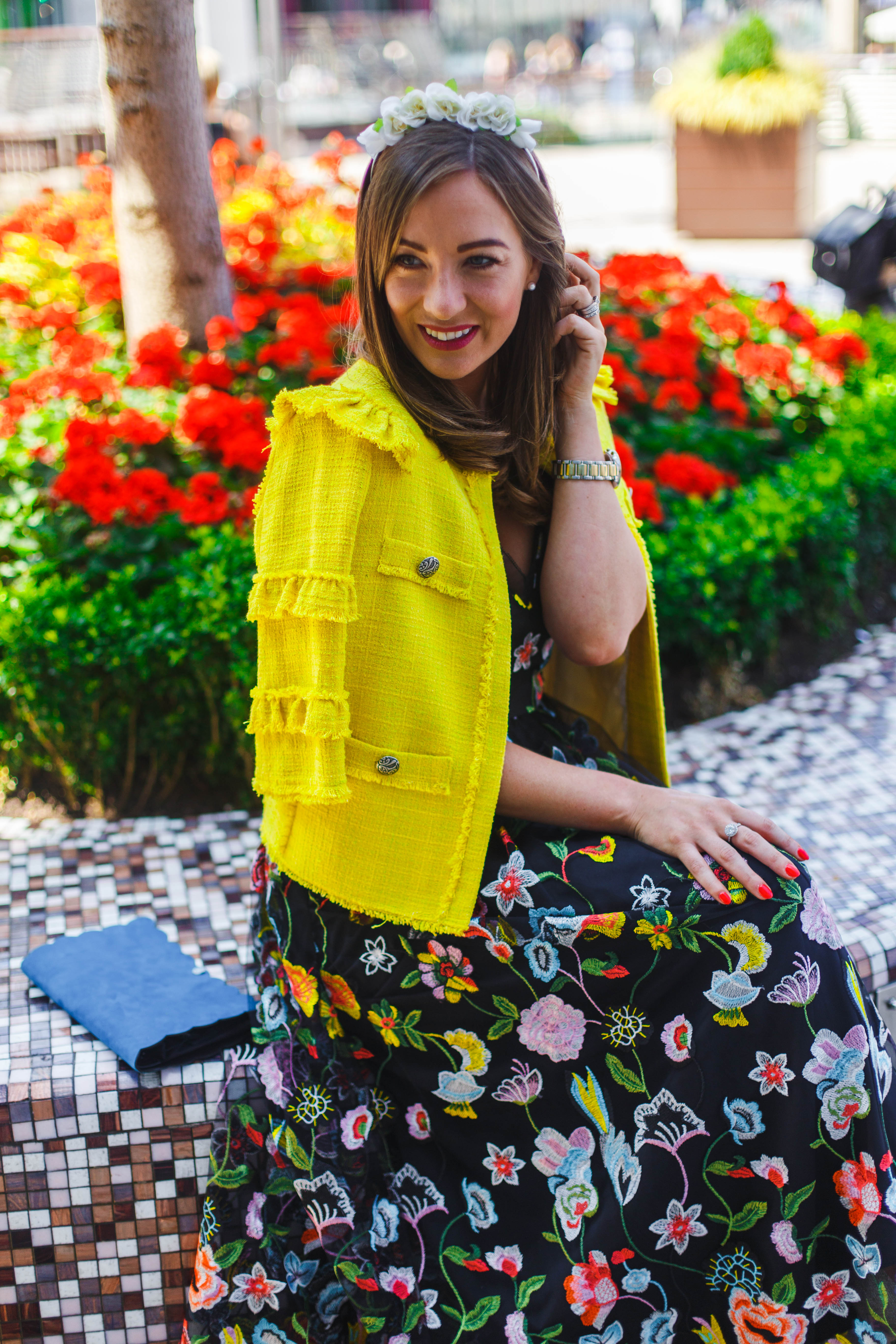 I instantly fell in love with this impeccable, embroidered maxi dress from Aidan Mattox at Harvey Nichols, the detail is amazing, but I wanted to give it a more structured, more elegant finish, so the moment I saw this lime jacket from Pinko, I knew it would really bring the look to life. I adore the contrasting colours.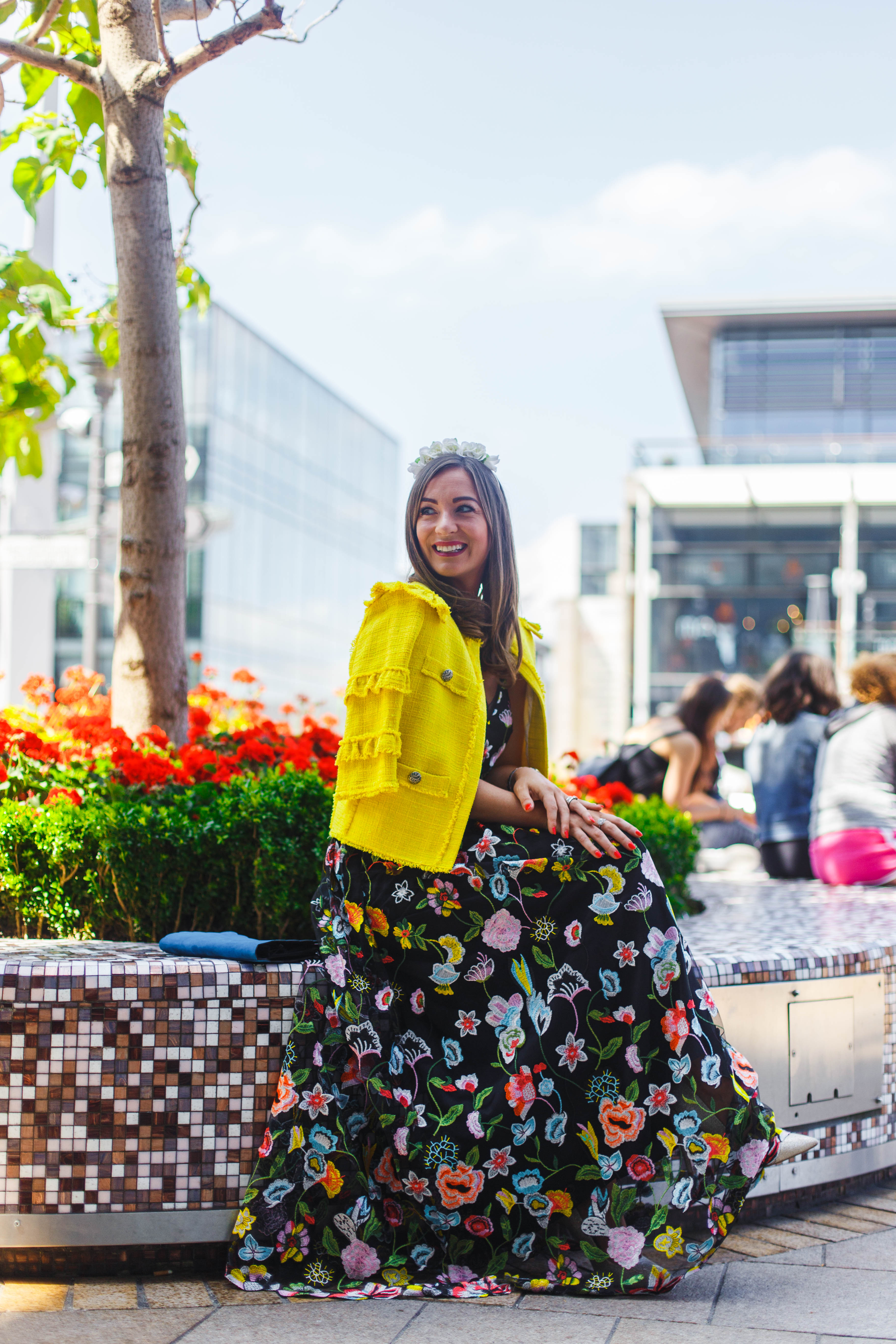 LOOK 6
Top, €110 & Skirt, €170: Coast
Headpiece, €35 & Clutch, €30: Coast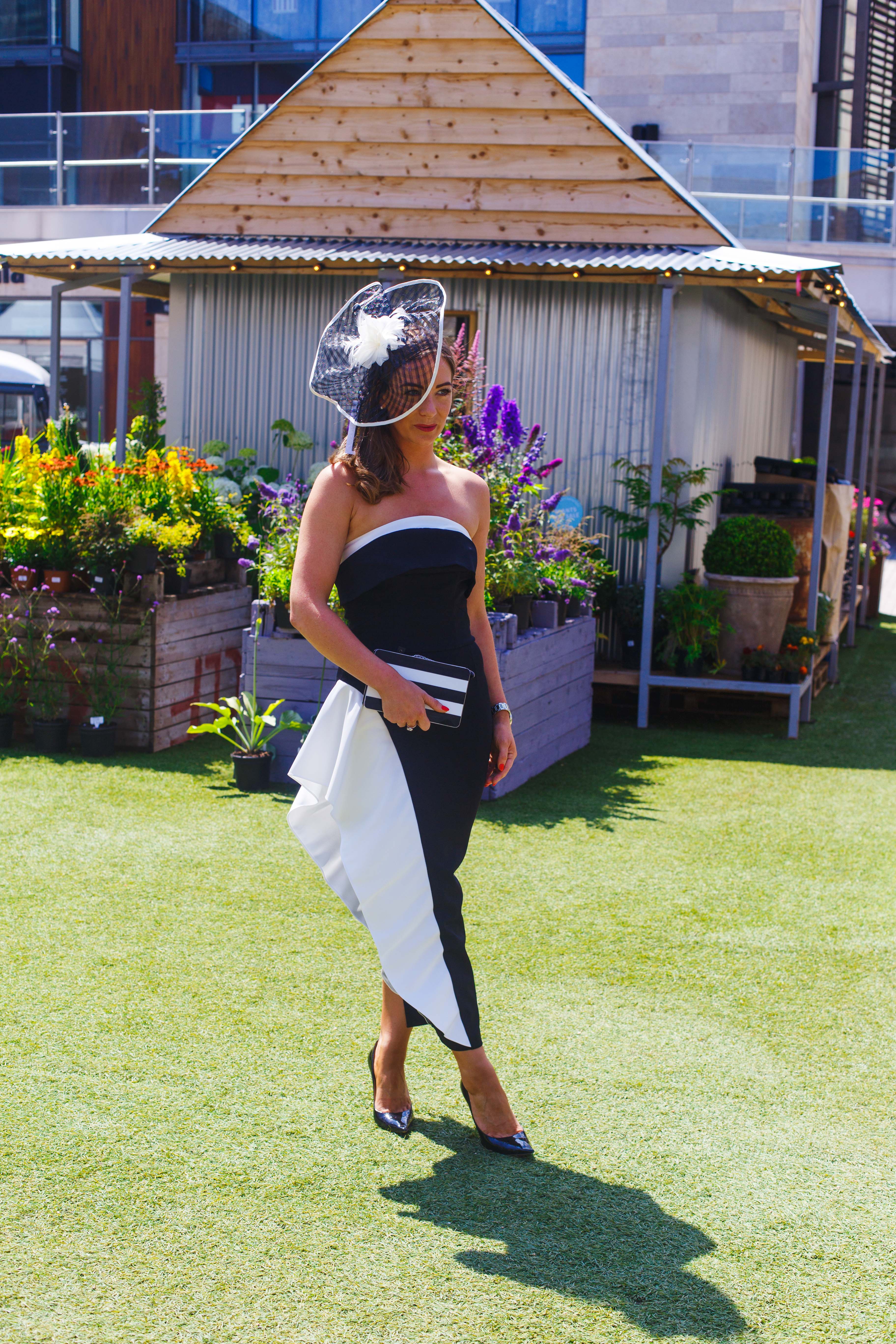 Time and time again, black and white works. It is so timeless and classic. This skirt from Coast is simply STUNNING., it's so different, super figure hugging and so flattering. The top is available as a match; so classic.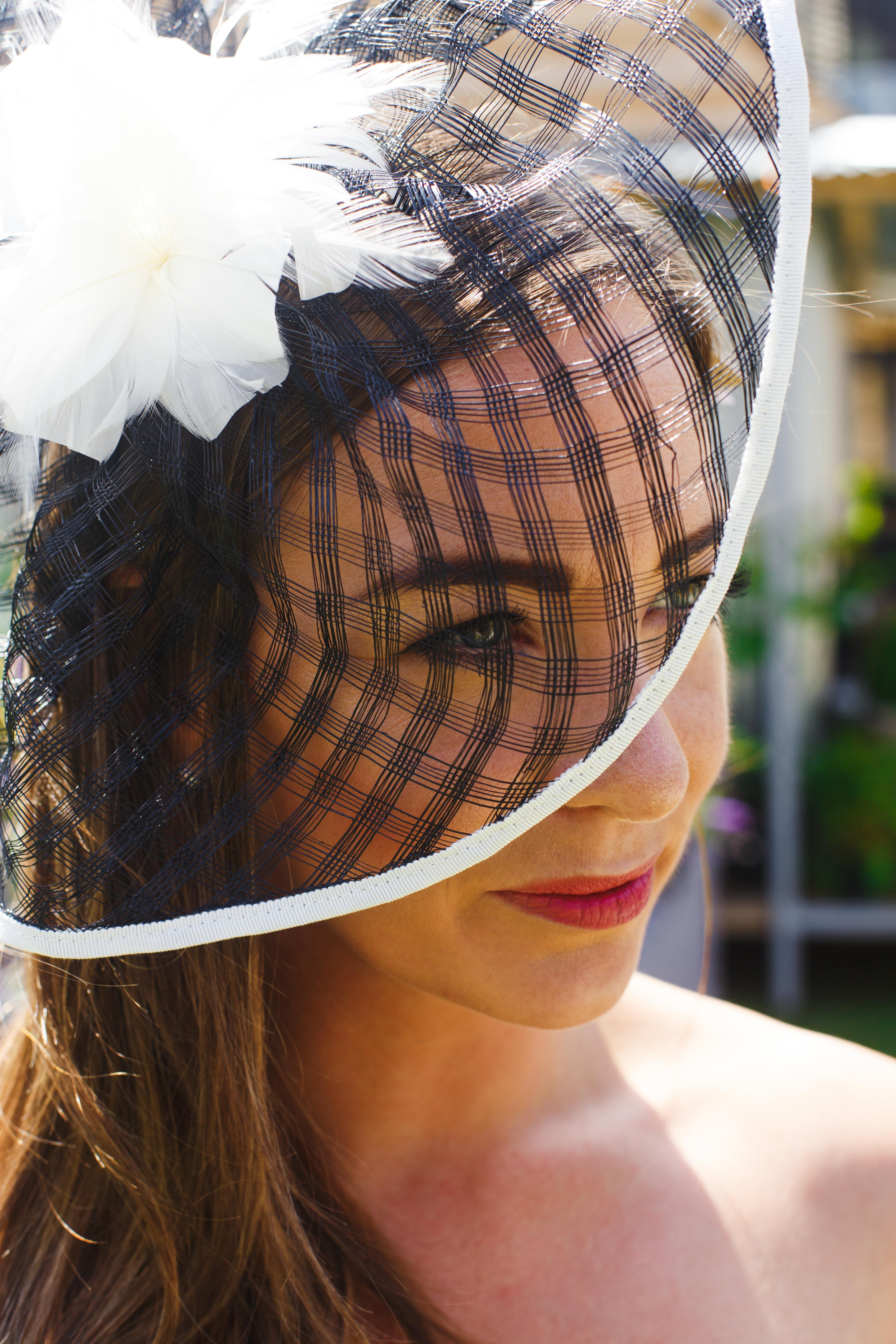 I love this headpiece, so dramatic and really added to the overall look. I kept the black & white theme throughout, right down to the clutch bag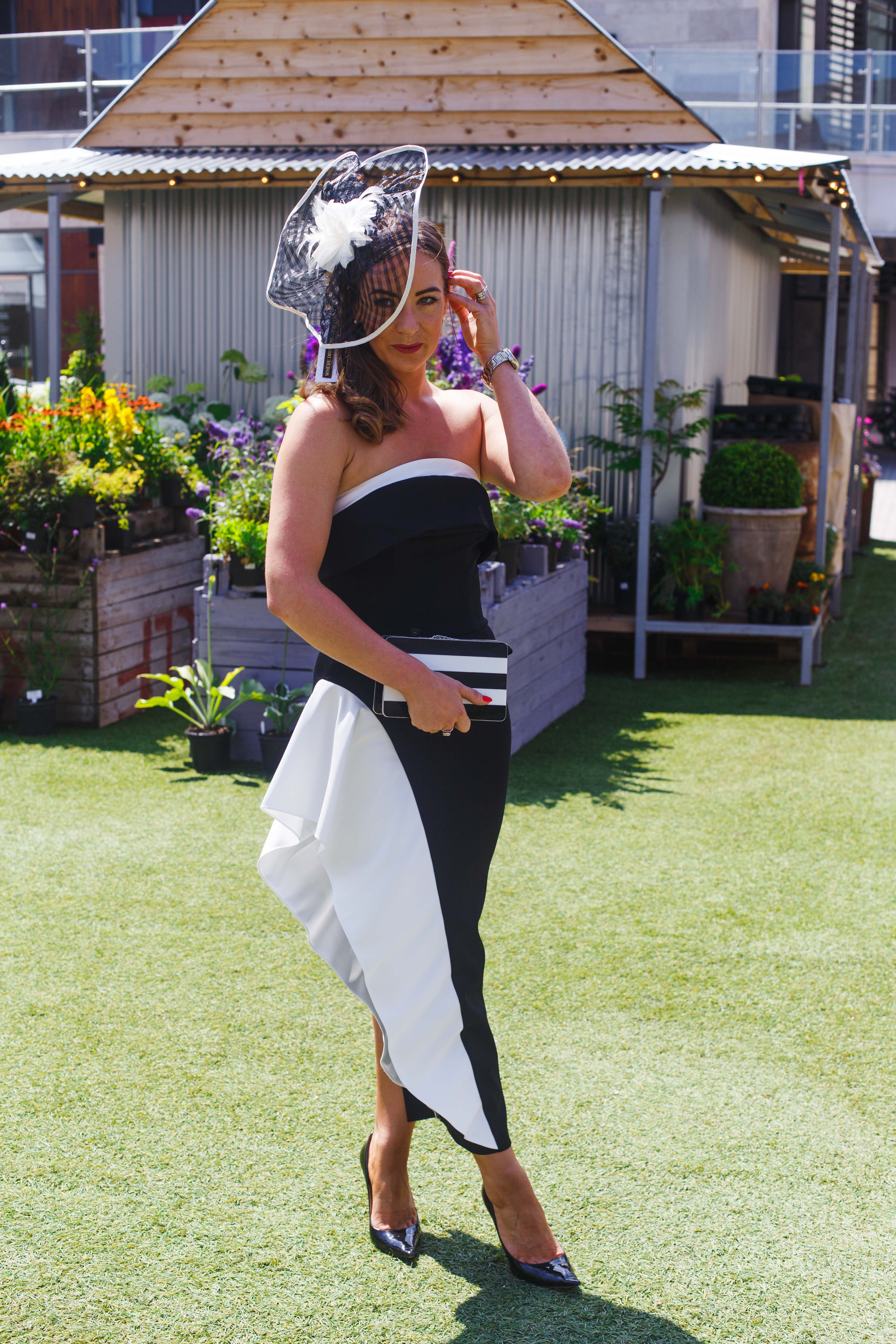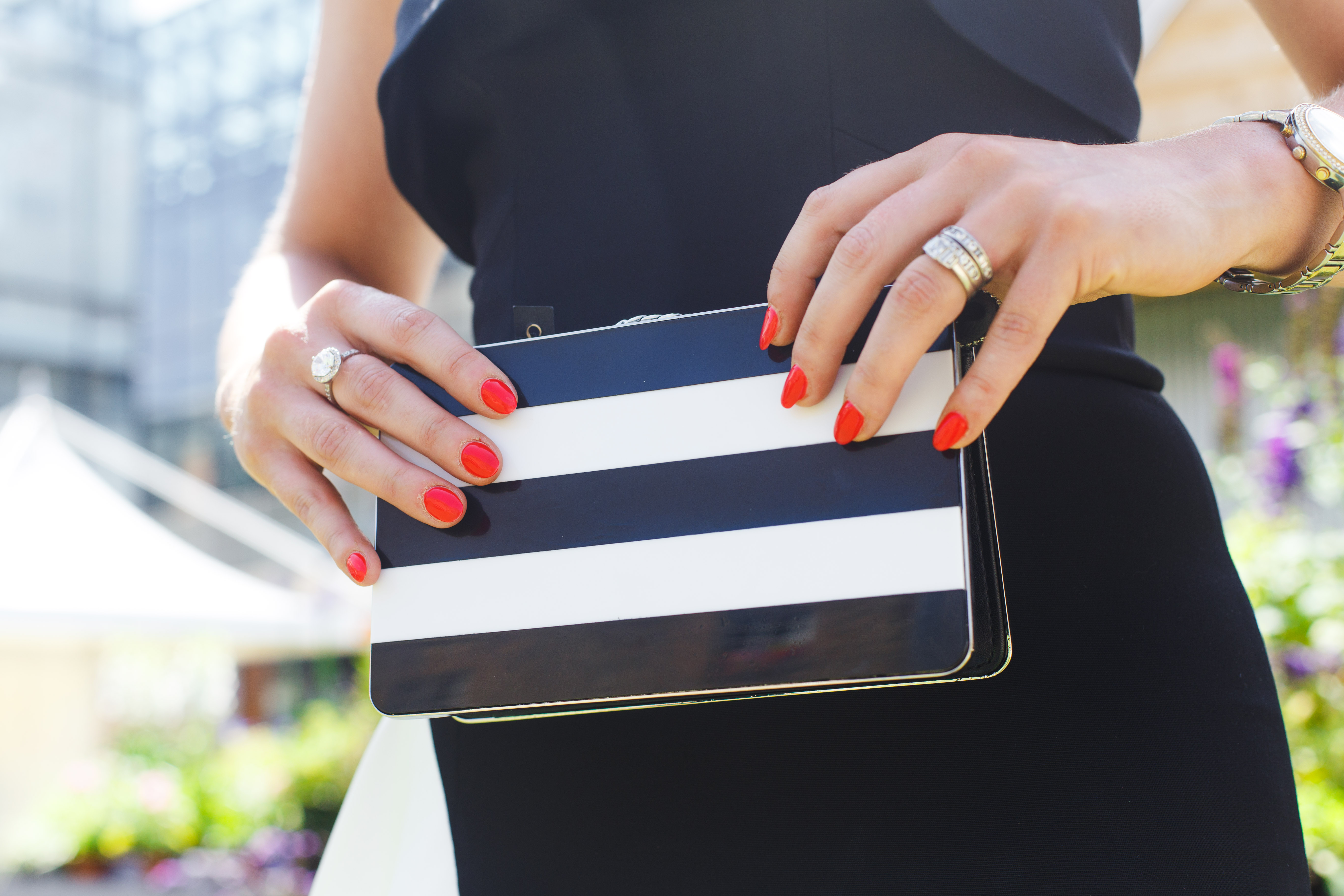 So there you have it ladies, 6 outfits head-to- toe, all very different from each other and all perfect for Ladies Day at the Dublin Horse Show. Hope you enjoyed the post ladies and really hope it gave you some inspiration. If you are heading to Ladies Day; have an absolute ball, that's the main thing.
Photos taken by the super talented Bríd O Donovan on location in Dundrum Town Centre
'Til next time
Stylishly yours
Naomi xx
** PLEASE NOTE: This is a sponsored blog post in collaboration with Dundrum Town Centre **