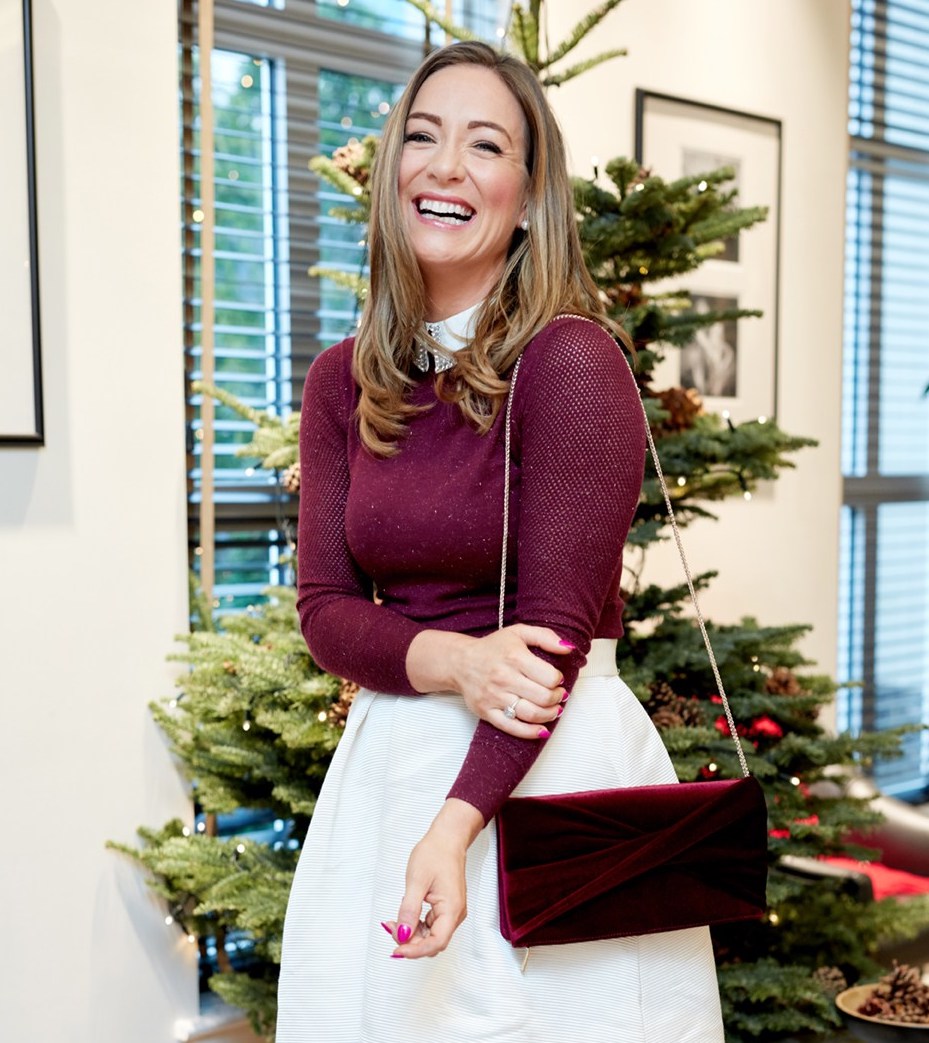 Christmas Party Looks from Kildare Village
Hey ladies
With Christmas just around the corner, Christmas Party Outfit ideas are on the top of everyones agenda. We have been getting countless emails and requests over the past few weeks with readers looking for outfit inspiration for the festive season so the timing for my trip to Kildare Village couldn't have been any better 🙂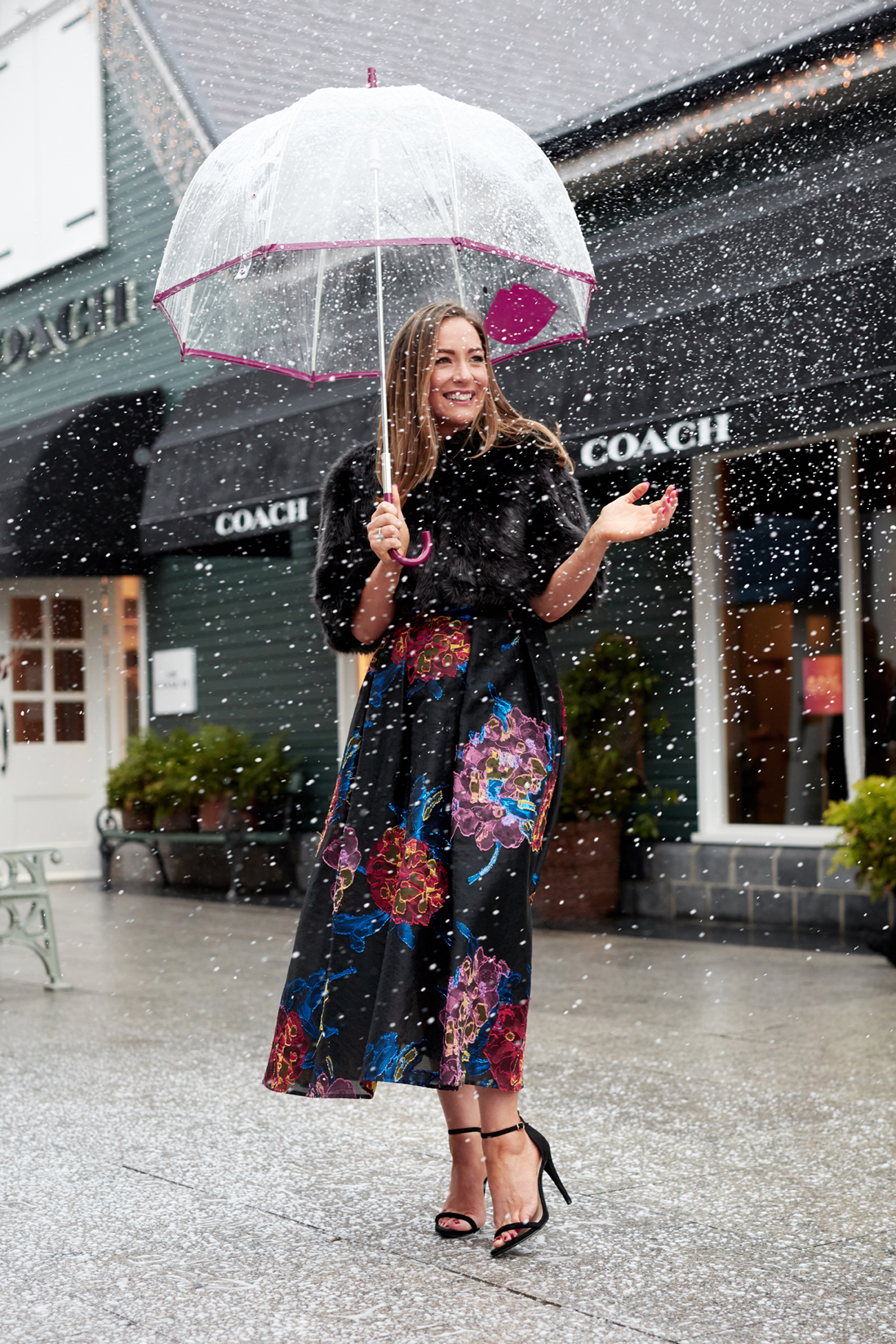 When Kildare Village invited me down and asked me to style some Christmas Party looks and pick my top Christmas buys I jumped at the chance. I absolutely LOVE Kildare Village, if you have never been you need to add it to your list. It is an incredible destination, a shopper's paradise, plus it's so festive right now you should see all the Christmas lights and decorations; it's really lovely and it certainly got me in the festive spirit!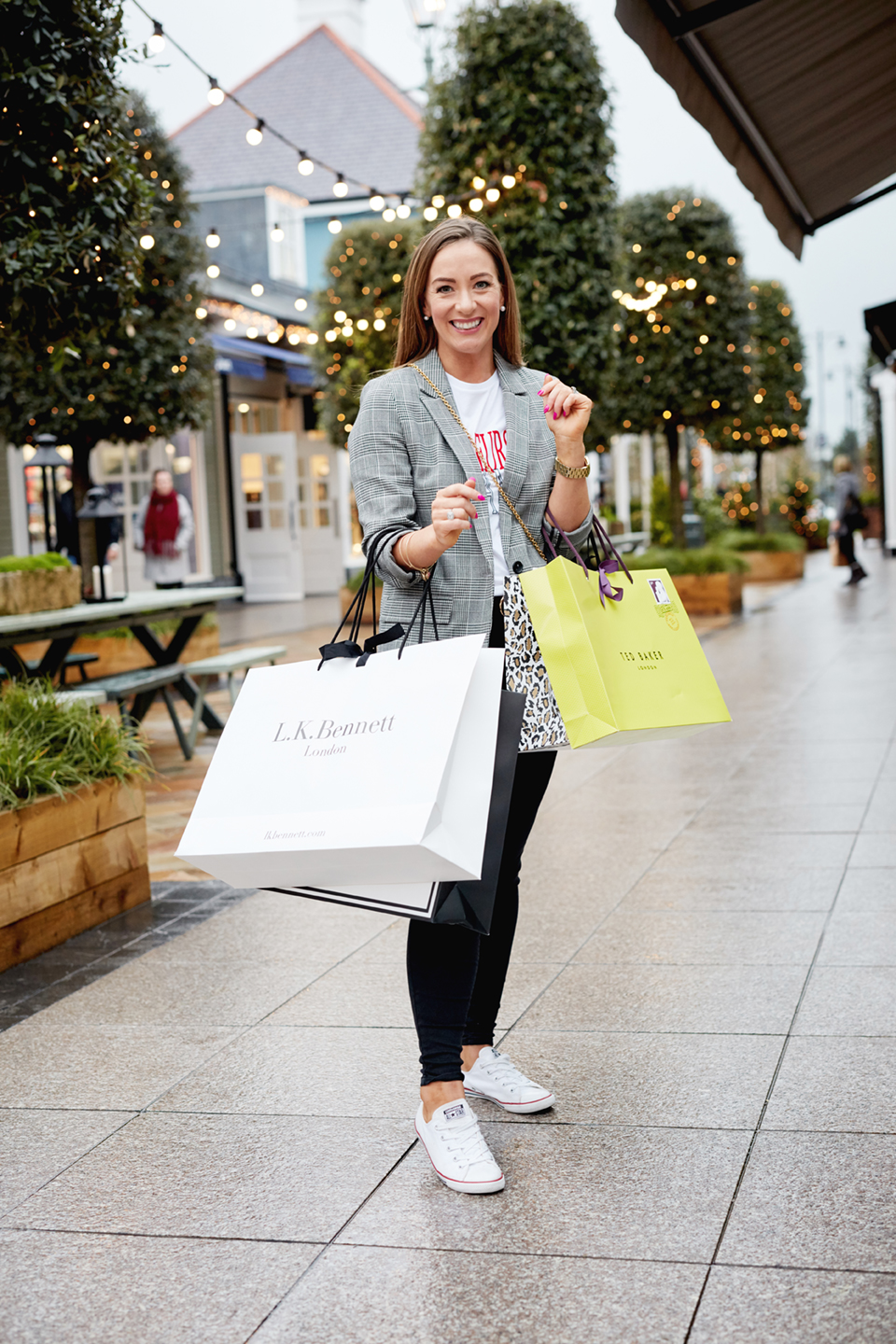 You may have seen some of the behind the scenes from my trip to Kildare Village? I shared lost of images of my Christmas buys plus some sneak peaks of some of the outfits I styled for my "Christmas Party Edit". There is such vast variety in Kildare Village, it was easy to find stunning festive party looks, the problem was trying to narrow it down as I saw so much that I loved! In the end, we shot a total of six stunning Christmas Party Outfits; each one very different with a variety of styles to suit everyone; from dresses to suits, to skirts and jumpsuits.
In Kildare Village, you have so much choice with retailers including;  LK Bennett, Kurt Geiger, Reiss, Ted Baker and French Connection to The Kooples, DKNY, Karen Millen, Kate Spade and Lulu Guinness , and that's only a handful of ladies fashion. I haven't even mentioned accessories, beauty, kids wear or men's fashion. The discounts available are amazing too. Trust me, do yourself a favour and arrange a girls shopping trip down to the village, you can thank me later 😉
Christmas Party Edit 
So here are my six Christmas Party Looks; whether is a fancy Christmas Party Night or a more low key Christmas lunch to a glam dressy affair there is something here to suit!
LOOK 1
Starting with this fine knit jumper and a-line cream skirt. I adore this look; this skirt is such a flattering shape, it really cinches you in at the waist.  This burgundy shade is a massive trend for this winter season too.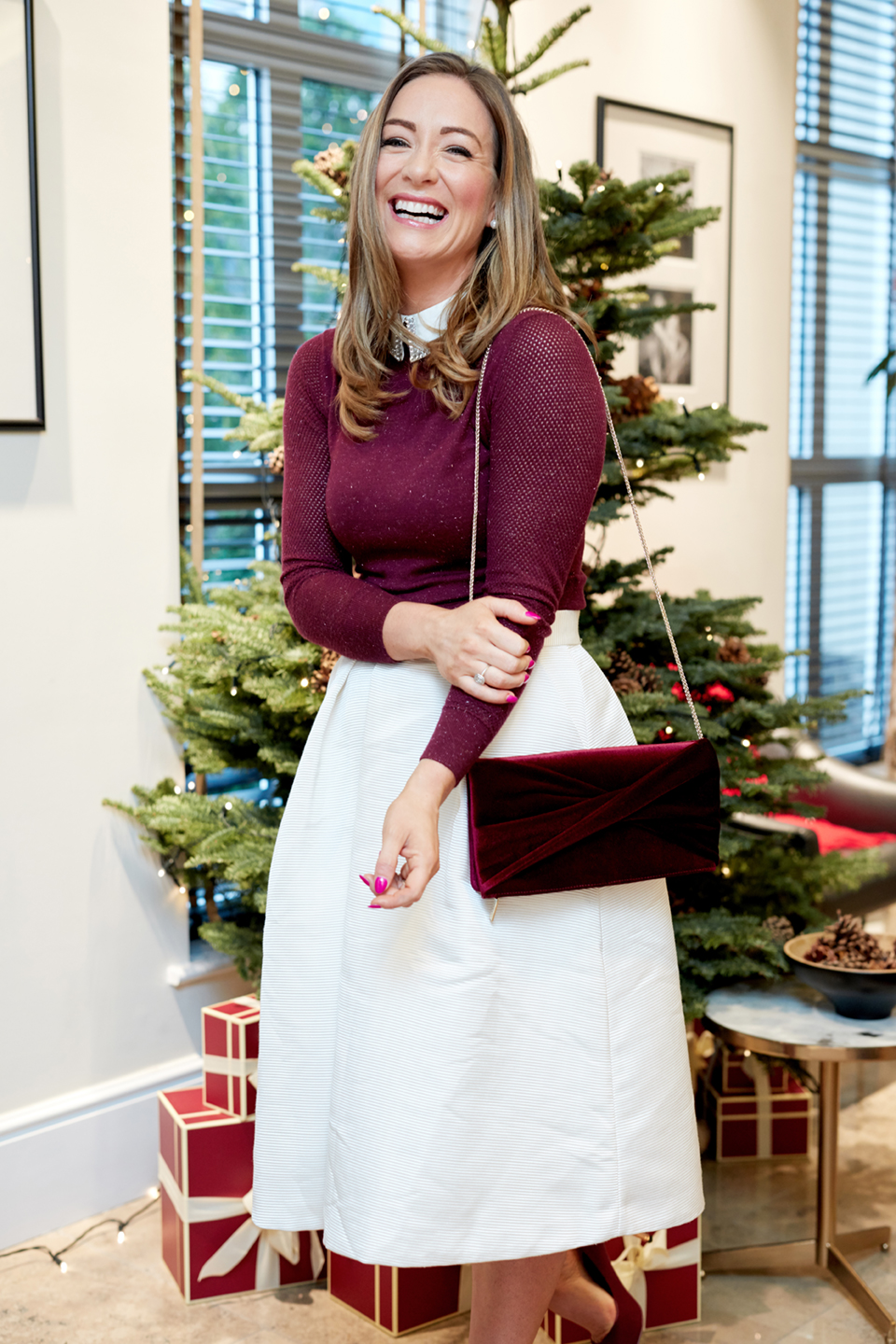 This is a more low key, feminine, elegant look; ideal for a Christmas soiree or a Christmas lunch in the city. I finished this look with this stunning velvet bag and these embellished heels… I LOVE these heels! You would get lots of wear from this skirt worn with different colours and styles of topsand similarly this jumper could be dressed down and worn with jeans.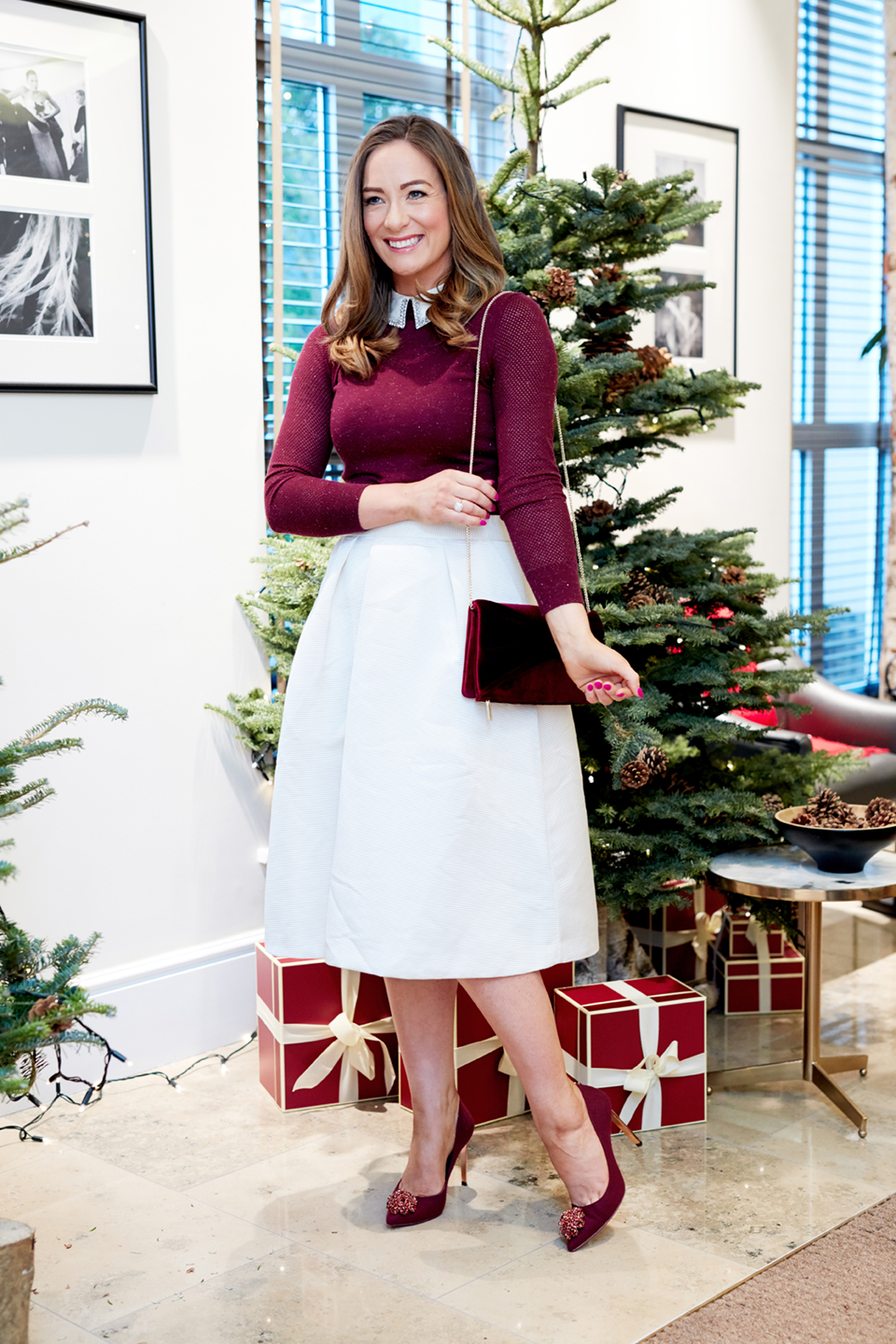 Outfit Details 
JUMPER: Ted Baker, €85 (Original price €119) SKIRT: Ted Baker, €115 (Original price €210) HEELS: Ted Baker, €100 (Original price €190) BAG: Reiss, €60 (Original price €195)
LOOK 2
Next up, who doesn't love some sequins and sparkle for the festive party season? This dress instantly caught my eye…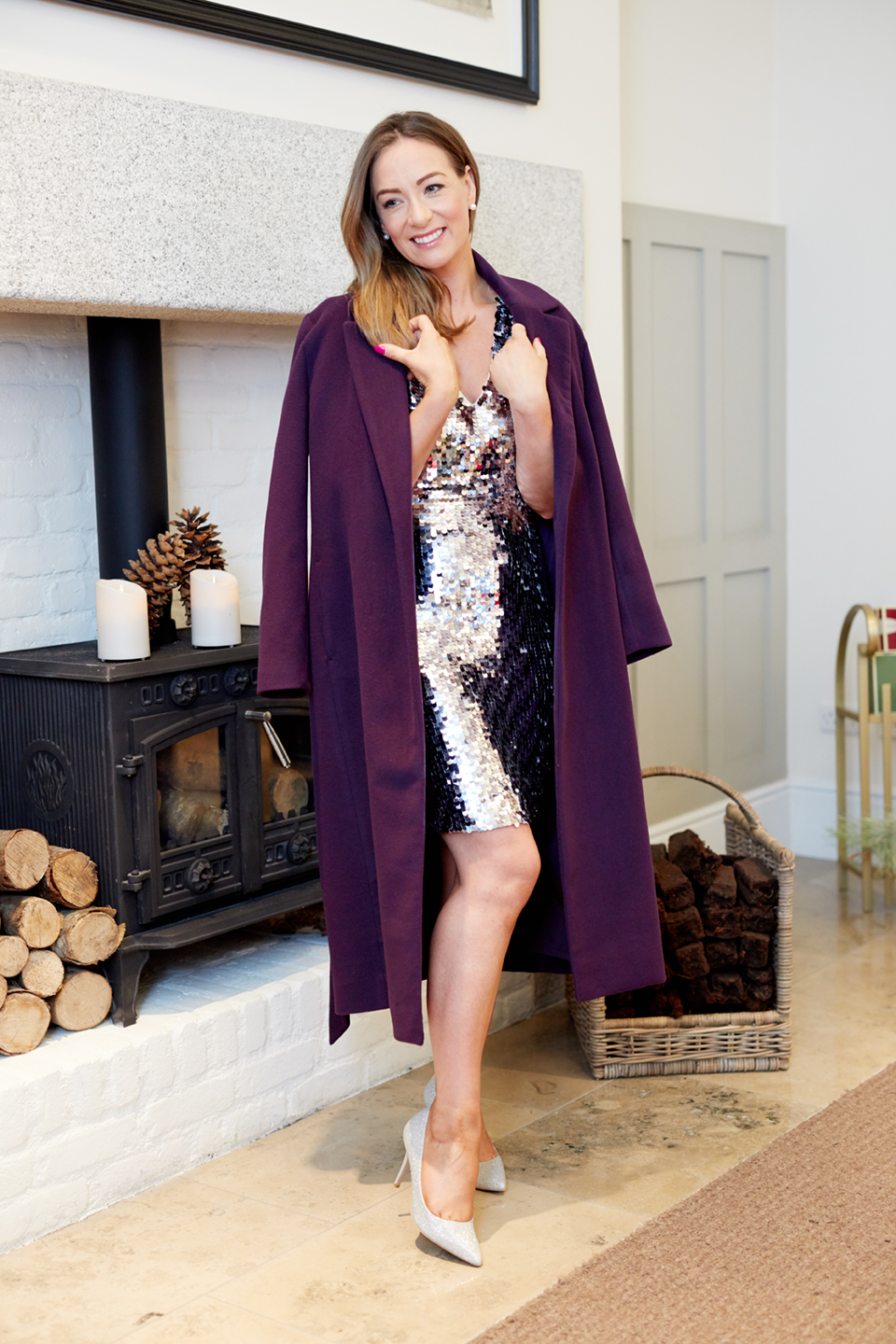 The moment I put this dress on I loved it; it is really comfortable to wear and a really well cut, flattering shape, the v neck is always a flattering style. Plus it's super soft and easy to wear. I finished this look with this divine purple wool coat from LK Bennett, wow what a coat, I love the longer length.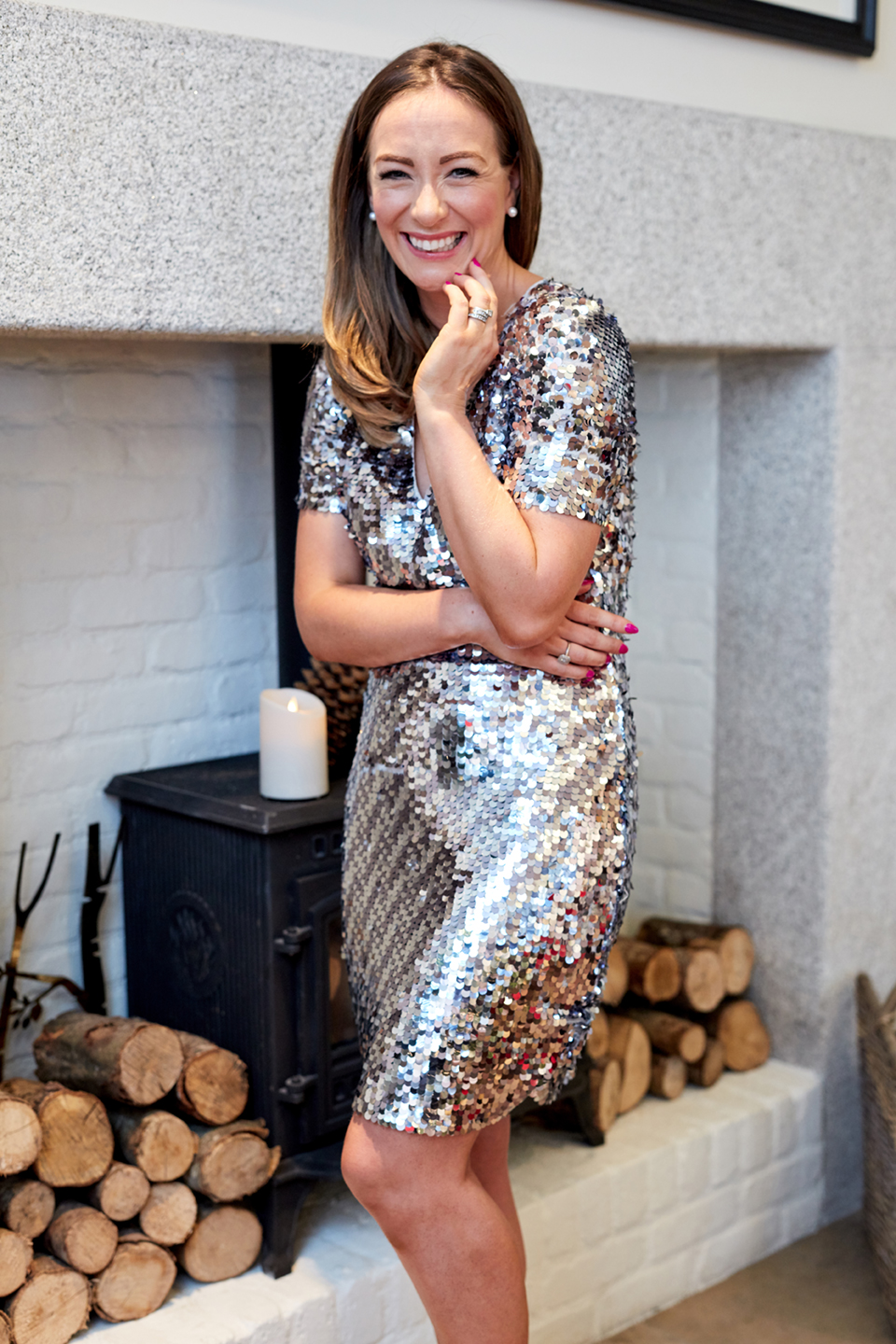 Outfit Details 
DRESS: French Connection, €114 (Original price €245) COAT: LK Bennett, €300 (Original price €450) HEELS:  Kurt Geiger, €45 (Original price €110)
LOOK 3
Next up some leopard print mixed with this DIVINE camel coat. I love this dress; although it's leopard print, it is not loud or OTT; it is a lovely feminine & elegant shape, and has stunning black lace detail on the sleeves.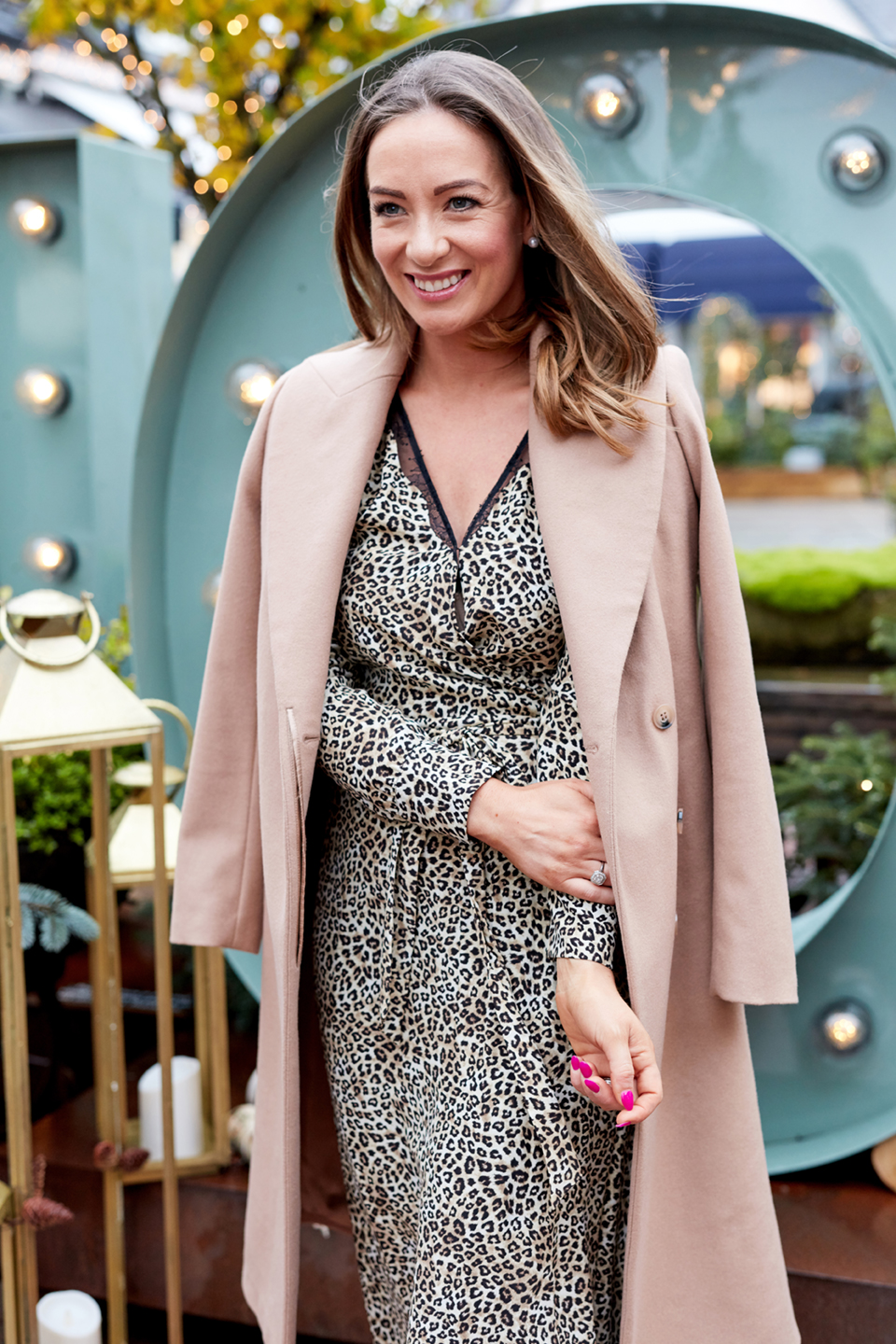 Just look at the detail on this… Fab! I also love the length, makes it really classy.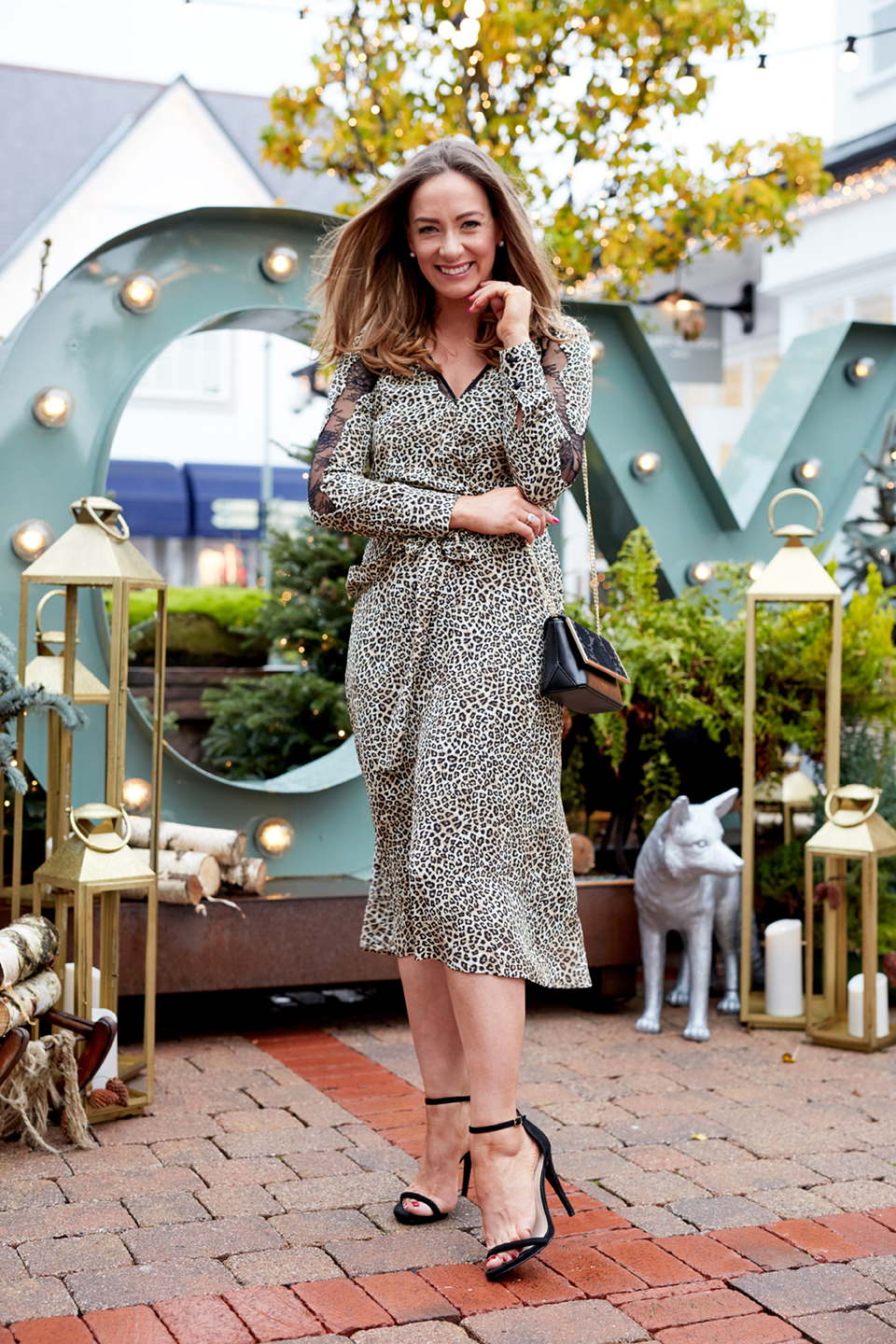 This is ideal for someone who likes a more laid back look. This stunning camel coat really pulls the whole look together and a camel coat is such a fantastic wardrobe staple; a coat you will have and wear for years to come (Check out the discount on it!!!)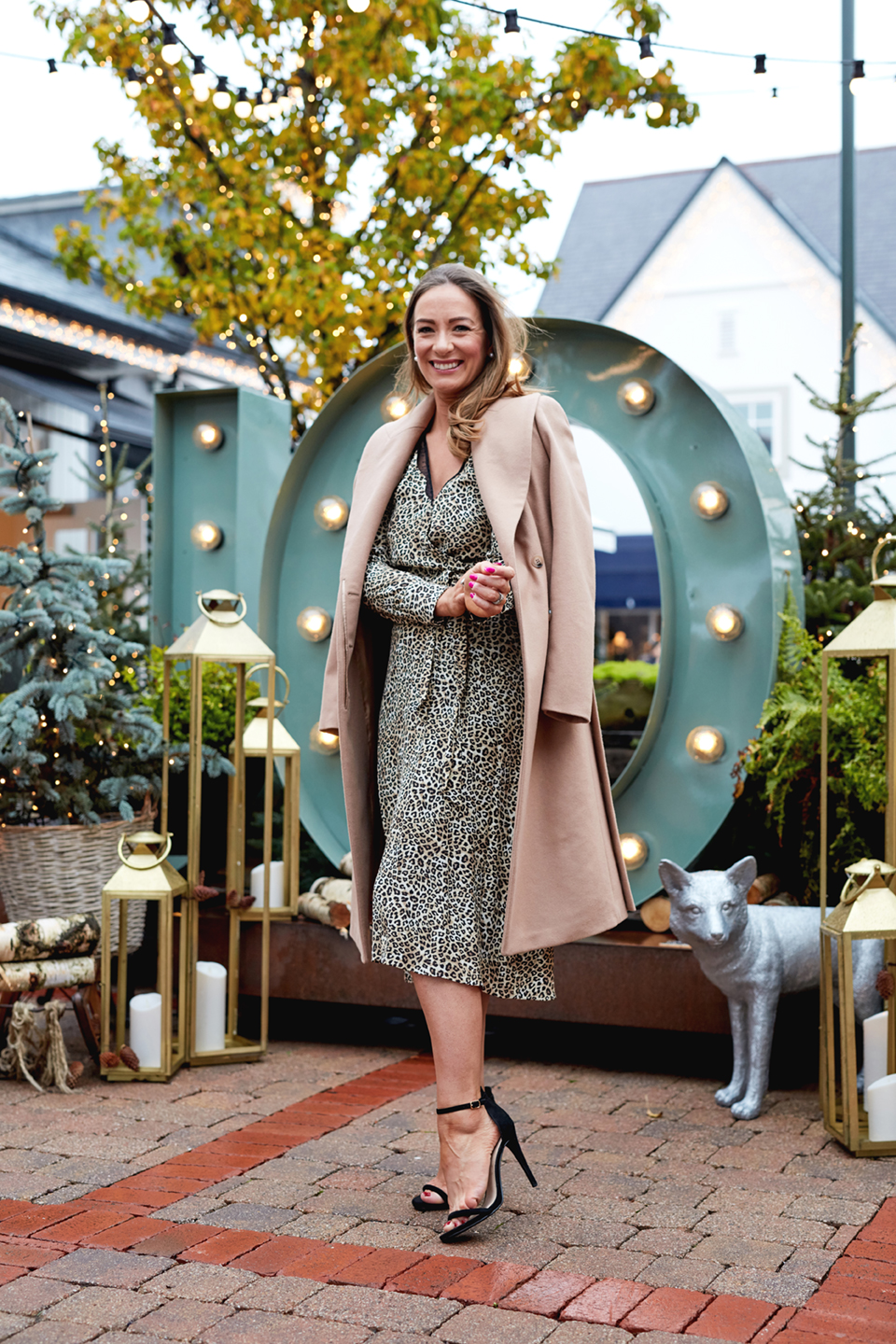 Outfit Details 
DRESS: The Kooples, €145 (Original price €285) COAT: Reiss, €295 (Original price €435) Shoes are Naomi's own
LOOK 4
Full on glamour for this next look and probably one of my favourites from the whole day.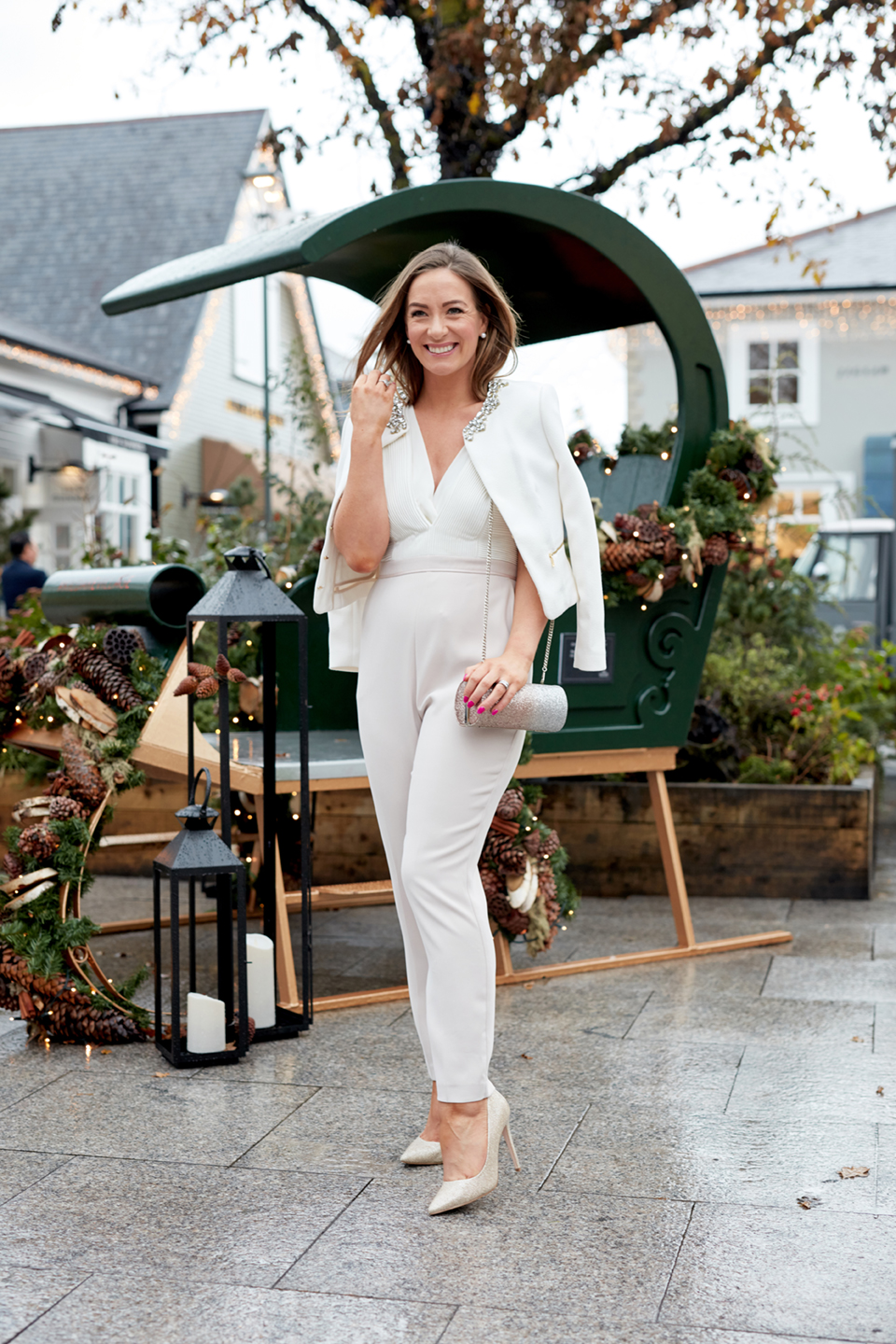 I adore a jumpsuit for an occasion, such a great alternative to a dress. I really like the neutral colour palette on this one and the fit and cut was perfection on (Reiss are wonderful for good tailoring in jumpsuits like this)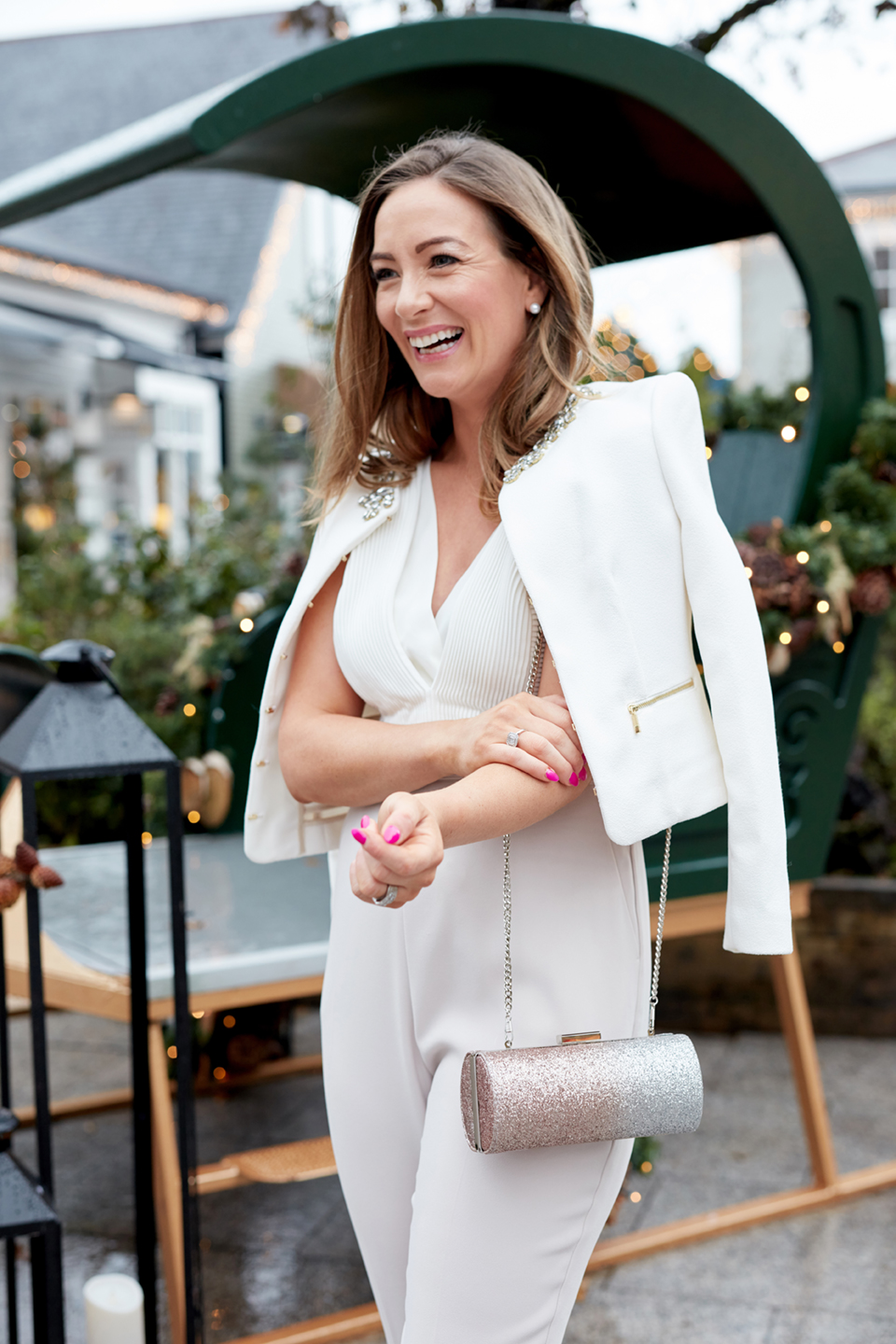 I styled the jumpsuit with this cropped, embellished jacket draped over my shoulders. This jacket would be such a great wardrobe investment; it would go with lots and really finishes the look and adds an aire of total glamour. Just look at the detail on the collar…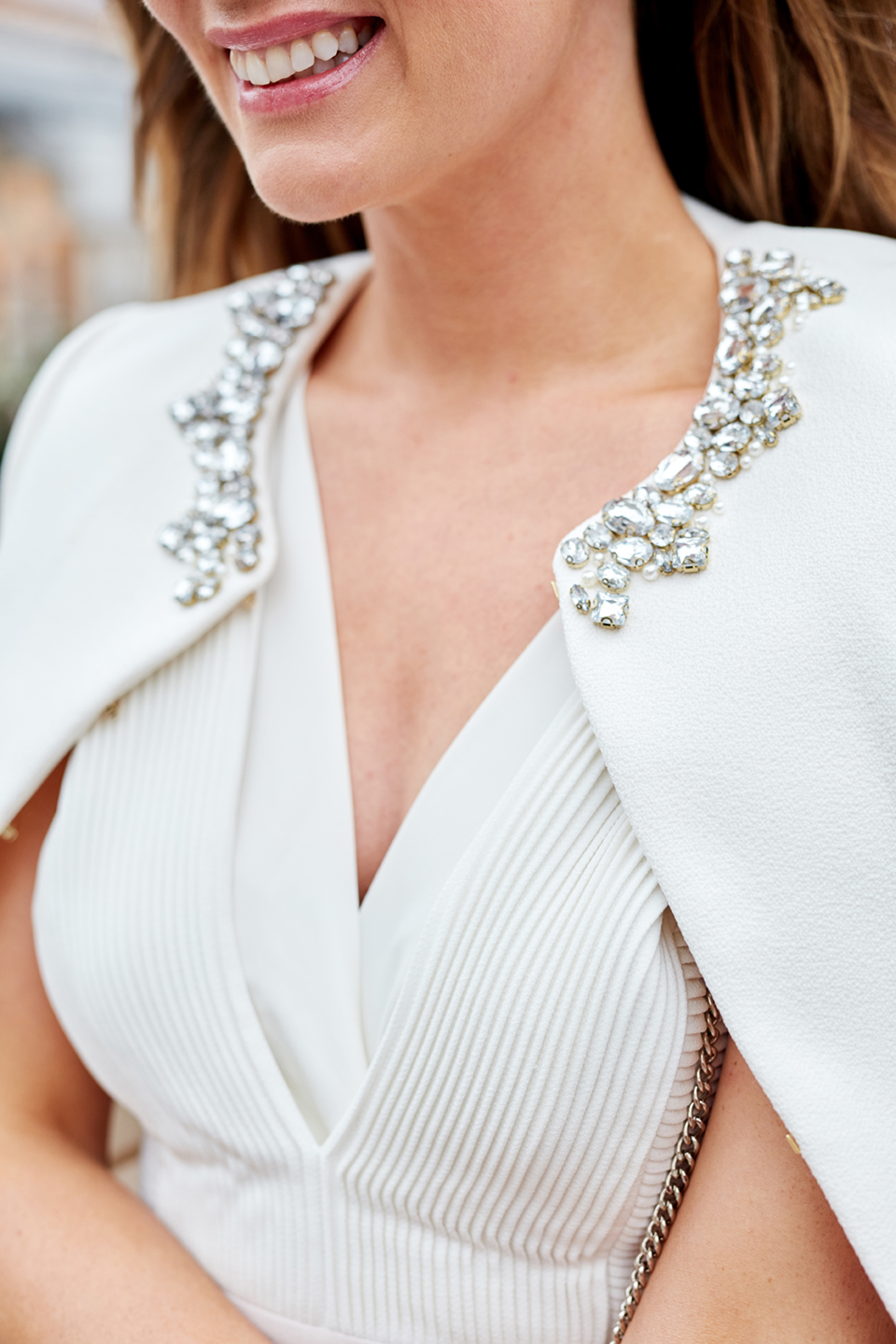 This outfit would be be perfect for a really glamorous Christmas party or it would be beautiful for a wedding or an occasion.
Outfit Details
JUMPSUIT: Reiss, €240 (original price €370) JACKET: Ted Baker, €179 (original price €249)  (Shoes are Naomi's own)
LOOK 5
You know the feeling when you put a dress on and you instantly fall in love? This happened with this dress. It fits like a glove, really cinches you at the waist; it's an all round stunning shape, style and cut. A really glamorous dress, I just felt so happy and comfortable in this as soon as I had it on.  I love the metallic colours going through it. This has a total wow factor for me.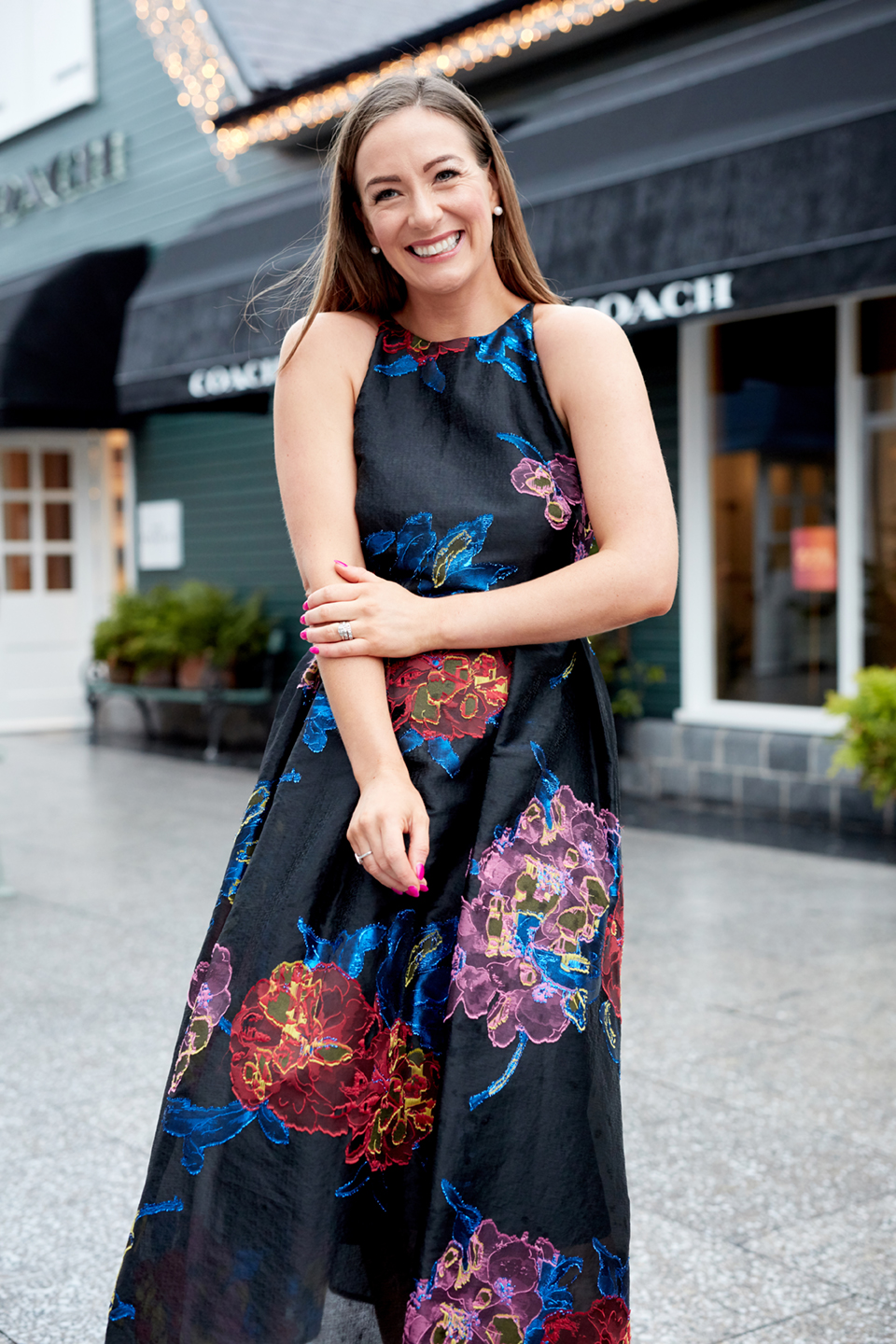 And yes, there was a snow machine – You may have seen the behind the scenes craic on my Snapchat, but boy did we laugh!  I love this picture, not only is this 100% ME in a photo but it also shows the dress in all it's glory; I love the length!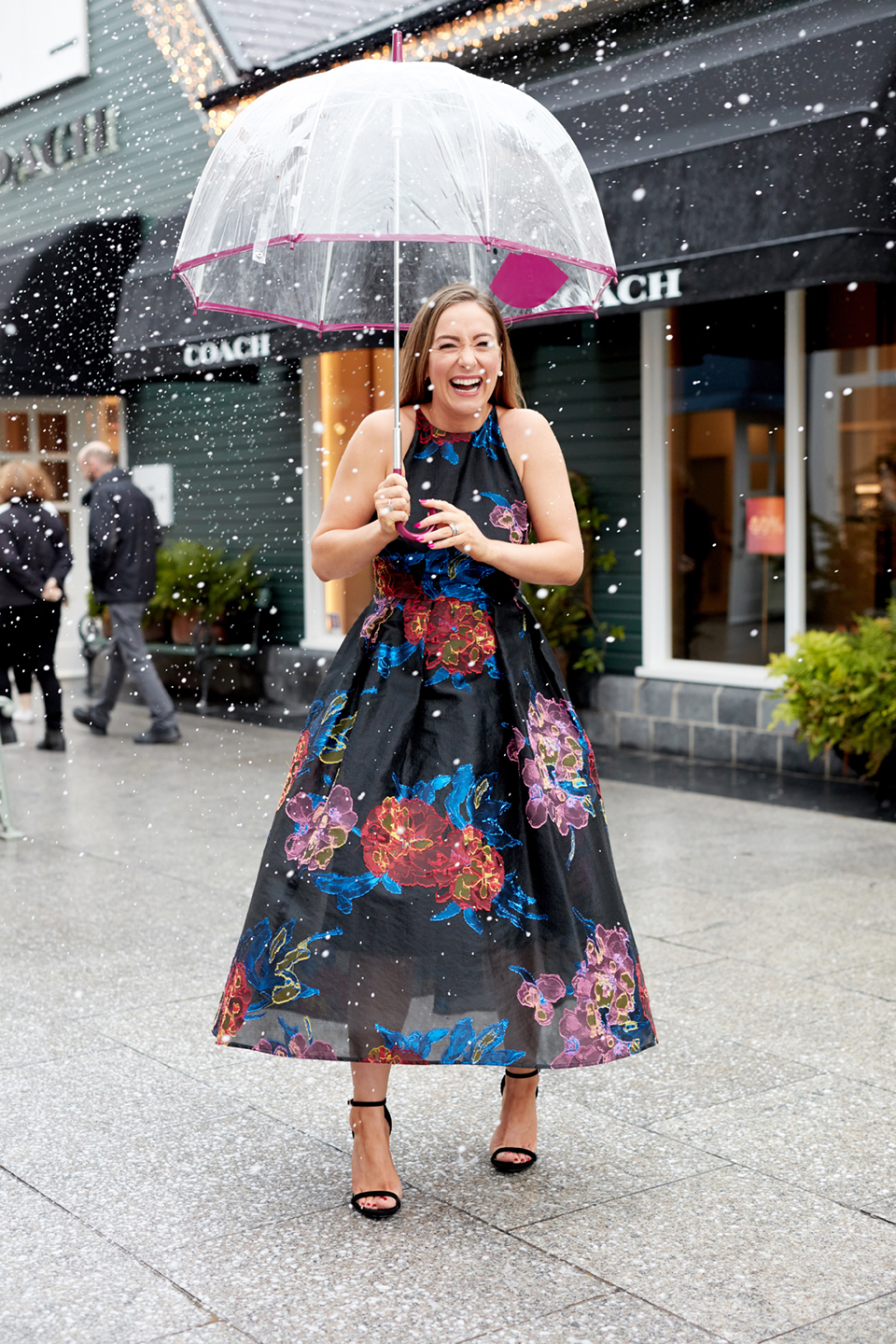 I finished this look with this stunning faux fur cape, probably the softest faux fur I have ever worn, a timeless wardrobe staple you would wear for years to come.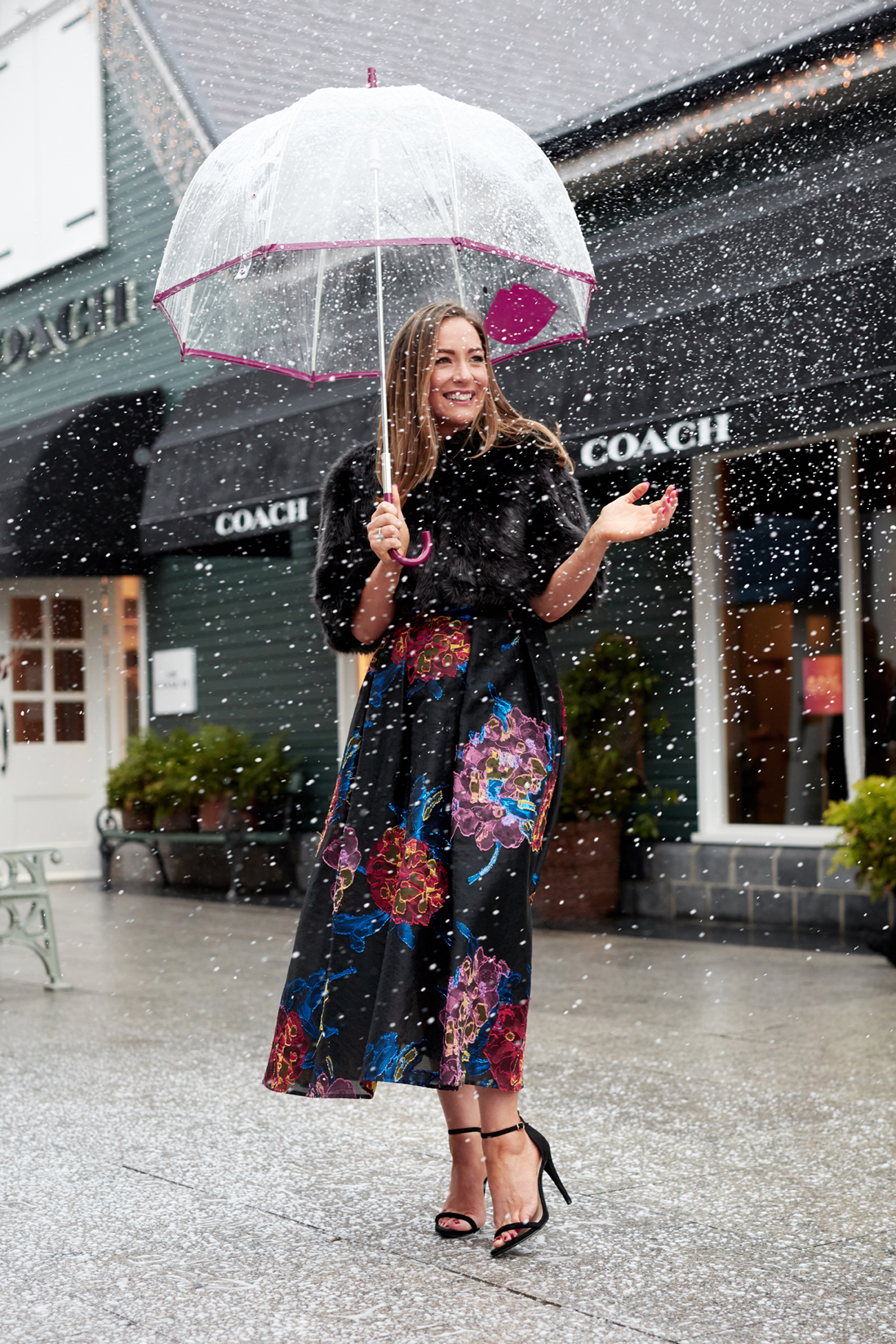 Outfit Details 
DRESS: LK Bennett, €429 (Original price €715) FAUX FUR: Reiss, €130 (original price €195) UMBRELLA: Lulu Guinness, €19.40 (Original price €40) (Shoes are Naomi's own)
LOOK 6
Last but not least, something totally different for you 😉 Something I hear from you lovely ladies is we want something 'different' so whether that's for your graduation, a christening, a wedding, your Christmas party, you want style and glamour, but not the same old… So this incredible suit is ideal.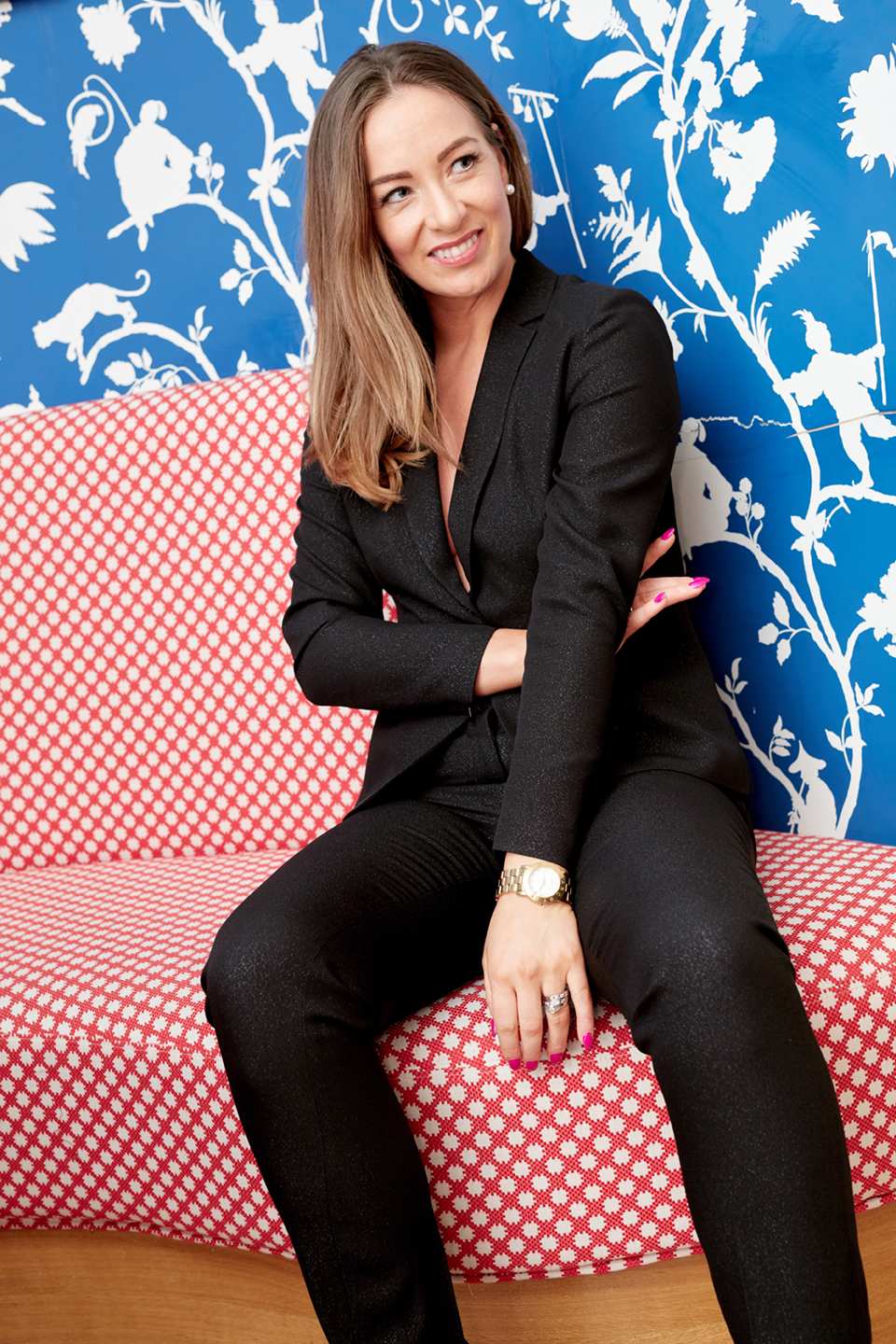 It's classic yet edgy, stylish, cool and incredibly well cut. It fits so well. I also love that it has sparkle detail going though it, makes it ideal for this time of year.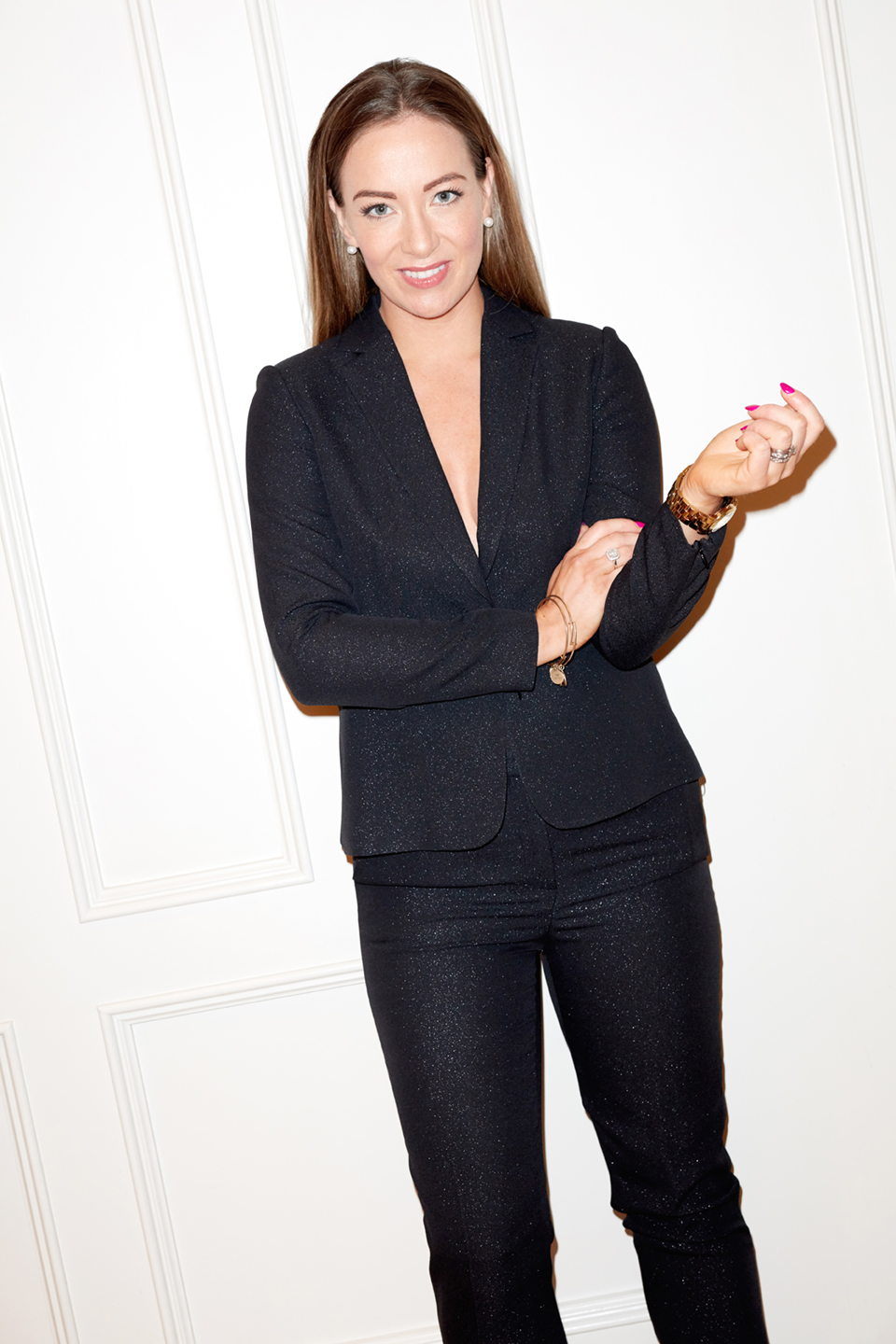 You could wear a simple little cami under this or just a lacey bralet underneath. A real edgy, girl boss look.  Plus you could wear this jacket draped over your shoulders with a classic dress and equally you could wear these trousers on their own too;  a suit is a really smart wardrobe investment.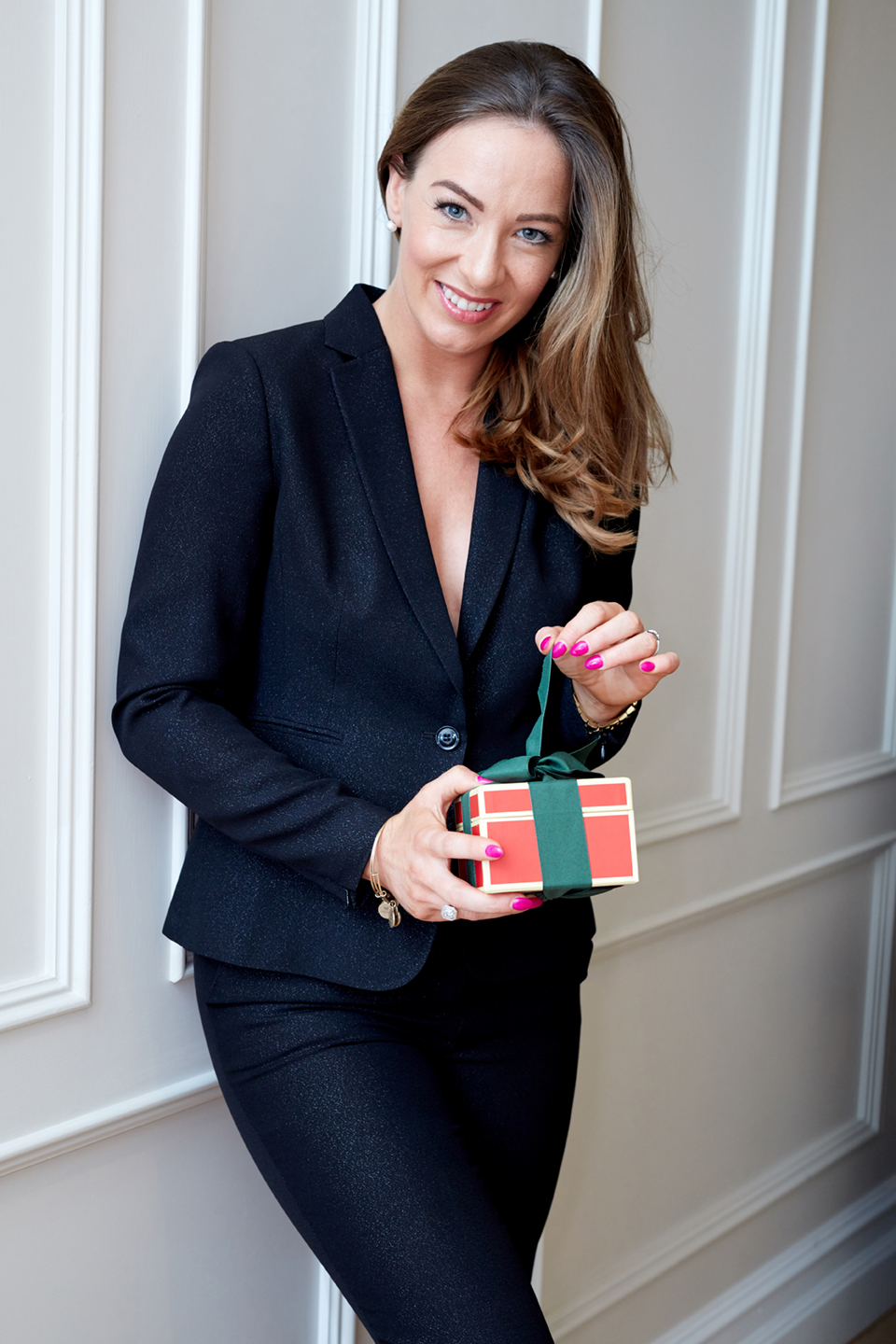 Outfit Details 
BLAZER: Reiss, €160 (original price €370) TROUSERS: Reiss, €100 (original price €195)
So, which is your favourite look? 
So there you have it ladies, 6 Christmas Party Outfit Ideas, which one is your favourite? As always, I would love to hear from you. Thanks for reading and I hope you enjoyed the post
MAGICAL SAVINGS WEEKEND
Ok ladies, are you ready? What are you doing this weekend? You might need a visit to Kildare Village!!! Because this weekend between Friday 24 and Monday 27 November 2017, you can enjoy up to 60% off the recommended retail price from your favourite brands.  From stylish dresses and party-perfect shoes to winter warmers and stand-out gifts, shop elegant pieces from world-renowned brands with  additional savings throughout the Village.
View the full list of discounts available HERE and bear in mind these savings are in addition to the discounted village prices I listed above for my Christmas Party Outfits. Happy Shopping 🙂
'Til next time
Stylishly yours
Naomi xxx
CREDITS
Photography by Johnny McMillan shot on location in Kildare Village
Please note: Prices are Kildare Village prices with discounts applied, where I state 'Normally' or 'Normal price' I mean  retail prices outside of Kildare Village
** This is a sponsored blog post in collaboration with Kildare Village **