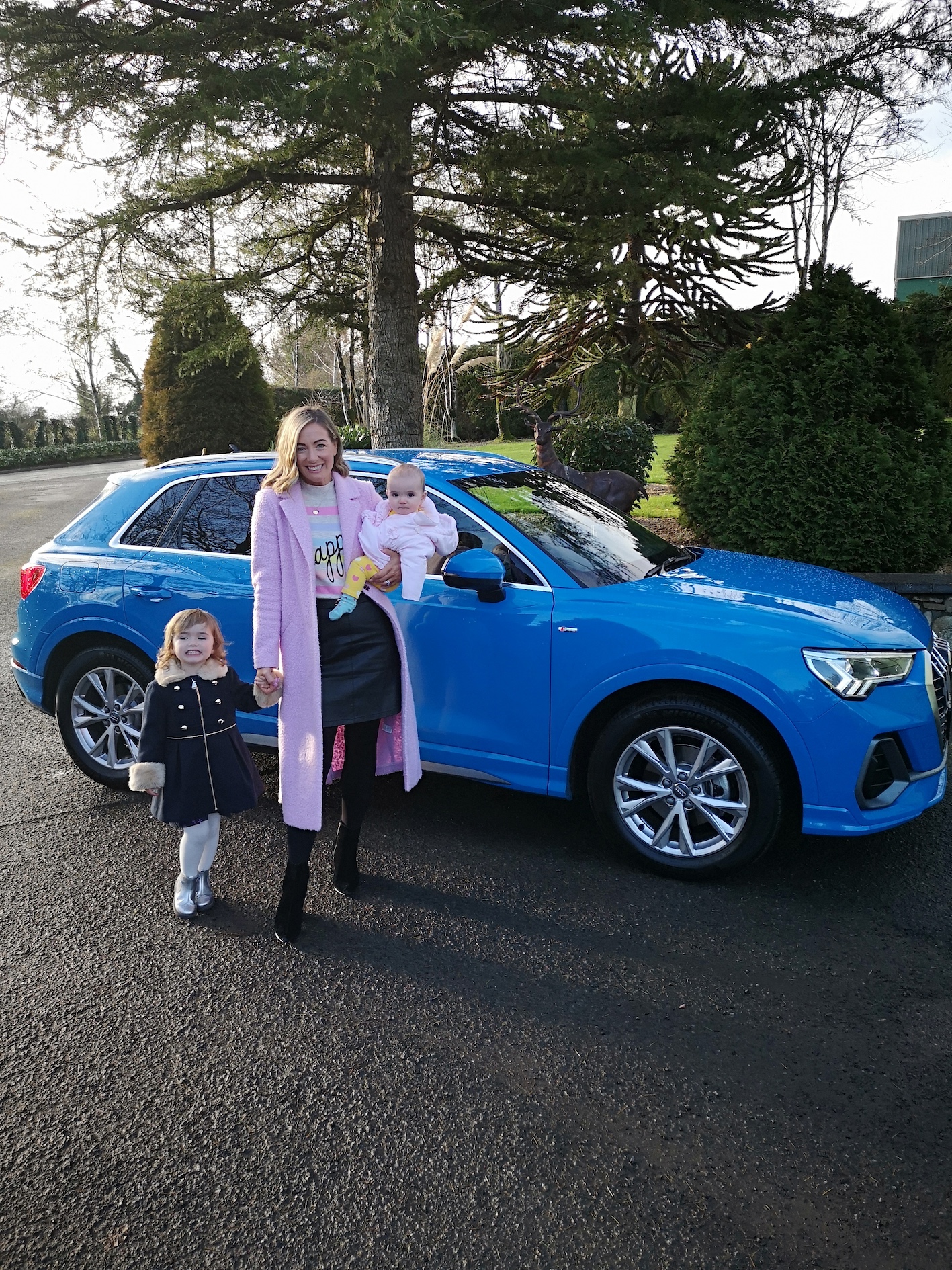 Audi Q3
Hey ladies
If you follow me on Instagram you might have seen that I am working with Audi Ireland and last week I got to drive the brand new Audi Q3. Talk about a complete 'pinch me' moment, move over Jeremy Clarkson… The Style Fairy girls are here 😉
This is a review with a difference; I am not an expert when it comes to cars; far from it in fact! I am just a normal mammy; with two young kids (and a dog!) who needs her car for the usuals like daily school runs, shopping, pottering around at weekends. Audi wanted to hear from someone like me and my take on their brand new Q3. A real voice, minus all the tech talk, because let's be honest, too much of that tends to go over my head anyway!
So, where to start? There is so much I want to say, and after a poll on Instagram inviting questions, there is so much you want to know too! If I leave anything out at all, please feel free to leave a comment below and myself or a representative from Audi Ireland will be sure to answer your query.
The specs of the model I test drove
Just some of the basic info on the Q3 model I got to test drive, plus some of the brilliant added extras this model has:
1.5 TFSI 150BHP
Trim Level – S Line
Automatic 
Fuel type: Petrol
Colour: Turbo Blue ( a new colour for Audi)
Front Wheel Drive
12.3 inch digital display in place of conventional dials (This is absolutely amazing!)
The digital display allows the owner to control the media system, telephone, navigation system, whilst also showing all traditional driving data like speed etc (Controlled with buttons on the steering wheel)
LED Interior Lighting – customisable to ANY colour you want 
Heated Seats (always a good idea!!)
Audi Comfort Key – I love this, it means the owner can access the car without having the key in your hand, as long as they key is on your person (or in your handbag) and you put your hand to the door, it opens! Same with starting the car, even if the key is still in your handbag, on the ground, the car will start! 
Hands free tailgate – Electric Boot (tailgate) is standard on the Q3's but with the addition of the comfort key the Q3's boot can be opened by waving your foot underneath the right hand side of the rear bumper – V handy if your hands are full with shopping! 
Optional: Audi Phone Box – This charges your phones wirelessly 
The Q3 price range starts at €38,600 (excluding delivery) 
First Impressions
To begin, a typical perhaps female response from me was; "WOW it looks good" And in fact 'good' doesn't suffice, it's absolutely gorgeous, stop in your tracks and take a good gawk, gorgeous! It's sleek, it's sporty and very stylish looking.
This is like the 'Goldilocks' of SUV's in terms of size, it is not a huge, big cumbersome SUV, not by any means; nor would I call it very small either, yes it is compact, but it is still roomy. (See, Goldilocks.. Its 'Juuuust right'. )
The colour was probably the first thing I noticed when Audi Ireland delivered the Q3 SUV to my home, the colour is 'Turbo Blue' and it is a brand new colour for Audi. It is divine, I actually don't think I have ever seen a colour quite like this. It isn't for the faint hearted, it's loud, but it's different and that's what I love. The one I was lucky enough to test drive for the week was the S line model and it's a beaut!
My Favourite Features?
The Digital touch screen display (and I particularly loved the aerial sat nav view it gives you)
The customisable LED ambient lighting (a small touch, but it is seriously impressive)
The heated seats
The comfort key – I just think this is super smart. 
The Turbo Blue colour 
My final point is hard to put into words, the only way I can describe it as is to say it is a dream to drive, it glides with elegance, it's smooth and quiet (yet powerful). Hard to believe I would 'enjoy' this element of it so much, but it truly is a really nice SUV to drive.
Interiors and Space
From the second you sit into the new Audi Q3 you know your in a different league; from the sleek interiors, to the wrap around heated seats to the touch screen digital display. You know you are dealing with style and luxury on another level.
It is incredibly stylish and luxurious on the inside; the LED ambient lighting which you can make any colour is really a stylish touch for night time driving (My fav was purple) The seats are are very comfortable too, curved slightly on the sides and option to heat them on a cold majoring which always helps 😉

From the outside you might think the Q3 looks small, and in ways it is, it is neat (making it very easy to park) but inside I was very surprised by how spacious and roomy it felt, even when I had both carseats fitted.
Where can I see more?
If you visit my Instagram page HERE you will see there is a highlights bubble entitle 'AUDI Q3'; have a look through there to get a better feel for the interiors. And my overall experience of test driving the SUV.
Size and Carseats
The new Audi Q3 can comfortably accomodate two car seats in the back. I personally had a car seat and a booster seat in the back and there is plenty of space then for Oscar (our dog) in the middle of the two girls carseats. Plus all the excess 'stuff' that comes with kids and babies, changing bags, coats, there's a few barbies back there, a blanket or two and no doubt the remnants of a snack AB had during the week when she was too hungry to make the long 5 MINUTE drive from play school to our home!!
The Q3 is not a huge SUV, it is not a 7 seater. If you're looking for a larger jeep, with the ability to fit 3 carseats then perhaps look up the Q5 or Q7 Audi SUV's. 
The main questions that kept popping up on Instagram were about size; "How many car seats can you fit?", 2) "Is it spacious?" and 3) "How is the boot space?"
Boot size?
I've answered 1 and 2, so on to the boot. What about 90% of Irish women want to know!! The boot is a decent size, in fact, to be quite honest, I was surprised, I was expecting much smaller (based on my very limited knowledge and experience of the older Q3 models) A clever trick to know about the Q3 is that the parcel shelf in the boots fits in underneath the boot floor when not in use. The sheer size of buggies when folded up is the bane of most Irish mummies existence eh?! You will fit your buggy in the boot, with some room for a small amount of shopping. I own a very, very large buggy; probably one of the largest on the market. It's the Stokke Trailz and if I can fit this buggy into the boot, and still have space then you will be grand too!
I myself own a jeep, (a different brand, an older model and it is much bigger jeep than the Q3 and the boot size is not much bigger in mine to be honest; buggies take up so.much.space!!!).
What about a double buggy? It depends on your double buggy and which brand you have – I can't say for sure if it would fit (I don't own a double!) I know a side by side one would possibly not fit in the Q3 but the up and down double buggy might just fit in! For us, because Anabelle is now 3 and a half, she never uses a buggy anymore, but we could easily fit in her little stroller as well as our (somewhat giant) buggy! Anabelle's stroller is the Babylon YOYO.
My thoughts
I expected this SUV to feel small, I'll be honest. I certainly didn't expect it to still feel spacious when I had both car seats in, so I must admit I was pleasantly surprised. You'll notice that as soon as you sit inside.
I think it strikes a nice balance in that it is not a massive, unwieldy size (which I would have found difficult to park), nor is it a micro SUV; it's a solid, decent sized SUV whilst still remaining feminine and seriously stylish.
What I did expect was 'fancy' , impressive and seriously stylish interiors with a high end tech spec and it over delivered on that front. Audi know how to impress
Last but certainly not least, it is a like a dream to drive, it's so smooth, very comfortable and glides effortlessly with little more than a feminine purr 😉 It gets a big thumbs up from me!
'Til next time
Naomi xx
*The new Audi Q3 starts at €38,600, for more information visit the Audi Ireland website
*Please note this is a paid collaboration between The Style Fairy (Naomi Clarke) and Audi Ireland. The blog post was written by Naomi and is a genuine and honest review of the Audi Q3